The year it all ended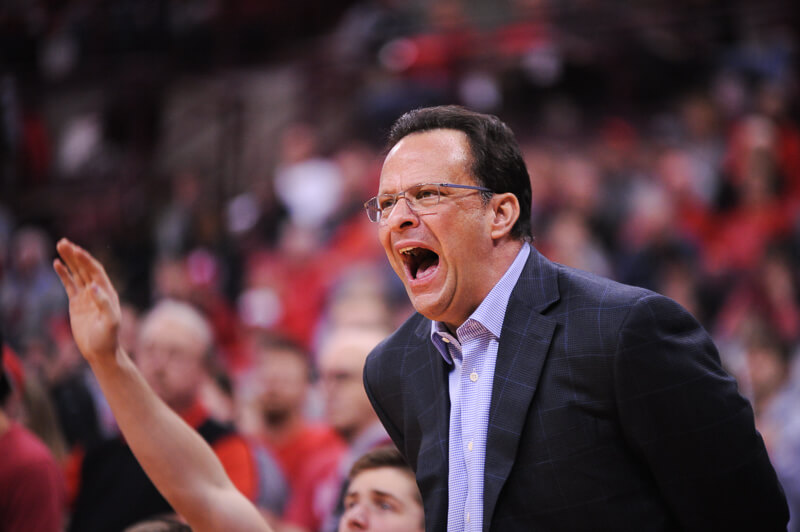 A confidence-boosting win over Kansas in Hawaii set the year off with a bang. ESPN's post-game interview with Tom Crean on the court turned into a celebration, his players preening and pumping their chests as they tussled his hair.
This was a confident, maybe even cocky, bunch of Hoosiers with their eyes set on big things. The stage seemed set for a special year. This team looked deep and talented, maybe even the deepest and most talented of the Crean era.
He'd found another diamond in the recruiting rough in OG Anunoby. Crean may not have landed loads of five-stars, but he could certainly coach you into one. Like Cody Zeller before him, McDonald's All-American big man Thomas Bryant eschewed the NBA after his freshman season, instead deciding to learn more under Crean's tutelage in his sophomore campaign. With Yogi Ferrell departed, a healthy James Blackmon Jr. seemed ready to take the big shots in the big moments — and knock them down. The team could still shoot and score with the best of them, though any drop in offense looked like it could be made up for with a defense featuring great interior size and Anunoby — hailed as one of the best defenders in the country.
Crean continued to tout a system trickled down from the NBA. He placed a high value on the 3-point shot and promoted a positionless mantra, where bigs went through guard drills and were not chained to the paint, instead free to roam the perimeter and shoot from distance. And if you played for him, he'd make you better year over year as one of the better skill developers around.
This was the Indiana Way Under Tom Crean and all seemed quite well.
A loss to Fort Wayne 11 days later was explained away with the narrative that while Indiana had the talent to beat anyone in the country, it was also a team vulnerable to the upset. Its dominant win over North Carolina at the end of November seemed to confirm that. Assembly Hall remained an intimidating place to play and the Hoosiers were on one of the longest home winning streaks in the country.
Indiana's loss to Butler in mid-December was a sign of things to come and started to show this team wasn't what it appeared to be. The Hoosiers lacked awareness on defense and gave up their most points per possession to date. The Bulldogs put on a clinic taking care of the ball. The Hoosiers did not. Indiana also missed all eight of its 3-point attempts in the first half in a season it regressed from an elite 3-point shooting team to one that was merely pretty good.
Its home loss to Nebraska to kick off the Big Ten season was bad. Really bad. Indiana didn't defend and didn't take care of the ball, a common refrain in Crean's final year in Bloomington. But most concerning was the Hoosiers didn't come out ready to play. They didn't have the right mindset. It happened again against Wisconsin in its next Big Ten game and another home loss hit. After 26 straight home wins, Indiana now had back-to-back home losses in conference to start the season.
The rest of the Big Ten season didn't bring much more hope for a strong conclusion to the season and every game seemed like a repeat. Injuries to key players didn't help. While Indiana still played hard and didn't give up, it could never make the plays down the stretch to pull out close games. It lacked a leader to bring them home and to steady the ship. They lost seven of eight at one point — the lone win in that stretch coming in triple overtime against Penn State … at home. Indiana's bench starting holding up signs with reminders for players and it didn't go over well with observers.
With its losses coming in similar fashion and Indiana's chances at the NCAA tournament dwindling, there was a growing sense that the wagons were beginning to circle around Crean for good. But even as Indiana seemed destined for the NIT, the situation wasn't so black and white. There were pros and cons. Crean resurrected the program from near death. He did things the right way. He won multiple Big Ten Championships and made the Sweet 16 three times. These are not easy things to do.
But there was this reality, too: Crean was about to miss the NCAA tournament for the second time in four years. He'd barely been above .500 in the league in that time (38-34). And the Sweet 16 appearances could be looked at in another way, a coach unable to make a deep tournament run for a fanbase thirsty for it, his loss to Syracuse still a sore subject for Hoosier Nation. So the winning was too inconsistent and the results too variable. Crean's players love him. He represented the university well. He preformed random acts of kindness in the community he wanted no attention for.
But there was an adversarial nature that stewed within him. He was defensive and defiant with the media and sometimes the fans, too. He and those around him sought to control the narrative and message. A softening of his guarded energy could have helped humanize him a bit more and defuse the situation. These things didn't matter more than the inconsistent winning. Win banner No. 6 to hang in the rafters and nobody cares. But in the total picture of the Indiana job, with all the pressures and responsibilities that come with it in a season his team struggled, they did him no favors, either.
In the end this year, Crean never lost his players, but he'd lost momentum. He hadn't lost the belief that his system worked, but he'd lost the fans who'd grown tired of its worst parts — the laughable defense and the careless turnovers. Most importantly, he'd lost the boosters who were in Fred Glass' ear imploring him to make a change. The noise was just too much for Glass to ignore. The tide had turned on Indiana's coach and there was no coming back from it. Crean had to go.
Tom Crean is a very good basketball coach and whoever gets him next will be lucky to have him. Indiana, meanwhile, will move on and look for a coach that can move them up another rung in performance.
The budget, the facilities, the support and the brand is all there for someone to come in and take it to the next level. But so comes with it pressure and expectations and a hunger for more.
It's no easy job.
Filed to: Tom Crean