News and notes from Tom Crean's radio show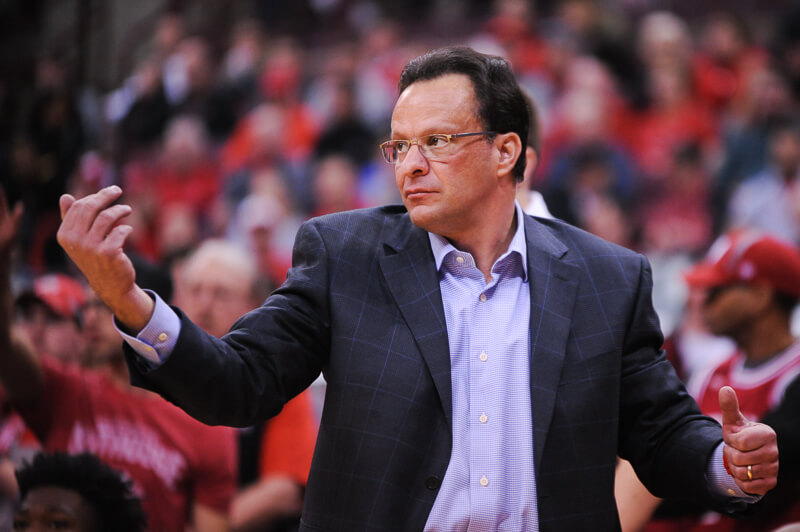 Inside IU basketball with Tom Crean was live on Monday evening from the Holiday Inn in Bloomington with player guest Thomas Bryant for the final show of the season.
Below are news and notes from Crean and Bryant (all quotes are from Crean unless noted otherwise):
· On the win over Ohio State, "It's obvious we're going to play pretty good when the shots are going in. The shots are going to go in even better when we're defensively creating more stops. (We had) very good team speed, very good quickness on both ends, but it got started on the defensive end. We made open shots, but we got stops. As the game got going, we weren't quite as good defensively, but we were still good enough to hang in there."
· On how the team responded after the lead was cut to one early in the second half, "It's a product of how much we've been through and how many close games they've been in and the way they've been able to respond when we didn't win. You go through those situations – it goes all the way back to game one, that OT win over Kansas – so over a period of time, and the other part of it is we're getting healthier, and there's no question about that. Hopefully, we can stay that way. The other part is there's not panic because they've been in so many tight situations, so they know they can come back. We've also had some games where we didn't hold the lead as well. But the score of the game, the tightness of the game, none of that means anything to them. I think that's what's really good."
· On the health of the team, "Juwan (Morgan) looked closer to his old self than he has in a long time, and James (Blackmon Jr.) even looked better, health-wise. It's real easy to get centered in on the injuries that we've had that have knocked people like Collin (Hartman) and OG (Anunoby) out, but it's when guys come back from those injuries, it takes time."
· On if the team will be able to carry momentum from the win over Ohio State into the Big Ten Tournament, "It's important to have momentum, to have energy, to have confidence, to have health. All those things manifest in each other, and I think that's the most important thing. We had a great practice today, we didn't practice yesterday, but we had a great practice today. We got a lot done in the half-court, we got a lot done drill-wise, we had some great competitiveness in terms of our full-court scrimmaging and things of that nature. They're really in a very good spot and they have been. They've got great attitudes. I don't think you could win the games that they've won – I don't even think we could have been in some of the games that we've been in and we didn't get – if we didn't have that type of attitude and resiliency. Obviously, we'd like to have more wins, we'd like to have some of the closer game wins, but to keep coming back, time and time again – I'm not sure most people have any idea how hard that is on a young person. You put your own self in an 18-22-year-old's body, that's competing at a high level with all kinds of eyes on them, to keep coming back time and time again says a lot about them."
· On the character of the players, "Some of the best emails and letters (I receive) are the ones that come from people that have an interaction with one of (the players) after a game, or at a mall, or they saw them here or there. And those things kind of go back and solidify that that's who they are. They're young people, doesn't mean they are not going to make mistakes. Here they are certainly held to a different standard than almost anybody would be held to at their age. The same thing with (other) college athletics. They handle that and do a good job of that. I'm proud of those guys."
· On how the injured players are still a part of the team, "OG is there every day, doing his rehab and in there and a part of (the team). He can't travel with us right now, but we've always done, with the guys that were injured, because we've got a lot of experience at it, especially this summer, always worked very hard to make sure that those guys feel that they are getting better, too. No matter what. No matter what we have to do there. I think that helps them stay positive. You would never walk in (to practice) and think that Collin Hartman is not a member of the team or the coaching staff because he wears both hats."
· On Thomas Bryant and James Blackmon being named to the third team All-Big Ten, "Those are nice, but the whole thing is about what they mean to the team. At the end of the day, when they are off onto the next level, the awards and the honors, just like the rankings when they're coming out of high school, mean absolutely nothing. To me, I think it's nice, I think it's fun. We have to vote. We do all that. I think it's good. But I still have trouble coming to grips with the fact that Thomas Bryant is 15th in this league in free throw attempts. I don't have a clear-cut answer as to why. I quit asking why. I think his numbers would have even been greater, in a sense (if he drew more fouls). Obviously, we've committed some fouls, but at the same time, I'd like to think a guy like him has earned them. But it is what it is, and he's had a tremendous impact on the team, as has James (Blackmon), especially coming off the injury. And I never love awards, I hate them at camp and I hate them at the end of the season because people are always going to be left out, but you tip your hat to the people that won them. They win them for a reason, just like when we had them last year, we get them for a reason. You just move on to the next thing, and that's what these guys are doing this week."
· On playing Iowa Thursday, "We're playing against a team that's shooting the ball at an incredible rate, that has a bonafide star in Peter Jok, and they're extremely well coached by Fran McCaffery. It's going to be a tremendous – it's a challenge and it's an opportunity – we've gotta use it as both."
· More on Iowa, "We've got to take care of the basketball against their press. Whether we're attacking or whether we're breaking it. The next big thing is to not slow down – if we've attacked (the press) we've attacked it – but to not slow down and come back into the set. The more you don't allow them to set up their zone, the better it is. The other big thing is the rebounding. Without question, you go back to it, I think Peter Jok has shot 12 free throws since he shot the 22 against us. We've got to do a great job of keeping them off the foul line a lot better than what we did (in Iowa City)."
· The most memorable moment of the night came during Crean's last segment, when he made it a point to have a patron named Hugh be able to ask a question.
Crean: It's our last show of the year, right?

Fischer: It is.

Crean: Hugh has got to ask us a question on the microphone this year. All year long… he's not listening to us…

Fischer: He's not listening right now.

Crean: Hugh has got to ask a question. We can't end the season without a question.

Fischer: Well if he paid attention then he'd know you were talking to him.

Crean: We lost all our people on the radio, we've gotta have Hugh (ask a question)

Fischer: He didn't even have to ask a question here tonight at some point, so think up something decent.

(seven minutes later)

Fischer: Coach, we're going to wrap things up here…

Crean: No, Hugh. You've gotta have Hugh.

Fischer: Hugh, do you have a question?

Crean: He obviously doesn't because he's not moving from his spot.

Fischer: He's moving, coach. He's moving.

Crean: He's going to have to move a lot faster than that because we're going to be off the air by the time he comes up here.

Fischer: He's sprinting right now. This is a sprint for him.

Crean: He's a little hard to get, isn't he Don? He's playing hard to get. We're (giving) him an honorary question.

Fischer: He's got the microphone.

Hugh: Coach, I've noticed during the season that Tom Izzo has developed a certain sneer. How about you?

Crean: …I don't even know how to answer that right now. Whatever I say will be used against me now and down the road. This is what I've done with most of Hugh's questions that went right over my head. I'll sneer at that one and not answer it.
· Crean ended his portion of the show by quoting Atlanta pastor Charles Stanley, "Disappointment is inevitable, but discouragement is a choice," Crean said, quoting Stanley. "I've never forgotten that. It's part of his life principles, but I think that applies to everything. I think it certainly applies to a team. No question we've had some disappointment, but I've never seen discouragement enter me, the coaches, the staff, and most importantly, by far, the players. Hopefully, we can keep going somewhere with that right now."
· Thomas Bryant, on where he has improved the most this season, "I think I've improved in a lot of helping with my teammates on and off the court. Just the right things to do, whether they have an open shot or just defensive keys, because defense wins games. We have to take a lot of pride on the defensive end because we know our shots will start falling and if it's like that last game against Ohio State, we know our shots will continue to start falling."
· Thomas Bryant, on if the team has players that 'struggle to believe in themselves at times,' as Fischer phrased it, "Of course. That happens with any team. When you're not knocking down shots and when you start to lose a few games, you start to overthink a little bit. I try to be that guy to just tell them 'Hey. Don't worry about it.' We're watching film, just continuing to improve from it. Coach Crean is going to help us to continue to improve each and every day. So we have nothing to worry about."
· Bryant, on having taken on more of a leadership role this season, "I'm comfortable with it…to be that spark of ignition out there on the court, whether it's defense or offense. I'm, trying to put it upon myself to take on more of a leadership role towards the way I help my teammates."
· Bryant, on adjusting to being the focus of opposing defenses, "This year I'm really adjusting to (facing double-teams) because they see me as the main guy out on the court. So when I pass it back out of the double-team, I have to look for ways to cut and score the basketball in a fast way, or to pass it out to the guys that are open for them to make shots."
Filed to: Thomas Bryant, Tom Crean