Around the Hall: IU loses in NIT, but what's next?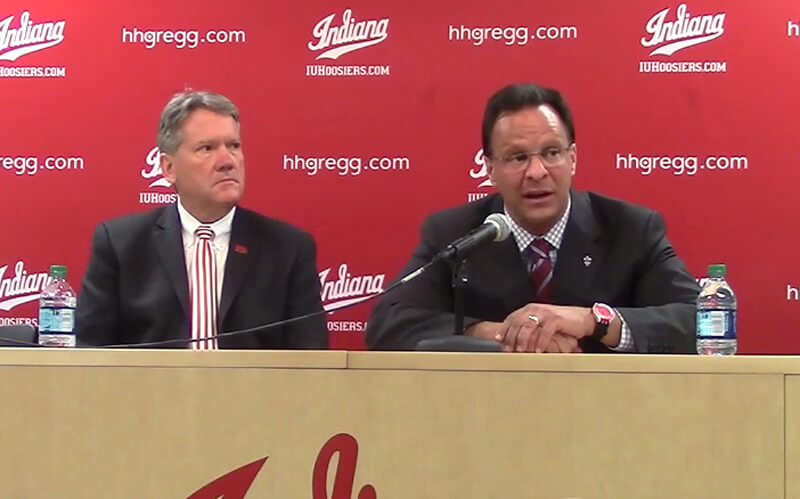 Around the Hall is recommended reading from the Inside the Hall staff.
Rick Bozich of WDRB.com writes that the spotlight in Bloomington has turned to Athletic Director Fred Glass:
Glass must make a call on the marriage between IU basketball and Tom Crean.

Either A) add another season or two to the three years remaining on Crean's contract or B) wish Crean the best at his next coaching opportunity, after thanking him for navigating Indiana back from the Kelvin Sampson NCAA probation. (That choice comes with a $4 million buyout and coaching search.)

There is no C), D) or E).

Doing nothing results in fiascos like the one that percolated around Indiana basketball this week.
Gregg Doyel of The Indianapolis Star asks a fair question: how can Tom Crean continue to stay?
If the IU fan base is this done with coach Tom Crean's basketball program, so done that the school is willingly sacrificing revenue by sending its bad road team onto the road, how can Tom Crean continue to stay?

Why would he want to?

Why would Indiana let him?
Mark Bradley of The Atlanta Journal Constitution writes that IU played at Georgia Tech because it feared embarrassment … and the Hoosiers lost anyway:
The fascinating part about Georgia Tech beating Indiana in the NIT on Tuesday wasn't that Tech won. The Yellow Jackets had already beaten half-dozen teams — VCU, North Carolina, Clemson, Florida State, Notre Dame and Syracuse — better than the Hoosiers, and all except the VCU game was staged at McCamish Pavilion.

The fascinating part: Indiana chose to play this game at McCamish Pavilion.

Tech was one of the final at-large selections — a No. 6 seed — in the 32-team NIT field. Indiana was a No. 3 seed. The higher seed gets the honor of hosting. IU declined because its students were on spring break. I am not making this up.
Pete Thamel of Sports Illustrated updates the coaching carousel with a note on IU:
This is still the most intriguing question on the landscape. If Crean decides to move semi-laterally, the most logical landing spot would be Missouri. (The Tigers covet an established brand-name head coach and there's enough history and infrastructure to win there). There's no singular job that dictates the coaching market right now. That's something that would change if Crean decided to leave Indiana. Crean has won two outright Big Ten titles in the past five seasons, which should be good enough to be beloved. But there's always been a strange dynamic between Crean and Indiana, as good enough is never quiet good enough. Ultimately, if he left, it would be for a place where he's truly wanted and appreciated by the fan base and administration.
News of Indiana's decision to duck a home NIT game made its way to The Washington Post:
Multiple reasons were given. First, ESPN reported that Assembly Hall was being renovated. Then Indiana said that wasn't true, and that the real reason it didn't want to host an NIT game was because its students were on spring break (even though 11 of the 16 designated NIT hosts are on spring break). Finally, Hoosiers Athletic Director Fred Glass came clean: Hosting an NIT game is beneath them.

I would counter by saying the Dec. 28 home loss to a Nebraska team that finished 12-19 devalued the arena perhaps a little bit more, but agree to disagree.
Rob Dauster of NBCSports.com writes that IU's loss to Georgia Tech puts the spotlight squarely on Tom Crean's job status:
That's a job that will target big names, and that will likely be able to hire a big name. Maybe that's the job that convinces Archie Miller to leave Dayton or Gregg Marshall to leave Wichita State. Maybe they go out and hire Steve Alford, Indiana's native son, away from UCLA.

In other words, this is the decision that people will be waiting on.

How long are we going to have to wait for Indiana to let us know what they're going to do?
Filed to: Tom Crean