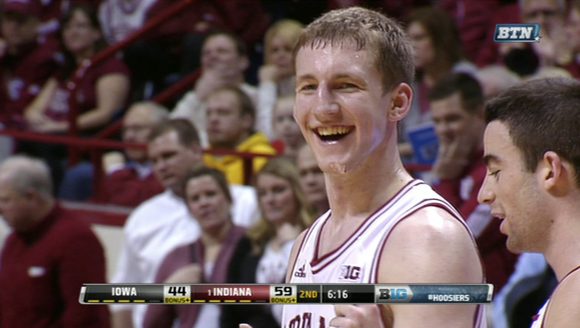 Thoughts on a 73-60 win against the Hawkeyes:
Woof.
Forty minutes of basketball tonight inside Assembly Hall, and it was a foul fest — 52 combined between the Hawkeyes and Hoosiers. That's 1.3 per minute. Blink and the whistle blew. Sneeze and there might have been another couple fouls called. Indiana got to the line a ridiculous 42 times, but converted on less than their average, making 29 of them for 69 percent. But the whistles won't be the only knock against this game. Neither team shot the ball well. Both failed to shoot over 40 percent from the field (Iowa: 21-55, 38.2 percent; Indiana: 21-54, 38.9 percent). It was especially pathetic from distance. The Hoosiers nearly went 0-for the game, but two 3-pointers in the last minute by Victor Oladipo and Yogi Ferrell bumped the Hoosiers to 2-for-14 (14.3 percent) on the evening. The Hawkeyes were just 1-of-13 (7.7 percent) from beyond the arc.
With all the misses, both teams would get after it on the offensive boards. The Hawkeyes rebounded 43.6 percent of their misses, but only converted those extra opportunities into eight second-chance points. Indiana snagged 41.7 percent of its misses for 19 second-chance points. Indiana was able to tally 1.03 points per possession with Iowa scoring .88.
Somewhere amongst all the missed shots and whistles, there were some strong individual performances for the Hoosiers. Cody Zeller, as he's done after losses before this season, had a great game. After getting knocked back on his heels against Minnesota on the road earlier this week, the sophomore was the aggressor tonight, throwing down dunks and swatting away shots. At one point in the first half, a ball Zeller lost track of started an Iowa fast break. But there was Zeller laying out his body for the steal from behind and then coming back down the court and receiving a pass from Will Sheehey and finishing with a jam. Zeller scored 22 points (7-of-13 from the field, 8-of-13 from the line), grabbed 10 rebounds and recorded three blocks.
Ferrell posted a career-high 19 points. He continually got into the lane and scored at the basket — atoning for some shots around the rim he missed against Minnesota — and added that aforementioned late 3-pointer to boot. Ferrell would also shoot well from the line (8-of-10). Tom Crean used this game to give the bench some decent run. Remy Abell played 14 minutes, but only offered up two points and two rebounds. Derek Elston saw nine minutes of action and scored five points.