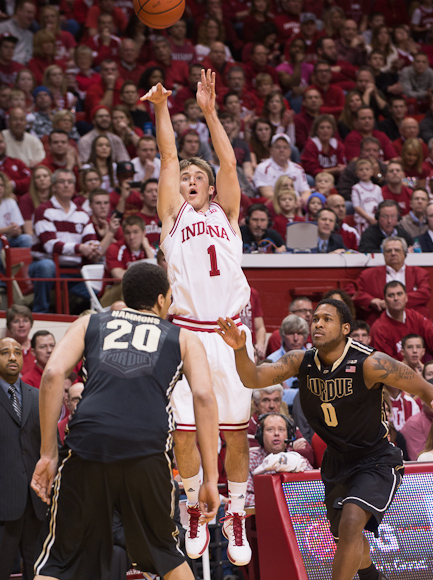 Former Indiana guard Jordan Hulls isn't anywhere near ready to say goodbye to his basketball career.
Hulls, who earned his Masters Degree in May and exhausted his NCAA eligibility this past season, is in the process of working out for various NBA teams ahead of this month's draft. Hulls worked out for the Indiana Pacers on Monday and the Chicago Bulls on Wednesday.
He said he and his agent have three or four more planned for the coming weeks, though he's not sure when and where those will take place.
"I'm just doing as many workouts as I can and see what happens with that," Hulls told Inside the Hall on Thursday. "The plan is to try to get on a summer league team. If I'm fortunate enough to have that happen, that would be great. Make a roster, awesome, I get to stay here. But if not, I'll go overseas and play and make some money that way. Playing basketball is not too bad of a gig in my mind."
In his interview with Inside the Hall, Hulls also talked about the way last season ended for he and the Hoosiers. Hulls injured his right shoulder in a third round win against Temple, and he struggled in his last collegiate game against Syracuse in the Sweet Sixteen.
Hulls was held scoreless on 0-of-6 shooting in a 61-50 loss to the Orange, and he was frustrated and disappointed afterward about the way he went out.
On March 30, Inside the Hall reported that Hulls played through a level 1 AC shoulder separation against Syracuse. Speaking about the injury for the first time since the season ended, Hulls admitted he wasn't nearly himself after the injury.