Trayce Jackson-Davis and Race Thompson showcase chemistry in win over Northern Kentucky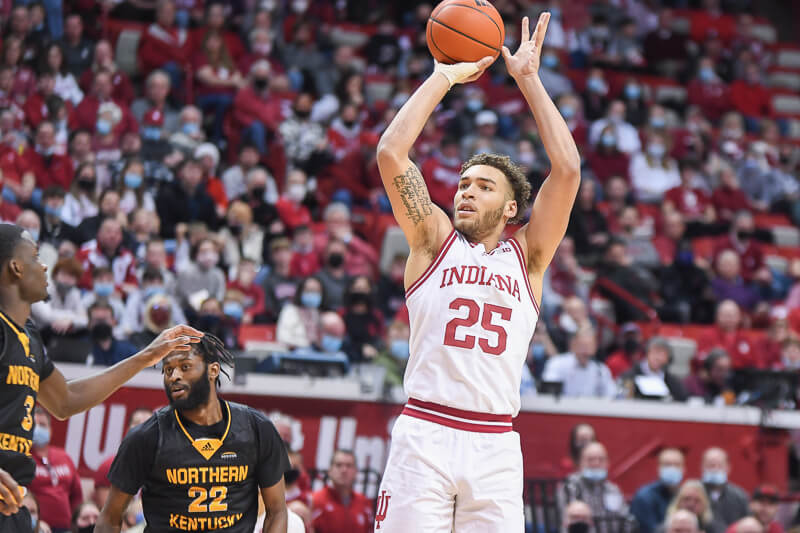 Trayce Jackson-Davis and Race Thompson's relationship on the floor is built upon being unselfish with the basketball. Over the course of the first 12 games, the team does the best when its two bigs work together.
That concept was on full display Wednesday night in Indiana's 79-61 win over Northern Kentucky.
The two forwards combined for 80 percent shooting from the field and boasted similarly robust stat lines. Jackson-Davis had 21 points, six rebounds and four assists, while Thompson put up 14 points, four rebounds and an assist.
Now in their third season together, they've developed undeniable chemistry.
"I think we complement each other very well. We seem to always know where we're going to be on offense," Jackson-Davis said. "I think one of the biggest things with both of us is that we're unselfish and pass out."
During Indiana's second possession against Northern Kentucky, the zone collapsed on Thompson. Instead of trying to force his way through the defenders, he passed out of the double team and over to Jackson-Davis for an uncontested layup.
But it's a relationship that works both ways, too. With a minute left in the first half, Jackson-Davis dished down to Thompson from the high post for a wide-open dunk.
Mike Woodson said he saw some of how Jackson-Davis and Thompson played together last year. He made note of how well they knew each other's movement and read each other, and that's something he preaches with his bigs.
"They're really good buddies when it comes to playing buddy ball, especially inside the zone," Woodson said.
The beauty of Woodson's buddy ball system, though, is that he's got much more than that. Teams know to prepare for an All-American in Jackson-Davis and his counterpart down low in Thompson.
But Jackson-Davis said it's really tough to try and take away any aspect of IU's offense. If opponents try to lock down the bigs, he said they can rely on 3-point shooting from Parker Stewart, Anthony Leal and Miller Kopp. Then if an opponent isn't prepared in the post, the dynamic duo goes to work.
"You can't prepare for both of us and stop both of us because we have so many pieces on our team," Jackson-Davis said.
It's not just their support on the court that makes them great. It's the way they build each other up off the floor, too.
When asked about Thompson after the game, Jackson-Davis had nothing but great things to say about him. He said he's come a long way and become a more complete player, and it shows.
"Race is someone that brings it every day," Jackson-Davis said. "He's the glue guy. He's the glue of our team. He holds our team together."
Woodson said his expectations are high for both of them. That's why when he first got the job, Thompson was one of the first guys he sat down with.
"The fact that he had played a number of years in college, hey, expectations are high. He's got to be held a lot higher from an accountability standpoint," Woodson said. "I expect a lot from Race and Trayce."
It makes sense Woodson would hold his All-American and glue guy to a high standard. That's why it's nice for him to watch them execute upon that. To see them pass out of double teams to each other. To see them set screens for each other. To see that kind of chemistry.
Filed to: Race Thompson, Trayce Jackson-Davis