What to expect: UNC Asheville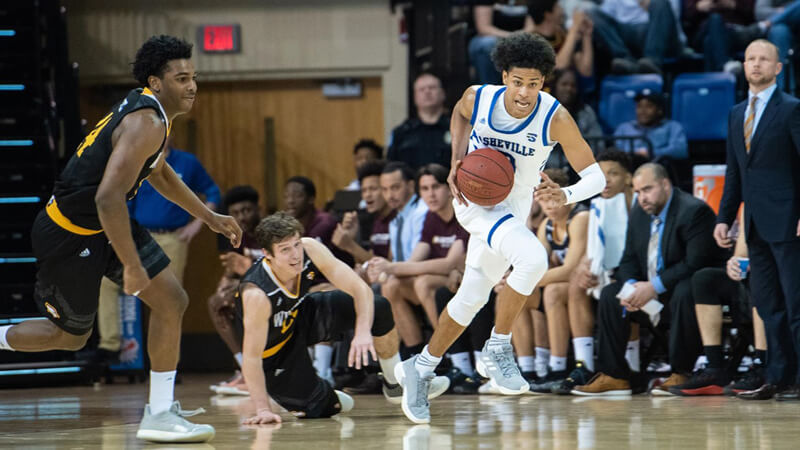 Indiana will conclude non-conference play when it hosts UNC Asheville on Wednesday night at Simon Skjodt Assembly Hall. It will be the first ever meeting between the Hoosiers and the Bulldogs.
UNC Asheville is 8-5, but three of its wins have come against non-Division I competition. The Bulldogs are 1-4 in true road games. 
Wednesday's game is scheduled for a 7 p.m. ET tip on BTN:
After a week off for Christmas, Indiana is set to wrap up non-conference play on Wednesday when it is scheduled to host UNC Asheville at Simon Skjodt Assembly Hall.
Despite numerous cancelations and postponements in college basketball over the last few weeks, Indiana has played all of its games as scheduled and sits at 10-2.
On his weekly radio show with Don Fischer, Mike Woodson said that Indiana's players had all returned to campus and said the Hoosiers are "healthy and ready to go."
MEET THE BULLDOGS
UNC Asheville, a member of the Big South Conference, was picked to finish second in the league's South division in the preseason.
After finishing a dismal 4-27 in coach Mike Morrell's first season back in 2018-19, the Bulldogs have shown steady improvement in recent seasons. UNC Asheville finished 15-16 in 2019-20, 10-10 in 2020-21 and are off to an 8-5 start this season.
UNC Asheville has 11 players averaging more than 10 minutes per game and relies heavily on the 3-point shot.
Senior guard Taijon Jones is the team's leading scorer through the first 13 games. The 6-foot-5 native of Oak Ridge, Tennessee is averaging 13.2 points per game and is shooting 41 percent on 3s. Nearly 66 percent of his field goal attempts have been 3-pointers.
Drew Pember, a 6-foot-10 transfer from Tennessee, plays the five but isn't much of a post presence offensively. Pember weighs just 190 pounds and has taken 45 3-pointers in 13 games. Pember's 5.8 rebounds per game lead the team. Pember is second on the team in scoring at 10.8 points per game. Defensively, Pember is 13th in the country in block percentage and has 49 blocks in 13 games.
LJ Thorpe, a 6-foot-5 senior, has the 10th highest usage rate in the country and is the third Bulldog averaging in double figures at 10.4 points per game. Thorpe has dished out 39 assists but has also committed a team-high 39 turnovers. Thrope has taken a team-high 42 free throws. However, he's converting at just a 64.3 percent clip from the line.
Jamon Battle, a 6-foot-5 junior, was one of UNC Asheville's most efficient players last season but isn't shooting nearly as well on 2s so far this season. Battle made 64.8 percent of his 2s last season against Division I teams. Through 13 games this season, he's only making 55.2 percent of his 2s against D1 teams.
Trent Stephney, a 6-foot-2 junior, starts at the point and is averaging 3.5 assists to go along with 6.3 points and 2.8 rebounds per game. Stephney is shooting a dreadful 1-of-15 on 3s this season.
The other key contributors for the Bulldogs are 5-foot-10 point guard Quay Kimble, 6-foot-7 forward Silas Mason, 6-foot-9 forward Coty Jude and 6-foot-7 forward Luke Lawson.
Jude is shooting 38.9 percent on 3s (72 attempts) and Kimble is knocking down 59 percent from deep (39 attempts). Lawson also takes a lot of 3s and is shooting 35 percent on 46 attempts.
TEMPO-FREE PREVIEW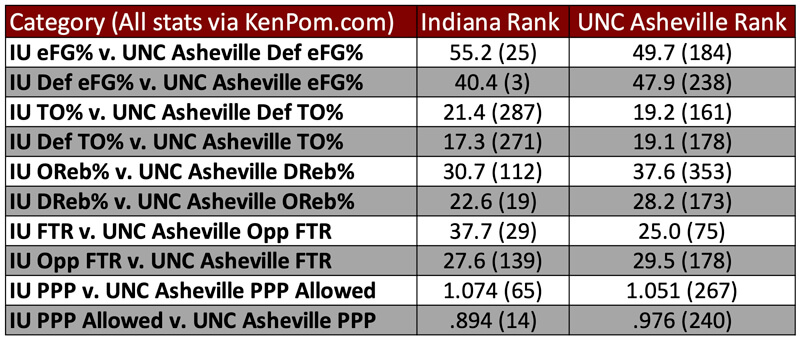 Indiana should have a huge rebounding advantage as UNC Asheville ranks just 353rd in the country as of Tuesday morning in defensive rebounding percentage. The Bulldogs are allowing their opponents to grab 37.6 percent of their missed shots, which is the same percentage as Merrimack (IU's opponent back on Dec. 12).
UNC Asheville's opponents are scoring 64.4 percent of their points on 2s, which is the 3rd highest in the country. The Division I average is 50.8 percent. This should be yet another opportunity for Trayce Jackson-Davis and Race Thompson to get a lot of paint touches and point-blank looks at the rim.
Defensively, the big concern for Indiana is limiting 3-pointers from UNC Asheville. The Bulldogs are making more than 10 3-pointers per game and have outscored their opponents by an average of 15 points per game from the perimeter.
WHAT IT COMES DOWN TO
Indiana is a 21-point favorite according to KenPom and the Sagarin ratings like the Hoosiers by 19.
Like many of its non-conference home games this season, this is a game Indiana should win comfortably. The Hoosiers have a decided talent advantage and should be able to dominate in the paint with the duo of Jackson-Davis and Thompson.
A win would put Indiana at 11-2 with Big Ten play scheduled to resume on Sunday against Penn State in State College.
The Nittany Lions, who had been on a long pause for COVID-19 issues, confirmed Tuesday they're set to return to action this week.
(Photo credit: UNC Asheville Athletics)
Filed to: UNC Asheville Bulldogs