News and notes from Mike Woodson's radio show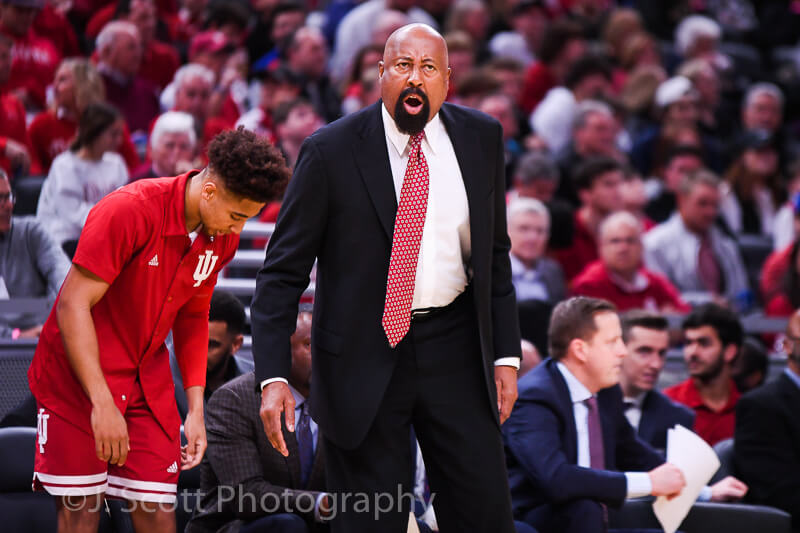 "Inside Indiana Basketball with Mike Woodson" returned Monday night as Woodson spoke with play-by-play announcer Don Fischer.
Woodson discussed the win over Northern Kentucky, Anthony Leal's start over Parker Stewart, the upcoming game against UNC Asheville and more.
• Woodson said he went to Atlanta to visit family over Christmas break. The team returned to Bloomington on Sunday, December 26 and practiced on Sunday and Monday.
• Woodson said the team is healthy and "ready to go."
• Woodson said "I've got my reasons there" and "I won't go into it with you guys" when asked about Anthony Leal making the start over Parker Stewart in the Northern Kentucky game. Woodson said that Stewart came in and gave some positive minutes in the second half. Woodson also said he was pleased with Rob Phinisee's play against Northern Kentucky.
• Woodson replied "yes" when Fischer asked him if he's established the culture he wanted entering the season. Woodson said he pushed the team defensively from the start of their time together. "They thought I was crazy early because I pushed them on the defensive end. I really didn't push them on the offensive end a lot."
• In terms of the offense, Woodson said Indiana is "still a work in progress." Woodson believes that because Indiana has established itself defensively, the Hoosiers should be able to be in every game they play this season.
• Woodson said Indiana has averaged 13 turnovers over its last five games and that he's happy the turnover numbers have started to come down in recent games.
• Entering Big Ten play, Woodson said Indiana is going to have to continue to make 3-pointers. "We've got to be able to knock them down. And we've shown we can make them."
• Woodson believes Trayce Jackson-Davis and Race Thompson will be double-teamed more often when Big Ten play begins and "the outside guys have to be ready to go." Woodson said "the outside guys" means everyone who is playing out on the perimeter.
• In terms of trying to limit turnovers, Woodson said he calls out sloppy play when it happens in practice and talks to the team about it. "At the end of the day, turnovers get you beat. Missed free throws get you beat."
• Woodson says most of free throw shooting is "between the ears." Woodson said that Indiana missed critical free throws in the Syracuse and Wisconsin games.
• Woodson said the Bahamas trip was beneficial for the team to build cohesiveness as a team. "I love all of these guys. They've worked and they've done everything I've asked of them. That's all you can ask for from a coach's standpoint."
• Woodson was asked about Indiana's competitiveness as a team and said the group is "tough." He also said the team was "down" after the losses to Syracuse and Wisconsin. "Those games were winnable games. And when we get in that crunch again, I've gotta make sure I get them over the hump."
• Trey Galloway is practicing again now, according to Woodson. The next step for Galloway will be more contact in practice. "He's not far away. I don't know when he'll actually return, but he's close."
• Woodson on the start of Big Ten play and the mindset the team has to have: "Mentally and physically, you've got to get yourself ready to play every time you jump it up in the Big Ten."
• Woodson said he's coaching to try to win the Big Ten and added that "you can't lose at home" in conference play.
• Looking ahead to Wednesday's opponent, UNC Asheville has a lot of seniors and Woodson said their "4s and 5s can make 3s."
• Asheville also mixes man to man and zone press, according to Woodson. "We'll see some full court press, some half court press and some man to man." Woodson said he believes Jackson-Davis and Thompson will see some double teams on Wednesday.
• On Rob Phinisee's confidence: "I'm trying to give it to him. I want him to score the basketball. I made that very clear when I took over this job."
• Woodson said Xavier Johnson is better "north to south" than Phinisee but added that "Rob is probably a better defender."
• Woodson on what it's been like coaching at IU thus far: "It's been unbelievable. It's hard to put into words. The NBA is a grind. It's a tough grind, man. And I've spent 34 years of my life in that grind. And when you're talking about trying to develop young players in the NBA, there's not enough time in the day to do it. And a lot of these young guys, they develop. But a lot of it is through summer work. In college, the beauty about it is that I get a chance to teach and prepare. And that's important when you're trying to develop a team."
Filed to: Mike Woodson