What to expect: Penn State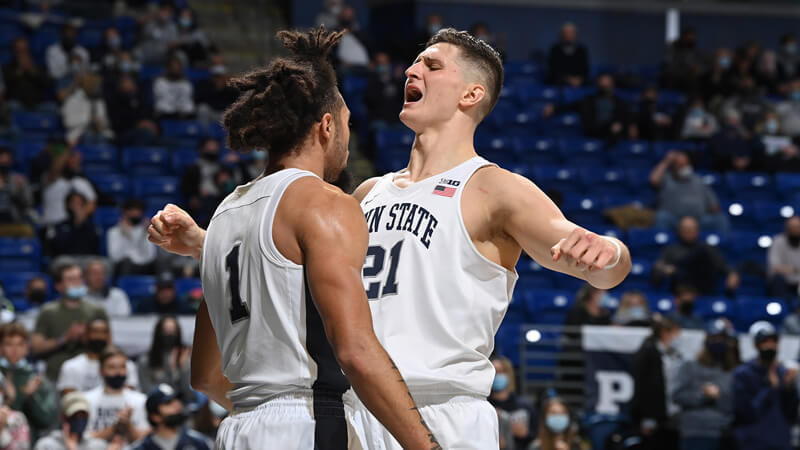 Indiana is scheduled to resume Big Ten play on Sunday afternoon when it faces Penn State at the Bryce Jordan Center in University Park.
The Nittany Lions haven't played since December 11 due to various cancelations, but are 5-5 overall and 0-2 in Big Ten play. Penn State lost 76-64 to Ohio State at home on Dec. 5 and lost 80-64 at Michigan State on Dec. 11.
Sunday's game is scheduled to tip at 4 p.m. on BTN:
Indiana and Penn State were both scheduled to have one final tuneup before the resumption of conference play on Sunday, but each team had their opponent cancel due to COVID-19 issues.
Penn State had to cancel games against VCU (Dec. 18) and Quinnipiac (Dec. 22) because of COVID-19 issues in its program but was scheduled to return to action on Dec. 29 against Delaware State. That game was canceled by Delaware State.
Indiana had navigated its schedule without any cancelations until UNC Asheville pulled out of Wednesday's game at Simon Skjodt Assembly Hall.
When the two teams meet on Sunday, it'll be the first game for Penn State in 22 days and the first game for Indiana in 11 days.
MEET THE NITTANY LIONS
Pat Chambers resigned from his post at Penn State in October of 2020 and was replaced last season by interim coach Jim Ferry. After Ferry guided the Nittany Lions to a 11-14 mark last season, Penn State conducted a coaching search and landed on Indiana native Micah Shrewsberry.
The 45-year old from Indianapolis played collegiately at Hanover and began his coaching career as an assistant at Wabash and DePauw. From there, Shrewsberry was the director of operations at Marshall before landing the head coaching job at IU South Bend. He stayed at South Bend for a couple of seasons before landing on the staff at Butler under Brad Stevens. After Stevens departed for the NBA, Shrewsberry worked under Matt Painter for a couple of years before joining Stevens in the NBA with the Celtics. Shrewsberry made the move back to college in 2019 and worked under Painter for two seasons before landing the Penn State job last spring.
Upon his arrival at Penn State, Shrewsberry had to scramble to put together a roster. Several key players transferred in the offseason including Jamari Wheeler (Ohio State), Myreon Jones (Florida) and Izaiah Brockington (Iowa State).
Shrewsberry's rotation this season has been a mixture of returnees and transfers from the low/mid-major ranks.
Penn State's best player is forward John Harrar, who is one of just two players in the league currently averaging a double-double. The 6-foot-9 center is in his fifth season with the Nittany Lions and is one of the nation's best rebounders. Harrar ranks 24th in the country in offensive rebounding percentage (15.3) and fifth in defensive rebounding percentage (32.5). Harrar's 11.4 points are fourth on the team and he's shooting 71.4 percent from the field.
After finishing last season with the fourth-best free throw rate (FTA/FGA) in the country at 79.7 percent, Harrar is posting a free throw rate of 63.5 percent through 10 games this season. He's just a career 64.3 percent free throw shooter, but is averaging four free throw attempts per game this season.
Junior Seth Lundy starts at the four and is the team's leading scorer at 14.7 points per game. Lundy has taken a team-high 118 field goal attempts, but is shooting just 43.2 percent from the field. He's a streaky shooter from the perimeter and had a three-game stretch against LSU, Oregon State and Miami (FL) where he shot just 4-of-26 on 3s. For the season, Lundy is making 33.9 percent of his 3s.
In its last game against Michigan State, Penn State started Gardner-Webb transfer Jaheam Cornwall, Siena transfer Jalen Pickett and Myles Dread on the perimeter.
Pickett is averaging a team-high 36.4 minutes per game and is third on the team in scoring at 11.9 points per game. The 6-foot-4 native of Rochester, New York is averaging a team-high 4.4 assists per game and has averaged 18 points per game through the team's first two conference games.
Dread, who is in his fourth season with the program, has taken 51 of his 56 field goal attempts from beyond the 3-point line. Dread is shooting 35.3 percent on 3s.
The 6-foot Cornwall is a Brooklyn native with a limited offensive game. Of his 39 field goal attempts, 31 have been 3s and he's shooting just 22.6 percent from distance.
Sam Sessoms started the team's first eight games before coming off the bench in the last two games Penn State played. He's capable of providing a major spark offensively as he's second on the team in scoring at 13.3 points per game. In two games off the bench, Sessoms is averaging 14 points per game. After shooting just 28.1 percent on 3s last season, he's knocking down 42.9 percent from distance this season on 28 attempts. Even more impressively, the 6-foot Sessoms is making 54.7 percent of his 2s this season (75 attempts).
The primary backup to know in the frontcourt is Greg Lee, who is now at his third school. The 6-foot-9 Lee played three seasons at Cal St. Bakersfield from 2017-2020 before playing at Western Michigan last season. Lee played in his first game of the season at Michigan State due to an injury and scored five points in 15 minutes off the bench.
Jalanni White, a 6-foot-8 transfer from Canisius, comes off the bench and contributes 4.2 points and 3.9 rebounds in 15.1 minutes per game. White is shooting 69.2 percent on 2s.
TEMPO-FREE PREVIEW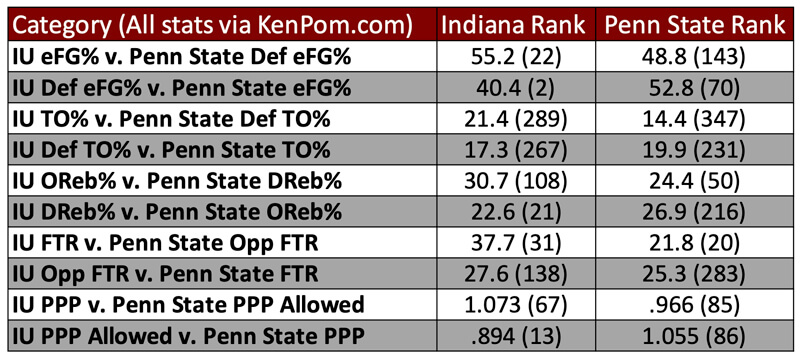 Penn State takes the air out of the ball offensively and runs deliberately long sets that stretch into the late stages of the shot clock. According to Ken Pomeroy, Penn State is playing the 345th fastest tempo in the country. Its average possession length on offense ranks 347th nationally.
Defensively, Penn State doesn't gamble for steals and places a huge emphasis on defensive rebounding and defending without fouling.
The Nittany Lions rank just 347th in the country in defensive turnover percentage (14.4). Penn State is allowing its opponents to rebound only 24.4 percent of its missed shots and has an opponent free throw rate of just 21.8 percent.
WHAT IT COMES DOWN TO
The Pomeroy projection is Indiana by 2 and the Sagarin numbers like the Hoosiers by 2.5.
Winning on the road in the Big Ten is as difficult as any league and Indiana is 0-2 in true road games this season. Sunday's game is one of just four that KenPom projects Indiana to win on the road in Big Ten play.
The keys for the Hoosiers is taking care of the ball and playing through Trayce Jackson-Davis as much as possible. While Harrar presents a challenge in the post, Penn State is very perimeter-oriented for its offense and isn't generating many second-chance points. The Nittany Lions don't get to the line much and turn the ball over frequently.
While Indiana has played very well on the road at times in losses to Syracuse and Wisconsin, the Hoosiers have yet to put together anywhere close to a full 40-minute performance away from home.
"When you're out on the road, you got to play all the way through," Mike Woodson said Friday. "You can't think that you're just going to win it in 38. It's a 40-minute game, man. We got to put a 40-minute ballgame together, period, from beginning to the end."
(Photo credit: Penn State Athletics)
Filed to: Penn State Nittany Lions