The Minute After: Northern Kentucky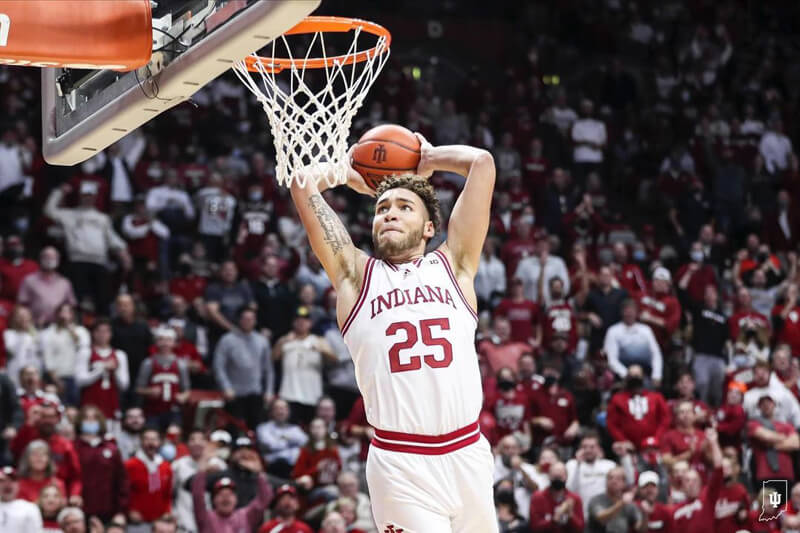 Thoughts on a 79-61 win over Northern Kentucky:
It was, as it has often been this season, a tale of two halves for Indiana tonight in Simon Skjodt Assembly Hall.
Indiana started strong against Northern Kentucky, which played a matchup zone to very little success throughout the contest.
The Hoosiers scored early and often inside as Trayce Jackson-Davis, Race Thompson, Michael Durr and Jordan Geronimo scored 26 of the team's 38 first half points.
Defensively, Indiana held the Norse to a putrid 5-of-32 shooting performance in the first half. It didn't help Northern Kentucky that its second-leading scorer, Trevon Faulkner, picked up three fouls in four first half minutes. At one point, Northern Kentucky went 10 minutes and 27 seconds without a point.
By halftime, Northern Kentucky had managed just 14 points and scored a paltry .43 points per possession. Indiana led 38-14 at the half in a game in which it tipped off as a 17.5-point favorite.
The second half, however, brought a letdown defensively.
Northern Kentucky, playing with nothing to lose, hit shots early after intermission and started to gain confidence. Faulkner got rolling after the early foul woes, scoring 22 points in 14 second half minutes. And although the Norse never got closer than 15 points down the stretch, it was clear that Indiana wasn't defending at near the level it did in the first half.
The numbers bear that out. Northern Kentucky outscored the Hoosiers 47-41 in the second half. The Norse shot 16-of-27 from the field (59.3 percent) and 7-of-15 on 3s (46.7 percent) in the final 20 minutes.
Those numbers weren't lost on Mike Woodson in his postgame press conference when he was asked what changed after halftime.
"I gotta go back and look at the tape," Woodson said. "But it wasn't pretty, I'll tell you that."
Despite the defensive troubles in the second half, this was a comfortable win for Indiana, its 10th of the season.
The combination of Trayce Jackson-Davis and Race Thompson continues to set the pace offensively for Woodson in his first season in Bloomington. Jackson-Davis went for 21 points, six rebounds and tied a career-high with four assists.
And Thompson, who clearly has more freedom offensively in IU's new offensive system, added 14 points and four rebounds. The duo combined to shoot 16-of-20 from the field.
Indiana's point guards, Xavier Johnson and Rob Phinisee, both played well at times. Johnson finished with eight points, five rebounds and five assists and didn't attempt a 3-pointer after taking nine triples against Notre Dame. And Phinisee followed up his strong performance against Notre Dame with 10 points and three rebounds in 18 minutes off the bench. The senior from Lafayette was 4-of-8 from the field, including 2-of-3 from distance.
For the first time this season, Parker Stewart didn't start as Woodson went with Anthony Leal in his place. Postgame, Woodson had this to say about the change which resulted in Stewart not appearing in the game until the second half.
"I'm not addressing that. That's an in-house matter. I will never address things that go on in my locker room to the fans or to the media."
Indiana now has six days off until it plays again next Wednesday against UNC Asheville. The players will be off until Sunday, when practice resumes in Bloomington after a holiday break.
The Hoosiers, for all of their inconsistencies, are a solid 10-2 and have the personnel to break the program's NCAA tournament drought that dates back to 2016. With his team far from a finished product, Woodson sounds optimistic about what's to come for this group of Hoosiers as the new year looms.
"I'm excited about where we are as a team knowing where we are in the big picture."
Filed to: Northern Kentucky Norse