Five takeaways from Indiana's win over Northern Kentucky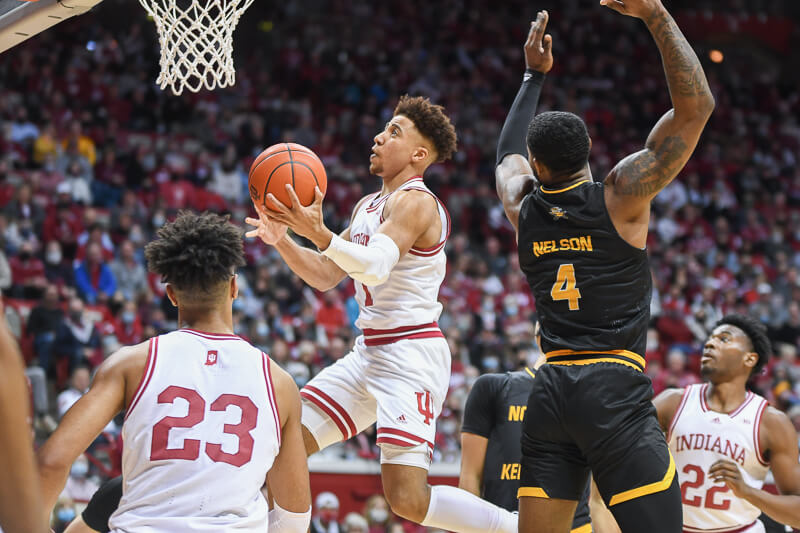 Indiana defeated Northern Kentucky 79-61 at Simon Skjodt Assembly Hall on Wednesday evening.
Here are five takeaways from the win over the Norse:
Trayce Jackson-Davis and Race Thompson lead the way
Much of Indiana's national preseason recognition revolved around Trayce Jackson-Davis. And justifiably so, as last season's third-team All-American returned for his junior campaign. But it has been increasingly impressive at the rate his frontcourt teammate Race Thompson has also emerged as an indispensable part of the team.
"Race is someone that just brings it every day," Jackson-Davis said. "He's the glue guy. He's the glue of our team. He holds our team together."
On Wednesday, the duo led the way for Indiana. Jackson-Davis had 21 points and six rebounds. Thompson had 14 points and four rebounds.
And it's not only that Jackson-Davis and Thompson have been successful, but also the way in which they work together. On Wednesday, their chemistry was evident. They frequently dumped passes off to each other in the post, leading to easy buckets and dunks.
"They know each other's movement inside, and they read each other really well, which is great," Indiana head coach Mike Woodson said. "I always talk about 'buddy ball' with our bigs, and you know, they are really good buddies when it comes to playing buddy ball."
What emerged as an important development on Wednesday was the duo's assist to turnover ratio. Jackson-Davis had four assists. Thompson had one. In total, they combined for zero turnovers. It shows growth from earlier in the season. Thompson and Jackson-Davis combined for 13 turnovers against Syracuse's zone. On Wednesday, Northern Kentucky played zone, but both were much more reliable making plays and distributing.
Anthony Leal starts in place of Parker Stewart
Indiana's starting lineup came as somewhat of a surprise on Wednesday. For the first 11 games, Woodson had deployed the same five players to start the game. But on Wednesday, sophomore Anthony Leal made his first start in place of Parker Stewart.
Asked about the decision after the game, Woodson said: "I'm not addressing that. That's an in-house matter. I would never address things that go on in my locker room to the fans or the media. That will never happen."
Stewart has been one of the most consistent offensive pieces for Indiana this season. Entering Wednesday night, he was shooting 49 percent from three and providing the outside shooting threat that Indiana has lacked the last few seasons.
Against Northern Kentucky, Stewart sat out all of the first half before finally checking in roughly six minutes into the second half. He finished the game with three points on 1-of-2 shooting from deep and three fouls.
Leal, though, did a good job filling in. The guard has worked his way into the rotation after starting the season playing sparingly. On Wednesday, Leal had just two points, but contributed four rebounds and five assists, while turning the ball over just once in 22 minutes.
It was a special night for the Bloomington native. Leal said that he learned he was starting a few days ago, but didn't tell his parents because he wanted it to be a surprise. He had his sister make sure that his grandparents were in attendance.
"When they first told me (I was starting), I was in shock," Leal said. "But I just tried to focus on making the most of it and following the scout and making sure that we got off to a good start, that kind of stuff. Staying true to what I do and trusting myself."
Indiana unable to sustain domination for 40 minutes
The inability to put together a full 40-minute performance together has been one of the more concerning trends this season for Indiana. There have been moments where Indiana plays in unison, but also some in which they look out of sorts.
On Wednesday, Indiana put together a first half of sheer domination. Offensively, Indiana shot an efficient 51 percent from the field and an exceptional 43 percent from deep. As importantly, they only committed five turnovers. The first half, though, was spearheaded by a suffocating defensive effort. The Hoosiers held Northern Kentucky to just 15 percent from the field and 16 percent from three. They finished the half with just 14 points.
"I thought defensively we did everything right the first half in terms of our coverages, our switches," Woodson said.
In the second half, though, Indiana wasn't able to sustain its first-half production. Northern Kentucky started hitting shots. They shot 59 percent from the field and 46 percent from deep. Offensively, Indiana was still extremely efficient from the field, shooting 64 percent. But their 3-point shooting slipped to 25 percent and they got sloppy with the balls at times, committing five turnovers in a four-minute stretch. Northern Kentucky outscored the Hoosiers 47-41 in the second half.
Indiana's first-half cushion, though, was plenty. In total, Northern Kentucky still shot a dismal 36 percent from the field and 30 percent from three. But it remained that Indiana was unable to put together a full performance.
"I made that known before we broke huddle tonight that that can't happen," Woodson said. "You won't win a lot of games in the Big Ten doing that."
Xavier Johnson and Rob Phinisee put together solid performances
Indiana's point guards have been one of the most scrutinized positions this season. They've shown spurts of dynamic play. They've also proved to be erratic at times.
Coming off a game against Notre Dame where he took a lot of heat for his shot selection, Xavier Johnson played with poise on Wednesday. He finished the game with eight points on 3-of-6 shooting from the field, along with five rebounds, five assists, one foul and one turnover. He was a floor general and was selective of when to attack.
Rob Phinisee, on the other hand, was looking to build off his performance against Notre Dame where he looked aggressive and confident. On Wednesday, his game-by-game development was evident. He scored 10 points on 4-of-8 shooting off the bench, while grabbing three rebounds.
There is so much to like but still so much unknown with Indiana's point guard position. Phinisee has taken a winding road in his career. He once looked like a future All-Big Ten player as a freshman before injuries and a lack of confidence derailed it. He dealt with a calf injury early this season, before now starting to really look comfortable again. Similarly, Johnson has a lot of unrealized potential. He has incredible elusiveness and athleticism that once helped him earn All-freshman honors in the ACC at Pittsburgh but has also dealt with injuries and the ongoing process of mastering the mental side of the game.
It could be argued that Indiana's season will go as far as its point guards go. That's not to discount the importance of Jackson-Davis. But Indiana's point guards are the ones that are tasked with getting Jackson-Davis the ball, among many other things that Woodson demands out of them. Wednesday, though, was a step in the right direction for both.
Bench provides lift
Indiana's bench production has see-sawed this season, sometimes being a strength and sometimes being nonexistent. Wednesday was one of the days where it was a strength. The Hoosiers had 31 points off of the bench.
Phinisee led the way with 10 points. Jordan Geronimo had eight points. Michael Durr had six points. Stewart had three. Tamar Bates and Logan Duncomb had two apiece.
That doesn't mean that the bench production was anywhere near perfect. Nobody embodies that idea as much as Geronimo. The sophomore forward has tangible characteristics that undeniably make him an intriguing prospect. But he also hasn't been playing the game for as long as most of his teammates and lacks a polished game. On Wednesday, Geronimo had four boards with his eight points, but also three easily fixable turnovers.
Like Geronimo, though, Indiana's bench has a lot of potential. Durr is still getting his legs under him after returning from injury and if he can be more reliable with the ball, he can become a key piece. Bates has shown flashes of being a high volume scorer.
Again, Wednesday was a step in the right direction. Now it's about continuing to build off of it.
Filed to: Anthony Leal, Parker Stewart, Race Thompson, Robert Phinisee, Trayce Jackson-Davis, Xavier Johnson