6-Banner Sunday: Indiana set to resume Big Ten play today at Penn State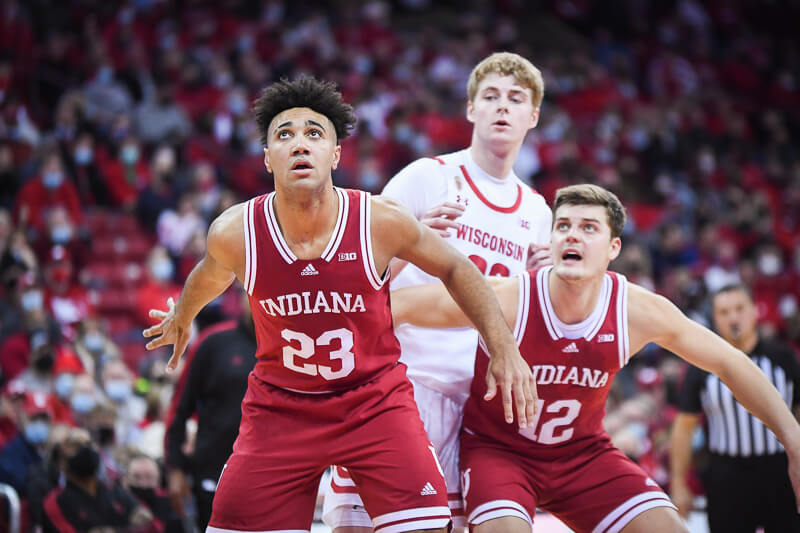 6-Banner Sunday is Inside the Hall's weekly newsletter in partnership with The Assembly Call. More than 8,000 Indiana fans receive the newsletter each week. In addition to appearing each week on the site, you can also opt to receive 6-Banner Sunday by email. A form to subscribe via email is available at the bottom of this week's 6-Banner Sunday.
Welcome to another edition of 6-Banner Sunday, a joint production between The Assembly Call and Inside the Hall where we highlight the five most essential IU basketball stories of the past week, plus take a look at how the other IU sports programs are doing.
As COVID-19 surges again, IU did not have a game this week as a result. Instead, the Hoosiers have to wait until today's return to conference play to compete again for the first time in over 10 days. Also, because of the breakthrough cases with COVID-19, the Big Ten has made new rules if teams are unable to play as a result of the virus. Also, AC Radio and Podcast on the Brink had new episodes this week as did IU coach Mike Woodson's radio show. We will as always conclude 6-Banner with a look at how other Hoosier sports are doing.
• IU's game against UNC Asheville canceled
• IU takes on Penn State later today
• Big Ten updates forfeit policy
• Podcast on the Brink and Assembly Call Radio
• Mike Woodson Radio Show
• Hoosier Roundup
Banner #1 – IU's game against UNC Asheville canceled
IU already knew it would have a week off for Christmas after the Northern Kentucky game. What it didn't know was that the break would become even longer. This was because the contest against UNC-Asheville was canceled on December 29 as the Bulldogs had issues with the Coronavirus within their program. The game will not be rescheduled.
This means IU will go between December 22 and today without competing.
Banner #2 – IU takes on Penn State later today
As discussed above, it has been a long hiatus since the Hoosiers have played a game. However, the layoff ends today as IU returns to action against the Nittany Lions at 4 pm on BTN as conference competition resumes.
Penn State has had its own issues with COVID and has not competed since December 11. Before the shutdown, they struggled to just a 5-5 record on the season. The Hoosiers have dominated the Nittany Lions recently winning 13 of the last 16 meetings and have a strong 41-12 lead in the series overall.
To preview the game, Alex Bozich wrote What To Expect, Mike Woodson and Trayce Jackson-Davis had media availability, and Tyler Tachman had a column looking at where IU stands heading back into conference play.
Banner #3 – Big Ten updates forfeit policy
Given the breakthrough cases of COVID-19 in fully vaccinated individuals, the Big Ten followed other conferences in modifying their Coronavirus policies. Before the change, teams would have forfeited a contest if they had too many players in COVID protocol. However, under the new rules, the game will be declared a no-contest and attempt to be rescheduled.
Teams are still expected to play if they have seven healthy scholarship players and a healthy coach unless they can demonstrate to the Big Ten why it is not safe to compete. A team can also choose to play with less than seven players but is not required to.
Banner #4 – Podcast on the Brink and Assembly Call Radio
Despite the absence of games this week, both POTB and AC Radio delivered with shows. Podcast On The Brink did a player-by-player breakdown of the roster with Alex Bozich and Tyler Tachman, while Assembly Call Radio did a look at what we know about the team so far.
Also, Assembly Call had new episodes of both the Tamar Bates and Grace Berger shows.
Banner #5 – Mike Woodson Radio Show
IU coach Mike Woodson also did his show despite the absence of a game this week.
Woodson looked back at the Northern Kentucky win and why Anthony Leal started over Parker Stewart. He also previewed the UNC-Asheville game (the program took place before it was known the game would be canceled).
Banner #6 – Hoosier Roundup
Basketball was not the only sport to be on hiatus this week as not a single IU Athletic competition took place due to COVID. However, announcements of the cancellations and some non-game news did take place.
• Women's Basketball had their Christmas break extended as well, as the game against Rutgers was postponed due to the Scarlet Knights being in COVID protocol. They return to competition today at 3 pm on ESPN2 against a top 10 Maryland team in a contest that could go a long way towards deciding the conference title.
• Wrestling became the first IU program to have to pause due to Coronavirus issues.
• Men's Soccer had six players named to the TDS top 100 list.
• Women's Tennis announced its schedule for the upcoming 2022 winter season.
Thanks for your continued support for The Assembly Call and Inside the Hall. We'll be back next weekend with a new roundup.
Now go enjoy yourself a 6-banner Sunday.
Aaron (Ari) Shifron
Assembly Call Contributor
Filed to: