Evaluating where Indiana stands entering Big Ten play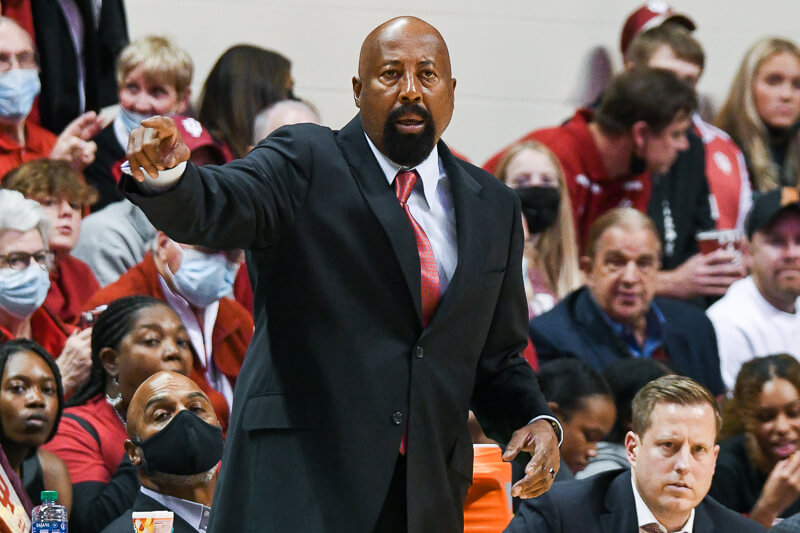 There are certain ways that Mike Woodson goes about describing certain basketball terms. He often refers to his team as a "ball club." He talks about getting his team "over the hump," conceivably meaning to reach its full potential. On occasion, he'll refer to himself in the third person.
All of this is to say that we've been around Woodson long enough to pick up on some of his tropes. It has been eight months since he was hired at Indiana. Whether that time has seemed fast or slow or somewhere in between, we are now nearing the new year and along with it the Big Ten gauntlet.
After the cancellation of Indiana's matchup with UNC-Asheville, the non-conference schedule is likely over (barring IU adding another game to replace it). The Hoosiers are 10-2. Within those first 12 games, there have been some impressive moments. There have also been some concerning trends should they not be fixed.
At the midway point of the season, Indiana doesn't have any bad losses. They also don't have any great wins. Outside of Wisconsin, none of the teams they played are likely locks to make the NCAA tournament, although a handful — like Syracuse, St. John's and maybe even Notre Dame (we'll see) — could play their way into March Madness. All things considered, though, Indiana is still in a reasonably favorable position. Should they hold serve in Big Ten play, they'll put themselves in a solid spot to make their first NCAA tournament since 2016.
One of the most impressive parts of Indiana this season has been its defense. It has been good. Really good. As of Wednesday, Indiana is third nationally in effective field goal percentage defense and 13th in adjusted defensive efficiency, per KenPom. Opponents are shooting just 39 percent on 2s and 28 percent on 3s. Remarkably, IU held Louisiana to 19 percent shooting from the field on Nov. 21. Louisiana isn't the most stellar opponent, but holding a Division I team to less than 20 percent from the field is worth noting.
Perhaps one of the most frustrating parts of Indiana's recent teams has been its lack of outside shooting. Under Archie Miller, Indiana never shot better than 32 percent from deep. It made the offense largely one-dimensional and limited the ability to play inside out, even with a dominant big man like Trayce Jackson-Davis.
This season, though, that narrative has changed. Indiana is currently shooting 37 percent from beyond the 3-point arc. Much of that can be attributed to UT-Martin transfer Parker Stewart, who is shooting 49 percent from distance. Northwestern transfer Miller Kopp is currently at 39 percent from deep. Both were brought to Indiana to shoot. Both have followed through on that so far. Even outside of that duo, freshman Tamar Bates is at 34 percent. And Xavier Johnson, despite shooting 2-of-9 on 3s against Notre Dame, is still at 36 percent.
This has allowed Indiana to play inside out through Jackson-Davis, who is having yet another All-American caliber season. And Race Thomspon, who has burgeoned into an indispensable piece.
Perhaps the most redeeming development of this new era of IU basketball, though, can't be quantified. It's the rate at which Indiana's players have bought into the culture Woodson has established. Consider that, when Woodson was hired, there were six players in the transfer portal. Within ten days, four decided to return, plus All-American Trayce Jackson-Davis. "I don't know how you could say no to Coach Woodson," Race Thompson said.
It has been constantly echoed since he was hired. Rob Phinisee described Woodson as an "O.G.," an endearing term for someone who's authentic. Johnson called Woodson a "really down-to-earth guy." It's translated to the floor. You can see the effort and intensity Indiana plays with. Much of that is the result of the trust and respect Woodson has built.
While there are many things to like about the first half of the season, there are also many struggles that can't be ignored. One of the most prominent is turnovers. Per Kenpom, Indiana's turnover percentage of 21.4 percent is 288th worst in the nation. Indiana has committed 15 or more turnovers in six of its 12 games. Much of those were a result of sloppy, avoidable mistakes. From a fundamental standpoint, the same can be said about free throws, which Indiana is converting on at just a 67 percent clip.
More generally, Indiana hasn't been able to sustain much consistency. Look through the first 12 games and most games can be categorized as having a "good half" and a "bad half." Indiana could very well be undefeated had it dug a first-half deficit against Syracuse and suffered an utter second-half collapse against Wisconsin.
A higher level of consistency can also go for Indiana's point guards. Whether it has been fair or not, the position group has taken the brunt of criticism recently. Johnson has incredible elusiveness and quickness, but can sometimes let his passion get him in foul trouble and take him out of the game. On the other hand, Phinisee is the polar opposite. Woodson has to constantly urge him to be more assertive. Both have put together stretches of promising play. Both have struggled for stretches. Indiana's season, though, may rest in their hands. This is no knock to Jackson-Davis, but having a consistent presence running the offense and handling the ball is invaluable and something Indiana has lacked the last few seasons.
The same can be said for Indiana's bench, which has both put together great games, while also disappearing in others. Bates has shown flashes of being a high-volume scorer. Michael Durr, who has been working back from an injury, is continuing to get comfortable. Jordan Geronimo has displayed growth but also turned the ball over with too much frequency. Anthony Leal has emerged as a spark. For that group, it's about performing on a more consistent basis.
Many of those questions will likely need to be answered in the next few months. Indiana's Big Ten slate is fairly favorable. Teams they play once: Iowa, Michigan, Michigan State, Illinois, Northwestern, Rutgers. Teams they play twice: Penn State, Ohio State, Minnesota, Nebraska, Purdue, Maryland, Wisconsin. There are plenty of chances there for resume-building wins. A 12-8 conference record would almost certainly cement a spot in the NCAA tournament.
Although the circumstances were different (i.e. coach, personnel), Indiana is in a similar situation as it has been in the past few seasons. All of the puzzle pieces are there. It's just a matter of how, and if, they can all fit together. Over the last few seasons, Indiana was never really able to figure it out.
Now with half a season to go, we'll see if things turn out differently. Right now, Woodson is just trying to get his ball club over the hump.
Filed to: Mike Woodson, Race Thompson, Rob Phinisee, Tamar Bates, Trayce Jackson-Davis, Xavier Johnson