6-Banner Sunday: Indiana claims sole possession of second place in Big Ten standings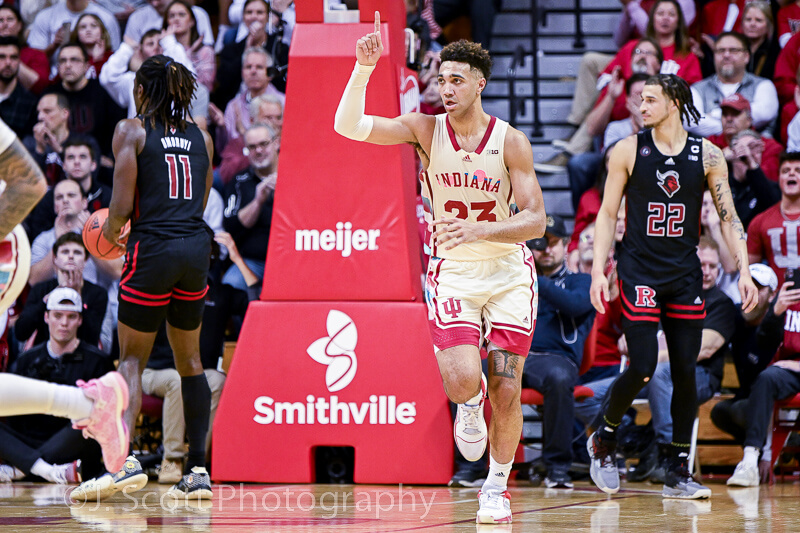 6-Banner Sunday is Inside the Hall's weekly newsletter in partnership with The Assembly Call. More than 9,000 Indiana fans receive the newsletter each week. In addition to appearing each week on the site, you can also opt to receive 6-Banner Sunday by email. A form to subscribe via email is available at the bottom of this week's 6-Banner Sunday.
Welcome to another edition of 6-Banner Sunday, a joint production between The Assembly Call and Inside the Hall, and presented by our friends at Trueblood Real Estate, where we highlight the five most essential IU basketball stories of the past week, plus take a look at how the other IU sports programs are doing.
Four more games and four more wins for the Indiana Hoosiers men's and women's basketball teams. The results ranged from a last-second victory for the men on Saturday over Michigan, to a blowout for the women of arch-rival Purdue, and two, even more, important results in between. Since Jan. 11, the two squads are a combined 17-1 as the programs have taken winning to a new level.
Away from the court, yet another bracketology update brings good news, and Assembly Call and Inside the Hall had new shows this week. We will as usual conclude with a look at how other IU sports are doing led by softball opening its season.
In brief news, IU coach Mike Woodson had his normal weekly radio show last Monday.
• IU defeats Michigan at the Crisler Center
• Hoosiers finally solve Rutgers for victory
• Women's basketball wins two more games
• Updated Andy Bottoms bracketology
• Assembly Call and Podcast on the Brink
• Hoosier Roundup
Looking for tickets to upcoming Indiana games? Vivid Seats has you covered. This week Indiana travels to Northwestern on Wednesday and hosts Illinois on Saturday. Vivid Seats is a full-service provider – with an industry-leading customer service team, reachable by phone or online during extended business hours. (These links are Inside The Hall affiliate links, so a commission will be paid to ITH if you click and make a ticket purchase.)
Banner #1 – IU defeats Michigan at the Crisler Center
On Saturday, the Hoosiers pulled out a gutsy win against the Wolverines 62-61. Indiana trailed for much of the game but came back every time Michigan looked like they might pull away. IU took the lead for good on two Jalen Hood-Schifino free throws with just under three minutes left and then neither side scored again as the cream and crimson got several key stops down the stretch. Hood-Schifino had 21 points while Trayce Jackson-Davis led the squad with 28 points. No one else did much, but the heroics of this dynamic duo was enough to escape Ann Arbor on the winning end for the first time in seven years.
The team improves to 18-7 overall and 9-5 in the league and is now in sole possession of second place behind Purdue. They face Northwestern away from home on Wednesday at 9 p.m. ET on BTN as they look to get a 10th conference win for the first time since they won the Big Ten in 2015-2016.
Afterward, Woodson spoke, Ryan Corazza had his Minute After., Alex Bozich penned Five Takeaways, while Amanda Foster wrote a column.
Banner #2 – Hoosiers finally solve Rutgers for victory
On Tuesday, IU stopped a long losing streak to Rutgers by grinding out a 66-60 win with a tough gritty victory. Jackson-Davis (who was named to yet another award watch list) led the Hoosiers with 20 points and 18 rebounds as they finally defeated the Scarlet Knights for the first time in his career (Rutgers was the only Big Ten school TJD had yet to defeat during his time at Indiana). Jackson-Davis also surpassed 2,000 points and 1,000 rebounds during the contest. In addition, Miller Kopp had a huge night as well with 18 points including four three-pointers.
Afterward, Woodson and Rutgers coach Steve Pikiell spoke, Inside the Hall had a photo gallery, Corazza wrote his Minute After and Film Session, Bozich penned Five Takeaways, while Foster and William McDermott put together columns.
Banner #3 – Women's basketball wins two more games
It was another huge week for the women's team as they knocked off arch-rival Purdue and then beat an Iowa squad that is fighting tooth and nail with them for the conference championship.
The second-ranked Hoosiers easily beat a much improved Boilers squad in front of a sold-out raucous atmosphere at Mackey Arena 69-46. IU pulled away with a terrific third quarter by holding the Boilermakers to just two points for those 10 minutes, and got contributions all day from unexpected sources including Chloe Moore McNeil and Sara Scalia as four Hoosiers finished in double figures. Inside the Hall had a free article recapping the game, while Assembly Call had a column for subscribers of its community as both sites were in West Lafayette with coverage.
The victory on Sunday set up a Thursday showdown with the Hawkeyes where Indiana picked up possibly their biggest win in program history 87-78. A record crowd of 13,046 came out as several hundred fans had to sit in the balcony for just the second time ever at a women's contest in Bloomington. Iowa's Caitlyn Clark had 35 points, but every other Hawks player was shut down as the Hoosiers' two stars Grace Berger and Mackenzie Holmes (who received more national honors) had 26 and 24 points respectively. Once again, Inside the Hall and Assembly Call were on site and had free and paid recaps respectively.
The Hoosiers are now 23-1 overall and 13-1 in the league and have the inside track to the Big Ten title with a 1.5-game lead over the Hawkeyes with just four contests left. IU faces Ohio State on Monday at 7 p.m. ET on BTN in Columbus before hosting Michigan this coming Thursday at 8:30 p.m. ET on BTN. If Indiana wins both of these contests, they will face Purdue again a week from today for a chance to clinch their first conference title in 30 years on senior day. Either way, it is already sold out (this is a first for a women's basketball contest at Assembly Hall) and will set yet another attendance record.
Banner #4- Updated Andy Bottoms bracketology
With both the men's and women's unprecedented hot streaks, they have put themselves in a terrific position for March Madness according to bracketology projections.
Assembly Call and Inside the Hall's own bracketologist Andy Bottoms had the men's team as a five seed before both victories this week. In his projection, the Hoosiers would face 12-seed Liberty in New Albany, where the winner would then take on either four-seed Virginia or 13-seed Akron in the second round. The top seed in Bottoms' projected Midwest Region that includes IU would be Alabama.
On the women's side, there is no need to guess where Indiana sits as the selection committee put out their top 16 teams to this point and they have them as the second number one seed behind only South Carolina. NCAA.com's autumn Autumn Johnson took a stab at the bracket after being armed with this information. What is known, is that as long as the Hoosiers inevitably stay in the top-16, they will host the first two rounds in Assembly Hall before traveling to either Greenville S.C. or Seattle for the Sweet 16 and Elite 8.
Banner #5 – Assembly Call and Podcast on the Brink
Both Assembly Call and Inside the Hall had several new shows. Podcast on the Brink had two episodes this week both last Sunday and Friday. Meanwhile, Assembly Call was on air following all four games for both the men's and women's teams. They also had a special free edition of Banner Friday with Mike DeCourcy.
Banner #6 – Hoosier Roundup
• Softball opened their season in Florida going 2-1 which included a no-hitter.
• No. 13 Water Polo finished with two losses and a victory at last weekend's Triton Invitational and sits at 8-4 overall.
• Men's Tennis defeated Dartmouth and Xavier
• Women's Tennis lost to Yale and beat Xavier
• No. 18 Wrestling fell to Penn State and Michigan State.
• Women's Golf finished 14th to open the spring competition.
• Track and Field competed at the Windy City Invitational.
• Baseball once again had media availability before opening their season at Auburn next weekend.
• Field Hockey had 10 student-athletes named to the national academic squad.
Thanks for your continued support for The Assembly Call and Inside the Hall. We'll be back next weekend with a new roundup.
Now go enjoy yourself a 6-banner Sunday.
Aaron (Ari) Shifron
Assembly Call Contributor
Filed to: