News and notes from Mike Woodson's radio show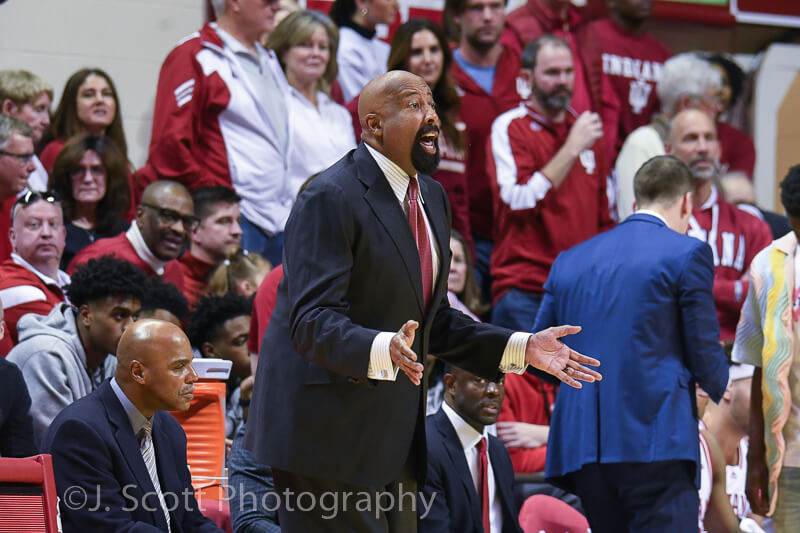 After a week hiatus, "Inside IU basketball with Mike Woodson" returned Monday night with host Don Fischer. The duo discussed last week's loss to Maryland and IU's win over No. 1 Purdue.
Here's a recap of this week's show:
• On the win over Purdue: "It was an exciting night. I thought our players answered the bell loud and clear. They came out right from the start ready to play. You go in the locker room up 15 and holding that team to 35, you've done something right."
• On defending Zach Edey in the first half: "I thought we did a good job. I kind of like our guy, too (laughs). He's a load. I never look at the scoreboard when it comes to looking at the stats, but I just happened to catch it and I think Trayce (Jackson-Davis) had 25 (points) and he had 23 at one time. And I was like, "hell, where did those 23 points come from?"
• On putting pressure on Purdue defensively: "It was a battle, we tried to make every catch tough. We had Trayce and Malik (Reneau) fight as much as they could on big fella before he actually got the ball."
• Fischer mentioned Indiana's improved 3-point shooting percentage and how big of a factor it has been for the team. "It's been a huge factor. Last year, we got a lot of good looks from the 3-point line and we just couldn't make them," Woodson said. "And this summer, the work that these guys have put in this summer to put us in the position, I think we're number one in the Big Ten in 3-point shooting percentage. That's just from a lot of work. Guys putting in the time and feeling good about when they let it go, it's going in. We're getting some of those same shots we had last year. This year we're making them."
• Woodson said it "says a lot" about Jalen Hood-Schifino that he bounced back from his tough game at Maryland with a strong performance against Purdue. Woodson mentioned the two buckets by Hood-Schifino down the stretch against the Boilermakers as "just huge."
• Woodson said that Reneau was "on a roller coaster for a while." The reason for that, according to Woodson, was that Reneau "just wasn't playing hard enough." Woodson said he's been on Reneau to treat practice just like a game.
• Woodson on Kaleb Banks: "He's been patient with me because I hadn't played him a whole lot. He's just kept quiet and he's working his butt off in practice and I feel good now when I throw him in the game."
• On Rutgers: "I thought last season here we played them well. We controlled the game and then we let it get away at the end. And then they hit a big shot to bring it home for their ball club. But they play hard, they do a lot of things defensively and we're just going to have to commit for 40 minutes based on what they try to do from a defensive standpoint and just be ourselves. I feel good about how we've been playing here of late. We're six out of seven in our last seven games and we've played well on both ends of the floor. Even the Maryland game we lost, we came out ready to play and it was close in the second but we just couldn't bring it home. We just didn't play well. To bounce back and beat the No. 1 team in the nation the way we did, says a lot for our ball club."
• On whether there's a chip on IU's shoulder going in: "I think so. There's a lot of things that have been said in terms of they think that they're the better team and they've shown that. They've won. We gotta fix that somehow, starting tomorrow."
Filed to: Mike Woodson