"We're writing a story right now": No. 2 Indiana takes down No. 5 Iowa 87-78 in a battle for the ages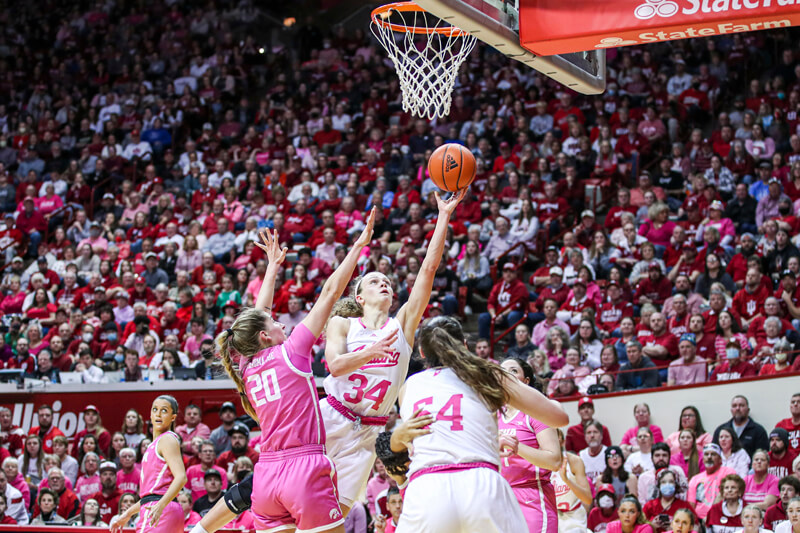 In any good story, there is a warrior and a monster.
Indiana women's basketball is both.
Teri Moren is the author, creating a multi-headed creature capable of destruction. She's scripted a warrior full of skill, determination and confidence. She's constructed something so complex, so talented, it's almost unfathomable.
But it's real, and it's the golden age of Indiana basketball.
The Hoosiers secured the top spot in the Big Ten — at least for now — with their 87-78 victory over Iowa Thursday night. The win marked the Hoosiers' seventh this season over a ranked opponent and boosted their record to 23-1. They're undefeated at home and show no signs of slowing down.
"It's a great win against a really, really great opponent that we have a tremendous amount of respect for," Teri Moren said postgame.
In the veritable hydra that is Indiana women's basketball, Mackenzie Holmes and Grace Berger led the way against the Hawkeyes. They finished with 24 and 26 points, respectively, outscored only by Caitlin Clark's 35.
The matchup between Holmes and Monika Czinano wasn't quite the showstopper everyone expected, as Czinano only scored six points and fouled out, but it still made for a good story. Holmes showed no fear in driving into the post against Czinano or any other Hawkeye, drawing fouls and refusing to give in. Her footwork and confidence set her apart from any other player on the court.
"I really just tried to have a defensive mindset going into this game, knowing that it wasn't going to be easy," Holmes said. "But (I) just tried to be myself, not do anything special (or) out of the ordinary, and just play hard for 40 minutes."
It's also not a surprise that Holmes, Berger and every other Hoosier came out with an even stronger presence on defense.
Berger's impact on both Indiana's defense and offense came largely in the second half, where she came out with fire in her eyes to score 19 points and grab six rebounds. Her 26 points marked a season-high, and the intensity in her game was one of the driving factors that led to Indiana's win.
"I just really wanted to win," Berger said. "I remember losing to (Iowa) three times last year — and in the Big Ten Championship game — so anytime we play a great team like that it means a little more. So I just wanted to do what I could to help my team win."
But it wasn't just Holmes and Berger who ran the floor and pulled out the win in front of the record 13,046 fans in Simon Skjodt Assembly Hall. That's the unique thing about the Hoosiers this year: they have a wealth of talent and experience in multiple spots.
The Hoosiers are not a one, or even two, headed monster.
Sara Scalia and Chloe Moore-McNeil took turns guarding Clark, flying around in front of her and holding her to shooting 3-for-11 from deep and 12-for-28 overall. Clark's 35 points were by all accounts highly impressive, but Indiana held her down in a way other teams failed to in the past.
Scalia, while drawing fouls and wreaking havoc on the Hawkeye offense, was also a significant threat. She finished the night with eight points on 2-of-4 shooting from beyond the arc, and both 3-pointers came at crucial times in the first half to either keep Indiana in the game or extend the lead.
"Sara Scalia came in and really did some great things defensively," Moren said. "We talked about being in gaps, but also we felt like we had to take some calculated risk and go make plays. And Sara dropped off a couple times and made some big plays down the stretch for us."
While she also proved crucial down the stretch, Moore-McNeil was truly a force to be reckoned with throughout the game, with 11 points and nine assists. Two of her assists found Yarden Garzon, who came alive in the fourth quarter to sink two 3-pointers.
And by the time that second 3-pointer fell through the net, the win was inevitable. With just under five minutes remaining, the Hoosiers led 76-67. As the clock ticked down, the Hawkeyes couldn't come within six points, and Assembly Hall began to rejoice.
In an ending not unlike one out of a fairytale, the "good guys" were victorious over their enemy. But characters in fairytales don't control their stories, and fairytales aren't even real. Moren and her squad are. And they have no plans of subjecting themselves to the whims of a story outside of their control anytime soon.
"We control our destiny," Moren said. "And so my charge to our team is not to let anybody else hold the pen."
(Photo credit: IU Athletics)
Filed to: