Miller Kopp cooks, and Indiana feasts, in 66-60 win over Rutgers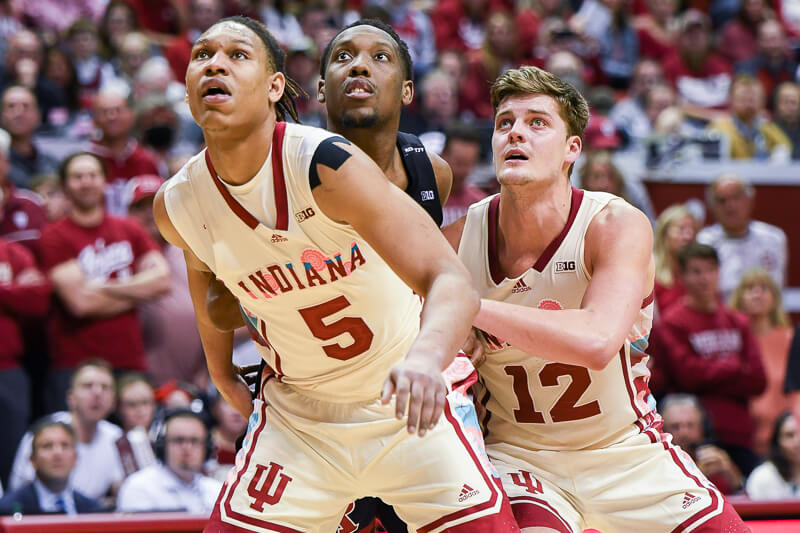 Rutgers gave Miller Kopp access to the kitchen, and he started cooking.
The recipe? Confidence mixed thoroughly with smooth 3-point shooting and a few tablespoons of energetic, pressure-filled defense.
Kopp has not had access to the proverbial kitchen very often this season, as many of IU's opponents play him tightly and prevent him from getting good looks. In nine of the Hoosiers' last 10 games, Kopp had limited opportunities to even be in a position to confidently shoot the ball.
But on Tuesday, he had almost completely free rein.
Consistently open on the perimeter, Kopp finished the night with 18 points — with 4-of-6 shooting from deep — for the most points he's scored at Assembly Hall as a Hoosier.
"I wouldn't leave him either," Mike Woodson said postgame about teams guarding Kopp close. "When he gets looks, pretty much this year he's knocked them down. Tonight he had his looks."
Whether he was waving his arms for the ball or waving his arms in front of Caleb McConnell's face, Kopp played one of the most efficient games of his career in Indiana's 66-60 win over Rutgers. Indiana was +11 with Kopp on the floor and his 18 points were second only to Trayce Jackson-Davis' 20.
Jackson-Davis, in fact, was one of the reasons Kopp was able to have so many wide-open chances.
"You gotta double-team [Jackson-Davis], and then the ball gets moved out," Rutgers head coach Steve Pikiell said postgame. "And [Kopp] is the recipient of good passes."
Jackson-Davis had another career night, becoming the first Hoosier to record 2,000 career points and 1,000 career rebounds. But his six assists were also influential, as four of them found Kopp, who proceeded to sink each shot like it was what he was born to do.
It was a testament to Indiana's offense, and confidence, that the team worked around double and triple-teams on Jackson-Davis to find open players like Kopp. With the level Jackson-Davis is playing at, all-around team offense is a necessity. And while stretches where Indiana's offense simply looked gone — specifically, eight minutes in the second half — showed the work that still needs to be done, the Hoosiers are in a better position than they were just one month ago.
"I think we've gotten a lot better at playing around Trayce and when he has the ball and giving him space to work, but also keeping the wings, the defenders, hold(ing) them accountable," Kopp said. "(It) just comes down to getting better at what the coaches are asking us to do. And we all are kind of feeling more comfortable with where our looks are coming from."
It's also worth noting that Kopp was on the bench for the better part of Indiana's second-half scoring drought due to foul trouble.
But offense was only one part of Kopp's big night. His defensive effort was the rare ingredient, one that's been simmering just below the surface in so many of his previous performances.
"I grew up with three brothers, and man, we really just fought all the time in a good way," Kopp said. "Playing one-on-one, two-on-two basketball in our driveway late at night, we had the cops called on us a couple times just because there's yelling and screaming and stuff."
Luckily, no cops had to be called Tuesday night. But that doesn't mean Kopp didn't play with that same tenacity. For a player known for his shooting, he looked completely confident and at ease on the defensive end of the floor.
Whether it was diving at half-court for a loose ball, jumping up for rebounds or running around from the perimeter into the paint and back, Kopp was everywhere. He matched up with Rutgers' McConnell on multiple occasions, keeping the 6-foot-7 guard from easy shots and holding him to just two points.
Kopp's scrambling kept Rutgers on its toes, playing a Trey Galloway-esque role in Indiana's defense. The Hoosiers forced the Scarlet Knights to long possessions and even shot clock violations, and that was ultimately why they never trailed after the scoreboard read 4-3 early in the contest.
Indiana's victory over Rutgers — a top-tier defensive team and a consistent challenge for almost every team it faces — may have been a surprise, but Kopp's performance wasn't.
It's a bit of a trend now for the Scarlet Knights to allow Kopp this freedom. After all, in Indiana's loss in December, Kopp was one of the lone bright spots with a season-high 21 points with five 3-pointers.
Simply put, a bit of a trend may be emerging: one that could come into play once again in the Big Ten tournament.
Filed to: Miller Kopp