Five takeaways from Indiana's win against Michigan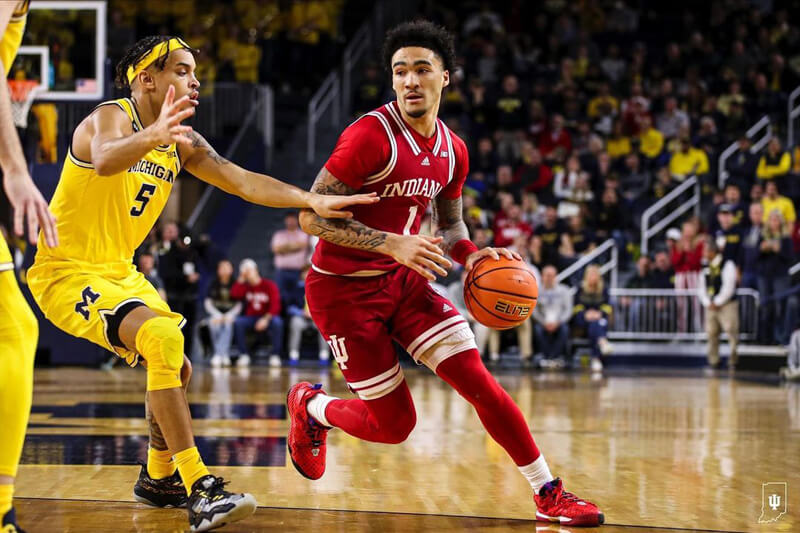 Indiana improved to 18-7 overall and 9-5 in Big Ten play with a 62-61 win against Michigan at the Crisler Center.
Here are five takeaways from the victory:
Once again, Trayce Jackson-Davis carries Indiana to a win
It wasn't the most spectacular performance from Trayce Jackson-Davis, but he did enough to propel the Hoosiers to their fourth road win this season.
Aside from a strong second half in last season's Big Ten tournament, Michigan and Hunter Dickinson had dominated Indiana and Jackson-Davis in the past.
But Jackson-Davis got the better of Dickinson on Saturday.
In 40 minutes, Jackson-Davis went for 28 points and 11 rebounds. While he struggled to finish at times against the size and strength of Dickinson, Jackson-Davis did just enough to propel Indiana to its eighth win in nine games.
"He's super athletic," Dickinson said postgame of Jackson-Davis. "It creates a tough challenge as a defender. Obviously, he's a great player and he had a great night tonight."
Saturday marked the fourth straight game for Jackson-Davis with 38 or more minutes played. According to KenPom, he's playing 92.3 percent of available minutes in conference play, which is second in the league behind Jalen Pickett of Penn State.
Michigan goes scoreless over the final 5:12
Indiana scored only four points in the final 5:41 of Saturday's game. That typically wouldn't be good enough to get the job done on the road against a team with a strong offense like Michigan's.
But after Dickinson's layup with 5:12 remaining, the Wolverines didn't score again. Indiana shut Michigan out completely over its final eight offensive possessions.
Part of it was Michigan missing open looks and part of it was Indiana's defense playing much better than it did early when the Wolverines were scoring at will.
As the stops continued to add up, the pressure mounted on a Michigan team desperate for a win. And the Wolverines didn't execute at all on their final few possessions.
Michigan's final three possessions were a Terrence Williams turnover and two badly missed jump shots by Jett Howard that were heavily contested.
Hood-Schifino made plays and free throws when Indiana needed it most
As Michigan's Dug McDaniel, Kobe Bufkin and Jett Howard all struggled in the second half of Saturday's game, Jalen Hood-Schifino came up big for Indiana.
The freshman guard scored 11 of his 21 points in the second half. He was 3-for-7 from the field, 4-for-4 from the free throw line and played all 20 minutes.
Hood-Schifino himself outscored McDaniel, Bufkin and Howard in the second half. The trio scored only five points combined in 49 second-half minutes.
The Montverde product doesn't always make the right read or the right play, but he never seems to get rattled by any situation. Despite committing six turnovers in the win, Hood-Schifino's confidence remained steadfast throughout the contest.
Hood-Schifino's five assists led Indiana and he was an efficient 7-for-12 on 2s in the victory.
Indiana's advantage at the free throw line was pivotal
In a game that is decided by just one point and goes down to the final possession, it can be hard to pick out huge discrepancies on the statsheet.
For example, both teams scored 36 points in the paint at the Crisler Center. Michigan was 23-for-54 from the floor and Indiana was 23-for-53.  And Indiana held just a small advantage (13-to-11) in points off of turnovers.
But the free throw line was a difference-maker for the Hoosiers in the win.
Indiana outscored Michigan by four at the line and attempted five more free throws than the Wolverines.
The Hoosiers had a free throw rate (FTA/FGA) of 34 percent, which is eight percent higher than what Michigan had been giving up to Big Ten opponents entering the game.
Indiana claimed sole possession of second place in the Big Ten with Saturday's win
With only six games remaining, Indiana is in sole possession of second place in the Big Ten standings after Saturday's win against the Wolverines.
At 9-5 in league play, the Hoosiers are just ahead of Illinois and Northwestern. Both programs are 8-5 and Indiana's next two games are against the Wildcats and the Illini.
Indiana is now 8-1 over its last nine conference games after starting out 1-4 in league play.
While the Hoosiers are unlikely to catch Purdue and seriously challenge for a Big Ten title, there's still plenty to play for.
With each win, Indiana continues to improve its positioning in the NCAA tournament picture.
And while there's plenty to sort out with seeding for the Big Ten tournament, the Hoosiers have put themselves in a solid position to contend for one of the coveted double-byes at the United Center next month.
(Photo credit: IU Athletics)
Filed to: Michigan Wolverines, Trayce Jackson-Davis