Lockdown defense and Mackenzie Holmes prove to be inevitable in Indiana's 69-46 win against Purdue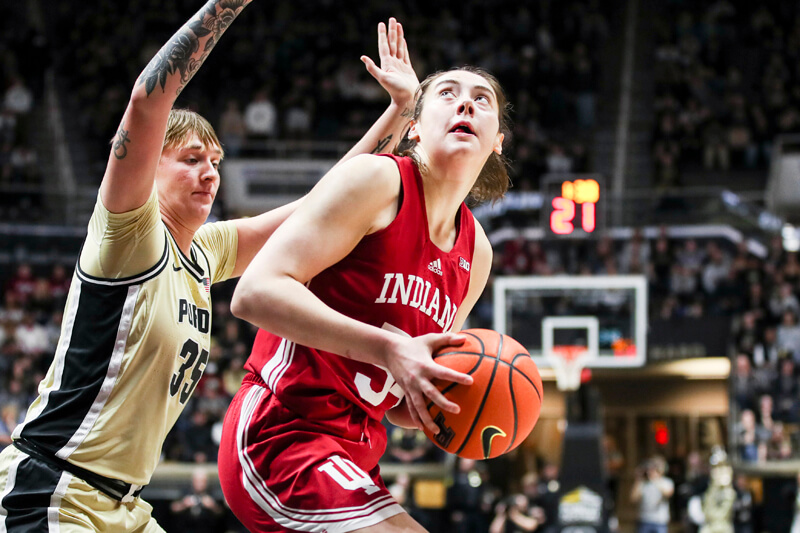 WEST LAFAYETTE – Sometimes, in life and sports, the script is already written. All anyone has to do is follow it. And in a storybook season like the one Indiana women's basketball is having, there's no other option than to do just that.
It doesn't matter if things are predictable; the Hoosiers play in such a way that even if teams know what's coming, they can't do anything about it. Everyone knows Mackenzie Holmes is going to score in the post. Steals from Chloe Moore-McNeil are routine, and if Sydney Parrish doesn't hit at least one 3-pointer, she probably didn't play.
Simply put, Indiana basketball is inevitable, even when it plays in Mackey Arena surrounded by thousands of Boilermaker fans. Indiana's 69-46 victory against Purdue wasn't the most perfect basketball game, but it was the kind of game Indiana thrives in.
Realistically, at 22-1 on the season, the Hoosiers find ways to thrive in just about every kind of game. But at the same time, that doesn't mean they don't falter at times.
Sunday found them struggling to come together offensively in the first half, as Mackenzie Holmes was consistently double-teamed and Chloe Moore-McNeil was the only Hoosier consistently finding, and making shots. Moore-McNeil scored all of her 13 points in the first half, while also recording four rebounds and four steals. She was the force keeping Indiana in the lead, but she couldn't do it alone.
Holmes scored her first points of the game with three minutes left in the second quarter, and while the Hoosiers led 31-26 at the break, their basketball hadn't been pretty. They looked discombobulated.
But Holmes can only be held in check for so long. Indiana was going to find momentum, and it was just a matter of time.
That time came in the third quarter. Holmes came out with the mentality of an athlete in the national player of the year discussion, working through the double-team and producing every time she held the ball.
"It's Mack just making decisions, the right decisions," Teri Moren said postgame. "Whether that was to throw that thing out and generate some energy behind the ball with our guards, or be able to do Mack-like things."
Those "Mack-like things", whether they came in the form of fancy footwork in the post or taking advantage of any open look, led to Holmes recording 11 of her 15 points in the third quarter. She helped the Hoosiers in a 7-0 scoring run to begin the third quarter, giving their already strong defense a reason to step up even more.
And they did, outscoring Purdue 19-2 in one of the most dominant 10-minute performances the team has ever had.
"We were really good defensively," Moren said. "Our kids played really hard today and knew the importance of being able to keep them at bay."
While Indiana's defense was stifling for a large part of the game, the third quarter was a step above. Purdue was 1-for-17 and turned the ball over seven times in those ten minutes, as Indiana went on a 12-0 scoring run to close the quarter up 50-28.
The influence behind those runs and that defensive clinic? A simple conversation, and a little faith.
"I think coming out in the third quarter we just had to keep our foot on the gas and just keep playing hard," Parrish said. "Our runs will come and their runs will come too, so we just had to keep our foot on the gas and keep working hard."
When things are inevitable, it doesn't matter the situation or circumstances. So, the Hoosiers just had to keep doing what they were doing, and things would work out, because what they were doing was high-level, gritty basketball.
Purdue versus Indiana basketball always produces competition and entertainment. That's been written in the script since both schools started playing basketball. This time, the script wrote Holmes and the Hoosiers as the game's victors and the in-state rivalry.
"I am the only Indiana kid on this team," Parrish said. "So I had to kind of step up and be that person on our team to show who the best team in Indiana is."
(Photo credit: IU Athletics)
Filed to: