On the backs of Trayce Jackson-Davis and Jalen Hood-Schifino, Indiana escapes with a win at Michigan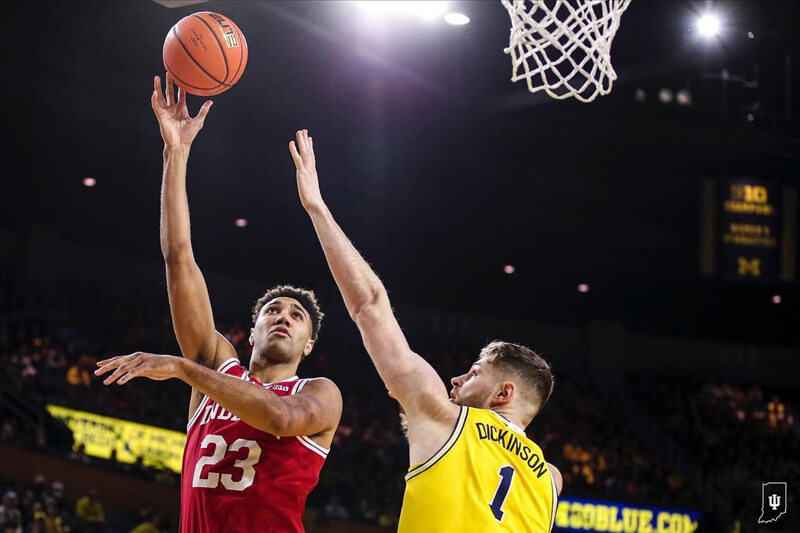 Trayce Jackson-Davis has played all 40 minutes in two basketball games this season. He's played 39 minutes in five games. In all but five games, he's played 30 or more minutes.
The reason why is clear as day; Jackson-Davis carries his team. There hasn't been a single game where he's scored less than 10 points, and in averaging 20.2 points per game, he is consistently the standout performer on the Hoosier offense.
Saturday night was no different in Indiana's 62-61 win against Michigan at the Crisler Center.
In its trip to Ann Arbor, Indiana started the game the same way it started most road games this season: slow. The Hoosiers looked lethargic, discombobulated and any other word you could think of to describe a basketball team with players that just aren't all there.
Except for one.
Jackson-Davis came into the game with a bang — literally — putting up the first points of the night with a slam dunk. He scored nine of Indiana's first 11 points, and 16 of the 33 first-half points for the Hoosiers.
"He's a young kid," Mike Woodson said postgame. "He can rest tomorrow. He was fantastic today, on both ends of the floor, having to battle a great player in (Hunter) Dickinson, and (to) still be able to do what he did just speaks volumes. He's playing unbelievable."
Hunter Dickinson posed somewhat of a challenge to the All-American, but not enough to slow him down. Once Jackson-Davis got in a groove — which didn't take long — he was soaring to the rim like the defenders didn't exist.
"It's the end of the season now," Jackson-Davis said. "Ain't no time to be tired. We gotta just keep pushing, keep carrying through. We can rest after the season."
Jackson-Davis finished the night with 28 points and 11 rebounds for his 13th double-double of the season. He carried the load for a significant part of the first half, playing with the energy and pace when few other Hoosiers could buy a bucket.
Luckily for Jackson-Davis and the rest of Indiana, someone else stepped up and cashed in: the other three-initial Hoosier.
After starting the first half with missed mid-range shots, turnovers and fouls, Jalen Hood-Schifino looked on pace to have another lackluster road performance. But he was coming off an off night against Rutgers, scoring seven points and shooting 0-of-3 from beyond the arc, so it was his time to shine.
"He's a super-talented player," Jackson-Davis said. "Probably one of the best guards I've ever played with, regardless of where or when. I feel like me and him are one of the best duos in the country, honestly."
Hood-Schifino transformed into that elite player with six minutes to go in the first half, rattling off eight straight points for the Hoosiers to bring them within five points of the Wolverines. He finished with 21 points, five rebounds and four assists.
In the second half, Indiana's offense consistently found Hood-Schifino and Jackson-Davis, feeding them the ball repeatedly and reaping the benefits.
While the night overall was somewhat of a bounce-back game for Hood-Schifino, he also had to adjust in-game. With a team-high six turnovers, Hood-Schifino exhibited his flaw of occasionally losing track of the ball or throwing away a bad pass.
"From watching film he'll learn not to take chances, not to be lazy on entry passes to the post, and not be lackadaisical with the ball out front when he's handling it," Woodson said. "He played a solid game. We needed every bit of his 21 points."
Woodson shortened his rotation Saturday night, only playing seven Hoosiers and leaving it up to Hood-Schifino and Jackson-Davis to score. Outside of the two stars, no one else scored more than four points. But at the end of the night, it worked, and Indiana won.
"They were the only ones that was really clicking so we kept them in a lot of pick and rolls," Woodson said about Hood-Schifino and Jackson-Davis. "I rolled (with) the seven guys and they came through."
Woodson said he wasn't comfortable putting the pressure on players like Kaleb Banks or CJ Gunn and opted to rely on just seven players. Sometimes, for some teams, those decisions don't work.
But for Indiana, with high-level athletes like Jackson-Davis and Hood-Schifino, it does.
(Photo credit: IU Athletics)
Filed to: Jalen Hood-Schifino, Michigan Wolverines, Trayce Jackson-Davis