Five takeaways from Indiana's win against Rutgers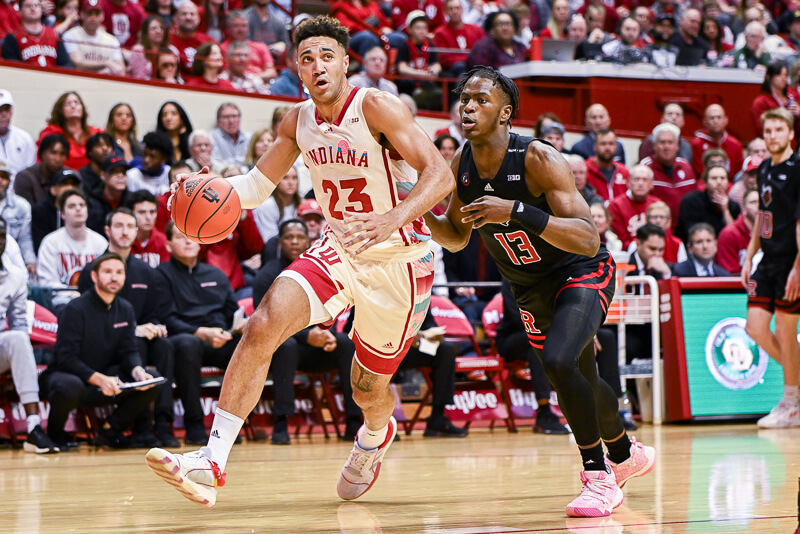 Indiana improved to 17-7 overall and 8-5 in Big Ten play with a 66-60 win against Rutgers on Tuesday night at Assembly Hall.
Here are five takeaways from the victory:
Indiana matched Rutgers from a toughness perspective
Indiana's futility against Rutgers entering Tuesday's game was well established. The Scarlet Knights had won six straight in the series. Rutgers was the only Big Ten opponent Trayce Jackson-Davis had not defeated in his career in Bloomington.
Rutgers had dominated the series in recent seasons because it was tougher than Indiana. The 63-48 loss Indiana suffered to the Scarlet Knights in early December was the most recent example of the Hoosiers not matching the grit and physicality of Steve Pikiell's team.
Indiana stepped up and met the challenge on Tuesday in Bloomington. The Hoosiers took the lead early and never gave it up after the game's opening minutes. When Rutgers went on runs throughout the evening, Indiana always had an answer.
"I'm proud of this team, man, because there's no quitting," Mike Woodson said postgame. "They grind. They try to do whatever it takes to win and tonight we did that."
Indiana's performance had plenty of flaws.
But the Hoosiers were relentless defensively in the second half, matched the physicality of Rutgers and competed hard on the glass. Against an opponent that has dominated the series in recent seasons, it was another sign of growth that Indiana was able to slug out a victory.
Trayce Jackson-Davis delivers another spectacular effort
Trayce Jackson-Davis continued his climb up the all-time scoring list at Indiana on Tuesday night.
With his 20 points against Rutgers, Jackson-Davis is now past the 2,000 career point total over his four-year career at Indiana.
He's now the first player in program history to score 2,000 points and grab 1,000 rebounds.
"It's unbelievable. All I can say, it's unbelievable," Woodson said. "This young man has done a lot since he's been here wearing this uniform. I couldn't be more proud of a player. He's a phenomenal player, beautiful to watch but he does a lot of wonderful things on the floor, man, to be able to score 2000 points and 1,000 rebounds, that says a lot."
Jackson-Davis was 8-for-14 from the field and pulled down a game-high 18 rebounds.
"I know Coach Woody, what he always says, the board man gets paid," Jackson-Davis said. "I just try to get rebounds, whether it be offensively, defensively, just try to time where the ball is going to be."
Indiana won the game at the foul line
Indiana prevailed despite going nearly nine minutes without a field goal in the second half.
A big reason it was able to survive such a lengthy scoring drought was the free-throw line. In the second half, Indiana went 10-for-14 from the line. For the game, the Hoosiers outscored the Scarlet Knights by 11 points from the stripe.
Free throw shooting, from a percentage and attempt perspective, remains a hole on the IU offensive resume.
Indiana is shooting just 70.7 percent from the line this season, which ranks outside of the top 200 teams nationally. And in Big Ten play, IU's opponents had attempted 44 more free throws through 12 games entering Tuesday.
But Indiana was able to reverse that trend against Rutgers as it attempted 14 more free throws than the Scarlet Knights. It proved to be a major difference in the outcome.
Miller Kopp steps up as the second scoring option
On a night when Jalen Hood-Schifino wasn't making shots, Miller Kopp stepped up as Indiana's second scoring option.
Kopp had 21 points in the first meeting between the two teams in Piscataway. On Tuesday, he went 6-for-9 from the field and had 18 points.
"He got good looks and they didn't get to him a lot of times in the zone, when the ball was swung around, he was getting good looks and he knocked them in and made them pay for it," Woodson said. "Most teams that we play don't give him very many good looks like that.
"But he was able to knock them down. But not just making — scoring the 18 points, hell, he was pretty good defensively, too, tonight. He did a lot of good things defensively for us."
While Kopp has proven to be more of a situational scorer than a go-to option, he's playing with more confidence this season.
For the season, he's shooting 45.8 percent on 3s and 46.7 percent from distance in Big Ten play, which ranks fourth in the conference.
"Miller, he doesn't get a lot of shots but he's efficient," Woodson added. "He makes shots when he has to make them, and that's huge for a team when you are trying to win."
Indiana is now tied for second place in the Big Ten
After starting 1-4 in Big Ten play, Indiana's win on Tuesday propelled the Hoosiers into a tie for second place in the conference standings.
At 8-5, Indiana is now tied for Rutgers for second place in the league standings. There's a logjam of five teams behind IU and Rutgers at 7-5.
Overall, the Hoosiers have won seven of their last eight games.
It's been a surprising turnaround for a team that looked hapless early on in Big Ten play. After getting drilled by 19 points on Jan. 11 at Penn State, Jackson-Davis is playing at an All-American level and the supporting cast has filled in nicely around him.
"We've done some things in these last eight games, I think we are 7-1 in our last eight… where guys, they just believe now, and that's a big part of winning," Woodson said. "When we lost those three in a row we were all searching. Me being the head of the snake as the coach, I'm searching and I know what the hell was going on, you know, what we weren't doing, and now we're back doing those things. That's what makes winning fun."
Filed to: Miller Kopp, Rutgers Scarlet Knights, Trayce Jackson-Davis