Indiana matches the toughness of Rutgers and shows it has the makeup for success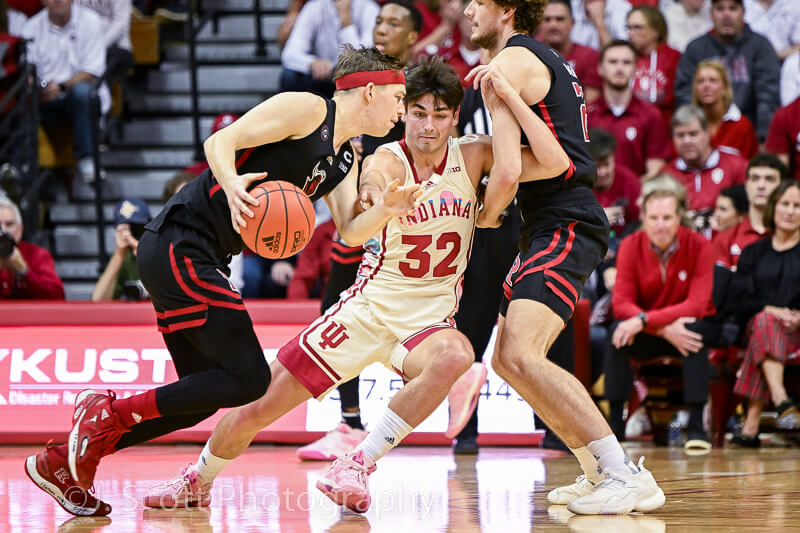 When Indiana went to New Jersey in early December for its first Big Ten game of the season, no one questioned who the tougher team was. It was Rutgers. The Scarlet Knights stomped the Hoosiers from the opening tip in a 63-48 victory.
It marked Rutgers' sixth consecutive win over Indiana. That streak finally ended on Tuesday night. Indiana hung on to the lead from nearly start to finish and finally gave the Scarlet Knights a taste of their own medicine: grit, toughness and hard-nosed defense. The Hoosiers prevailed 66-60, the first victory for Trayce Jackson-Davis against Rutgers in his career.
The makeup of a good college basketball team needs to, for the most part, contain a few things.
First, it needs experience. Whether that's in a coach or veteran player(s), it seems every national champion or final four teams has one of them.
Second, consistent guard play. Down the stretch, having a trustworthy backcourt is critical. You'll need them to make free throws and not turn the ball over to win close games in the tournament.
Third, a star. The 2018 Loyola Chicago team comes to mind as an anomaly.
And fourth, chemistry and toughness. Being able to withstand the games where your star doesn't play well, the calls seem to go the other way and shots don't fall. Maybe that's through locking in on the defensive end, attacking the glass or making high-energy plays.
For Indiana, one of the big question marks early on this season was its inability to fulfill number four.
The Hoosiers were soft at times last year. They rolled over and sacrificed big leads. They struggled to deliver a knockout punch. That also sounds like this year's Indiana team from November to early January. It was easy to be critical of the effort the Hoosiers gave in the Iowa and Penn State losses. It didn't appear that this team could compete against the best of the Big Ten.
Somewhere over the past month, something changed.
Since the blowout loss at Penn State, the Hoosiers are 7-1 with wins over Purdue, Illinois, Michigan State and Rutgers.
"After the Penn State game, we went into Wisconsin and we started playing with a chip on our shoulder and it was the same thing to the paint. They were being tough, but I thought we were being tough right back," Jackson-Davis said postgame regarding Indiana's toughness on Tuesday. "They are a great team. Defensively they get after it. They muddy it up. But we got the best of them tonight, but props to them because they made it a game the whole time."
Bloomington reeked of a letdown on Tuesday afternoon. It was just typical. A 6:30 tip on an oddly warm day and also just two days after the biggest win in the Mike Woodson era. The lower bowl of Assembly Hall was only about half full just 10 minutes before tip-off.
The trap was perfectly in place.
But, Indiana started fast and didn't look back. Typical role players like Trey Galloway and Miller Kopp were diving after loose balls, shaking their defenders and crashing the glass against one of the grittiest teams in the Big Ten. Indiana outrebounded the Scarlet Knights 35-31. When the two squads first met this season, Rutgers outrebounded Indiana by six.
"We knew coming into the game, I mean, rebounding and not turning it over against their pressure will allow us to stay in the game or win the game and I thought we did a pretty good job in that area," Woodson said postgame.
Indiana did turn it over 14 times, but it didn't feel like it. Woodson's ball club maintained control for the full 40 minutes and only gave up six points on the break.
A month ago, the Hoosiers may not have had the makeup to win a game like this. But when your team wins seven out of its last eight, the confidence and trust is just there.
No player embodied Indiana's grit more than Galloway on Tuesday. His teammates and coaches call him "crazy man" for a reason. It may not gave been the most perfect shooting performance as he went 2-for-5 from the field, but he made the necessary plays to win in his 34 minutes. He switched hard and communicated on defense. He was the only Hoosier starter to not turn the ball over.
When the junior guard gets challenged, he doesn't back down. All bite, no bark. Galloway shows up and makes the winning plays without complaint or frustration over whether the ball is going in or not.
While "crazy man" may have been a difference-maker against Rutgers, almost every player on the roster has seemed to adopt an underdog mentality.
"I'm proud of this team, man, because there's no quitting. They grind. They try to do whatever it takes to win and tonight we did that," Woodson said.
So back to those four things a good college basketball team has to have to be successful. Indiana has the veterans, it has the star, with Xavier Johnson's return imminent the backcourt will get deeper and the Hoosiers are now starting to answer the question of grit and toughness.
Filed to: Rutgers Scarlet Knights