Year in review: The most read Inside the Hall stories of 2022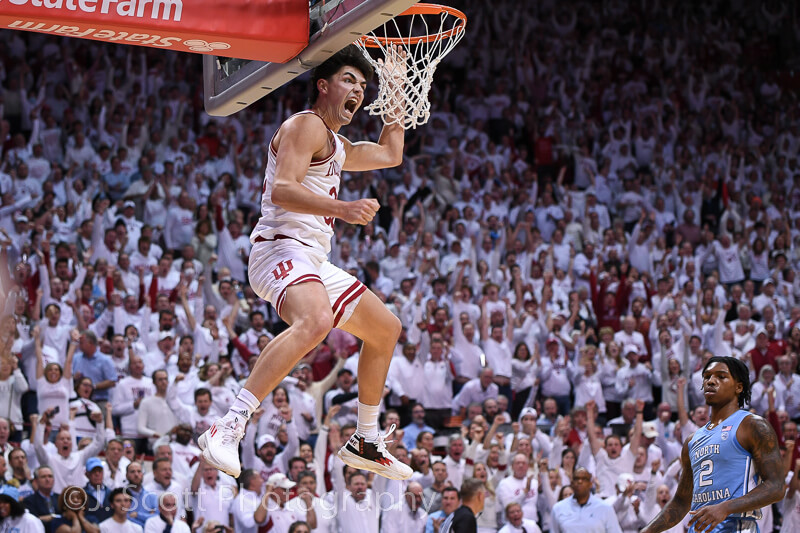 2022 is coming to a close and it was another successful year for Inside the Hall. Here's a look back at the ten most-read stories from 2022:
10. A look at who is coming and going in the Big Ten for the 2022-23 season
The offseason is in full swing and Inside the Hall will once again keep the most comprehensive list of Big Ten roster movement entering the 2022-23 season.
9. Indiana earns No. 12 seed, will face Wyoming in First Four in Dayton
For the first time since 2016, Indiana is headed to the NCAA tournament.

The Hoosiers were one of the last four teams in the field and will play Wyoming on Tuesday in the First Four in Dayton.

If the Hoosiers advance, they will play fifth-seeded Saint Mary's on Thursday in Portland, Oregon.
8. Trey Galloway, backed by a deafening Assembly Hall, makes a statement in his return against UNC
Most of those explosions of noise, one of which reached 125 decibels, came on big shots or slam dunks from various Indiana players. The one who received some of the biggest? Trey Galloway.

Galloway, in his return after a minor stint in a suit on the bench after injuring his knee against Xavier, finished the night with a season-high 11 points on 5-for-7 shooting. On a team where there are many options for a spark off the bench, Galloway brought the flame.

"Trey brings so much energy to our team, especially on the defensive end of the floor," Trayce Jackson-Davis said. "He thrives off it… we call him Crazy Man because that's how he is on the defensive end of the floor."
7. Mike Woodson announces reorganization of coaching staff
Indiana coach Mike Woodson announced Friday that Kenya Hunter and Yasir Rosemond have been elevated to the role of associate head coach and that Brian Walsh is being promoted to the role of assistant coach.
6. All four Indiana players who entered the transfer portal have committed to new schools
All four Indiana players who entered the transfer portal this spring have now decided where they'll play next season.

The deadline to enter the transfer portal for fall and winter sports is May 1, which means that a player must enter the portal by that date in order to be eligible to compete next season without a waiver.

Each of Indiana's four outgoing transfers – Rob Phinisee, Michael Durr, Parker Stewart and Khristian Lander – have chosen their new schools for next season.
5. Trayce Jackson-Davis, Race Thompson among IU athletes signed to Hoosiers For Good NIL deal
According to a press release, Hoosiers For Good, an organization that partners student-athletes with charities, has signed Trayce Jackson-Davis and Race Thompson to NIL deals. Jackson-Davis and Thompson are two of 14 Indiana student-athletes collaborating with Hoosiers For Good.
4. Bob Knight back at Assembly Hall on the eve of IU's matchup against North Carolina
Legendary Indiana coach Bob Knight was back at Assembly Hall Tuesday night in advance of the program's matchup against North Carolina in the 2023 Big Ten-ACC Challenge.

IU's official Twitter account shared images of Knight in Assembly Hall with the caption "Legends in the building."
3. Bracketology: NCAA tournament projection as of March 11, 2022
The Thursday of championship week tends to be when things start to get crazy, and yesterday was no exception. We saw one of the projected one seeds lose in their conference tournament opener. We saw IU come back from 17 points down to keep its tournament hopes alive. We saw another bubble team fall in the ACC as well as a couple overtime thrillers.
2. Mike Woodson confirms that Dane Fife will not return for 2022-23 season
Indiana University Head Men's Basketball Coach Mike Woodson announced his plans today for a change with his coaching staff for 2022-23, as Dane Fife will not return to the IU staff next season.

"I am committed to doing what I believe is best for the continued growth of our men's basketball program as we collectively work toward returning it to the upper echelon of college basketball," said Woodson. "Sometimes, that commitment can result in some very difficult decisions, and that is the case today. Ultimately, I believe that the fit must be right with a coaching staff, and I've decided that a change is necessary. I appreciate everything Dane has done as a member of the staff during the last year and as player for our program. He will always be a part of the Hoosier family and I wish him well in his future pursuits."
1. Mike Woodson suspends five IU players for Tuesday's game at Northwestern
Indiana will only have seven scholarship players available for Tuesday's game at Northwestern due to disciplinary reasons.

Prior to tipoff, Mike Woodson announced that Tamar Bates, Xavier Johnson, Michael Durr, Khristian Lander and Parker Stewart are suspended and will not play at Welsh-Ryan Arena.

"I had to suspend five players for disciplinary reasons," Woodson told Don Fischer pregame. "We have team rules and 'hey, I had to follow rules when I played throughout my college days and my NBA days.' They're rules and when you don't obey rules, you've got to do things that sometimes you don't want to do. And I had to suspend five players today. So it's next man up and we'll see what we've got once we throw it up."
Filed to: