Bracketology: NCAA tournament projection as of March 11, 2022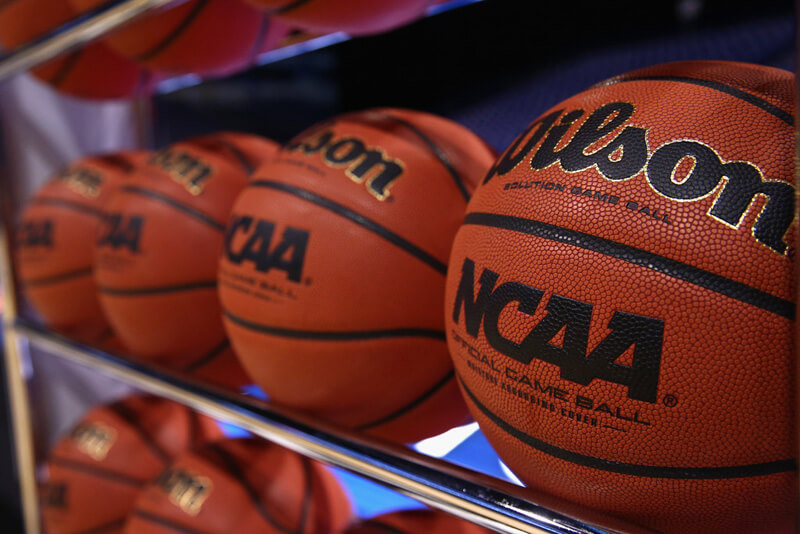 The Thursday of championship week tends to be when things start to get crazy, and yesterday was no exception. We saw one of the projected one seeds lose in their conference tournament opener. We saw IU come back from 17 points down to keep its tournament hopes alive. We saw another bubble team fall in the ACC as well as a couple overtime thrillers.
As I mentioned yesterday, it's important to keep in mind that while these tournament games are exciting and make for compelling TV, they are just one game in the grand scheme of the season, which suggests they shouldn't move teams dramatically up or down the seed list. But make no mistake, they matter a great deal to some of the teams right near the cutline.
There are still a few potential bid thieves out there, but we'll have a better view of those on Saturday morning. In the meantime, I intend to use today to go back over some of these profiles, which will likely lead to some minor adjustments on the seed list.
Before looking at the one seeds, here's a quick reminder about how the NCAA selection committee classifies wins based on the NET rating.
A breakdown of the four tiers:
· Quad 1: Home vs. teams ranked 1-30 / Neutral vs. teams ranked 1-50 / Road vs. teams ranked 1-75
· Quad 2: Home vs. teams ranked 31-75 / Neutral vs. teams ranked 51-100 / Road vs. teams ranked 76-135
· Quad 3: Home vs. teams ranked 76-160 / Neutral vs. teams ranked 101-200 / Road vs. teams ranked 136-240
· Quad 4: Home vs. teams ranked 161-351 / Neutral vs. teams ranked 201-351 / Road vs. teams ranked 241-351
One Seeds
Gonzaga took care of business and avenged its loss to Saint Mary's in the WCC finals on Tuesday. The Zags have all but locked up the top overall seed at this point.
The big news on the one line was Baylor's loss to Oklahoma in the Big 12 quarterfinals. That game propelled the Sooners back into the at-large picture and hurt Baylor's chance to land on the top line if Kansas wins the Big 12 and Kentucky or Auburn wins the SEC. For now, Arizona and Auburn have moved past the Bears on the seed list with Kansas and Kentucky waiting in the wings on the two-line.
The Bracket
The projections below are based on all games played through March 10, 2022. Following the bracket, I included a few thoughts on the last four in and first five out.
| | | |
| --- | --- | --- |
| WEST (SAN FRANCISCO) | | SOUTH (SAN ANTONIO) |
| Portland – March 17/19 | | San Diego – March 18/20 |
| 1) Gonzaga | | 1) Arizona |
| 16) Bryant / Nicholls St. | | 16) Georgia St. |
| 8) Boise St. | | 8) North Carolina |
| 9) Creighton | | 9) Iowa St. |
| | | |
| Buffalo – March 17/19 | | Buffalo – March 17/19 |
| 5) Texas | | 5) Houston |
| 12) Indiana / Xavier | | 12) North Texas |
| 4) Arkansas | | 4) Providence |
| 13) Vermont | | 13) Toledo |
| | | |
| Indianapolis – March 17/19 | | Pittsburgh – March 18/20 |
| 6) Colorado St. | | 6) Iowa |
| 11) Davidson | | 11) Wyoming |
| 3) Purdue | | 3) Tennessee |
| 14) Montana St. | | 14) Longwood |
| | | |
| Pittsburgh – March 18/20 | | Fort Worth – March 17/19 |
| 7) Murray St. | | 7) Alabama |
| 10) Loyola Chicago | | 10) San Francisco |
| 2) Villanova | | 2) Kansas |
| 15) Long Beach St. | | 15) Jacksonville St. |
| | | |
| MIDWEST (CHICAGO) | | EAST (PHILADELPHIA) |
| Fort Worth – March 17/19 | | Greenville – March 18/20 |
| 1) Baylor | | 1) Auburn |
| 16) Norfolk St. | | 16) Alcorn St. / Wright St. |
| 8) Michigan St. | | 8) TCU |
| 9) San Diego St. | | 9) Marquette |
| | | |
| Portland – March 17/19 | | Milwaukee – March 18/20 |
| 5) Saint Mary's | | 5) Connecticut |
| 12) South Dakota St. | | 12) Notre Dame / SMU |
| 4) UCLA | | 4) Illinois |
| 13) New Mexico St. | | 13) Chattanooga |
| | | |
| Milwaukee – March 18/20 | | San Diego – March 18/20 |
| 6) USC | | 6) LSU |
| 11) Michigan | | 11) Rutgers |
| 3) Wisconsin | | 3) Texas Tech |
| 14) Princeton | | 14) Colgate |
| | | |
| Indianapolis – March 17/19 | | Greenville – March 18/20 |
| 7) Ohio St. | | 7) Seton Hall |
| 10) Miami (FL) | | 10) Memphis |
| 2) Kentucky | | 2) Duke |
| 15) Saint Peter's | | 15) Delaware |
Last Four In:
SMU – After holding serve at home against Cincinnati and Tulane, the Mustangs remain right on the cutline. A 6-5 mark in the top two quadrants is solid, but SMU has one loss in Q3 and another in Q4, both of which came on back-to-back days in November. The sweep of Memphis helps for bubble purposes, but they may need to beat the Tigers again in the semis to earn a spot in the field. First, they'll need to get by Tulsa on Friday.
Xavier – The committee no longer formally places additional weight on the final 10-12 games of the season, and the Musketeers are hoping they are true to their word after going 2-8 down the stretch, culminating in a late collapse and OT loss to Butler. That said, Xavier does still have five Q1 victories and is 9-11 in the top two quadrants with a pair of Q3 losses. Nine of their 13 total losses fall in quad 1, and they have five wins over at-large teams in the field plus a win over Virginia Tech. None of their metrics stand out in one way or the other, but it's shaping up to be a long few days of waiting for the Muskies.
Indiana – Things were looking bleak for the Hoosiers, who dug themselves a 17-point hole in the second half only to come storming back to knock off Michigan. They now have three Q1 victories, but they are just 7-11 in the top two quadrants with the Rutgers loss falling just inside of Q3. A sub-300 non-conference strength of schedule, a 3-8 road record, and resume metrics that are worse than other bubble teams certainly don't help matters. The quality metrics are decent though despite IU sitting at just 12-12 in Q1-3. A win over Illinois would give the Hoosiers some breathing room, while things get dicey with a loss even though a lot of other results have played in their favor so far this week.
Notre Dame – Following in the footsteps of Wake Forest, the Irish dropped their ACC tournament opener, in this case to Virginia Tech. Despite finishing 15-5 in the ACC, the Irish aren't totally safe. They are just 4-9 in the top two quadrants with only three wins against the at-large field (vs. Kentucky, at Miami, vs. North Carolina). A Q3 loss at Boston College doesn't help matters, but a 7-5 mark in true road games certainly does. Ultimately the overall lack of quality wins in a down ACC is the biggest issue, which may leave ND on the outside looking in.
First Five Out:
VCU – The committee's comments on taking injuries into account would seem to be good news for VCU, given that the Rams went just 4-4 in games without Ace Baldwin earlier this season. VCU's resume metrics are strong, thanks in part to a 9-2 mark in true road games. However, just one of the Rams' six Q1/Q2 victories have come against an at-large caliber team (at Davidson), with wins at Dayton and Vanderbilt the other Q1 victories. A potential semifinal matchup with the Flyers in the A-10 tournament would be a huge opportunity for both teams.
Oklahoma – With Wednesday's win over Baylor, the Sooners have now won four straight to move to 18-14 on the season. Thanks to a loaded Big 12, 11 of those 14 defeats fall in Q1, while Oklahoma is now 10-13 in the top two quadrants. A Q3 loss to Butler is the worst loss on OU's profile. The Sooners boast three Q1A victories thanks to a home win over Texas Tech and neutral court wins over Baylor and Arkansas. At just 12-14 in the top three quadrants, it feels like the Sooners need to find a way to beat the Red Raiders again to make things interesting.
Wake Forest – While Wake's predictive metrics are solid, a closer look at its profile reveals a relative lack of quality wins. The Deacons' only Q1 victories came at Virginia Tech and at home against UNC, and the only other win against an at-large team in the field both came at home against Notre Dame. Throw in a really poor non-conference strength of schedule, and Wake Forest's case feels tenuous. They do have a .500 record away from home at 5-5 on the road and 2-2 in neutral court contests, but they also have a pair of quad 3 losses. Steve Forbes has done a tremendous job in his brief tenure in Winston-Salem, but there are plenty of reasons to believe they will end up on the outside looking in come Sunday. As with any team near the cutline, I'll be taking a closer look at their resume in the coming days.
BYU – The Cougars blew out LMU in their first WCC tournament game but subsequently lost to San Francisco by double-digits, leaving a long wait until Selection Sunday. They have seven victories in the top two quadrants, with three of those coming against at-large teams in today's projected field. That being said, BYU also has four losses against teams not in the at-large picture, including a Q4 loss to Pacific. Thanks in part to a poor BPI, the quality metrics aren't particularly compelling, although to be fair the resume metrics don't compare well to other bubble teams either. The Cougars do have 10 road/neutral wins though and are a team worth a closer look over the remainder of the week.
Virginia Tech – Thanks to Thursday's win over Notre Dame, the Hokies are still in the conversation. The quality metrics are all great, but they have just three wins over at-large teams (at Miami and Notre Dame twice). A pair of quad 3 losses are certainly a mark against them, and I am not convinced even a win over UNC on Friday pushes VA Tech into the field.
Conference Breakdown:
Big Ten (9): Illinois, Indiana, Iowa, Michigan, Michigan State, Ohio State, Purdue, Rutgers, Wisconsin
Big East (7): Connecticut, Creighton, Marquette, Providence, Seton Hall, Villanova, Xavier
Big 12 (6): Baylor, Iowa State, Kansas, Texas, Texas Tech, TCU
SEC (6): Alabama, Arkansas, Auburn, Kentucky, LSU, Tennessee
ACC (4): Duke, Miami (FL), North Carolina, Notre Dame
Mountain West (4): Boise State, Colorado State, San Diego State, Wyoming
American (3): Houston, Memphis, SMU
Pac-12 (3): Arizona, UCLA, USC
West Coast (3): Gonzaga, Saint Mary's, San Francisco
America East: Vermont
Atlantic 10: Davidson
Atlantic Sun: Jacksonville State
Big Sky: Montana State
Big South: Longwood
Big West: Long Beach State
Colonial: Delaware
Conference USA: North Texas
Horizon: Wright State
Ivy: Princeton
MAAC: Saint Peter's
MAC: Toledo
MEAC: Norfolk State
Missouri Valley: Loyola Chicago
Northeast: Bryant
Ohio Valley: Murray State
Patriot: Colgate
Southern: Chattanooga
Southland: Nicholls State
SWAC: Alcorn State
Summit: South Dakota State
Sun Belt: Georgia State
WAC: New Mexico State
BOLD = Earned automatic bid
Follow Andy on Twitter (@andybottoms) for more thoughts on college hoops and to receive an update whenever new brackets are posted.
Filed to: 2021-2022 Bracketology