Trayce Jackson-Davis, Race Thompson among IU athletes signed to Hoosiers For Good NIL deal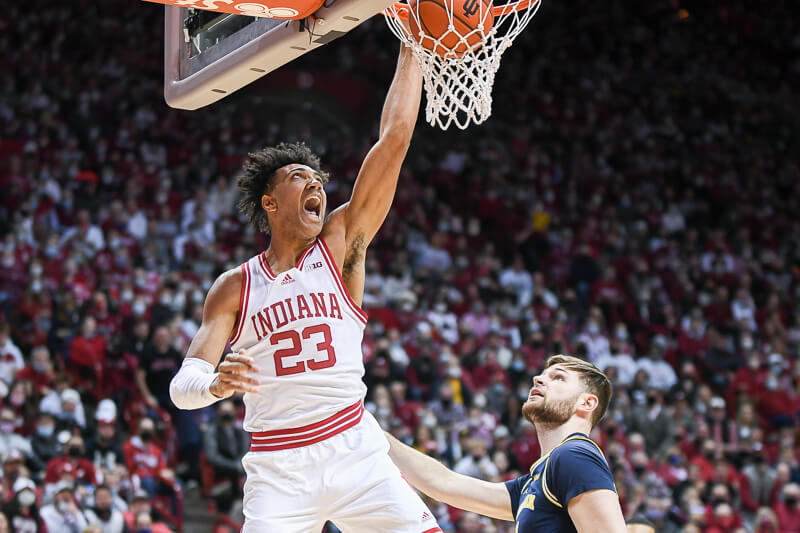 According to a press release, Hoosiers For Good, an organization that partners student-athletes with charities, has signed Trayce Jackson-Davis and Race Thompson to NIL deals. Jackson-Davis and Thompson are two of 14 Indiana student-athletes collaborating with Hoosiers For Good.
Zach Osterman of the Indianapolis Star was the first to report the news.
From the release:
Consistent with Hoosiers For Good's values, the inaugural class diversely represents the IU men's and women's basketball programs, football, women's volleyball, softball, women's swimming and diving, and women's soccer. Each athlete is partnered with a local charity to help raise awareness for its mission through in-person appearances and social media.

Launched in early March, Hoosiers For Good engages IU student-athletes who are passionate about using their NIL to amplify the philanthropic work that helps Indiana communities thrive. Hoosiers For Good has carefully considered, unanimously adopted, and transparently published its Name, Image, and Likeness Charitable Activities Policy establishing its authority, expectations, and restrictions with regard to its NIL activities.

The aggregate NIL compensation for the first Hoosiers For Good class totals $470,000, funded by the generous donations of supporters. Consistent with the vision of Hoosiers For Good, agreements are not "one size fits all." Rather, the value of the agreements varies based on the reach and platform each student-athlete has to positively impact their charity.
The release also notes that Jackson-Davis and Thompson are partnering with Stop The Violence Indianapolis and Turnstone.
Former IU athletic director and Hoosier For Good legal counsel Fred Glass added this in the release: "It is worth expressly noting that we are not announcing, and cannot announce, that any or all of these students are definitely staying at IU for their next season of eligibility. The agreements we announce today do not, and cannot, include any requirement that they be enrolled at IU in order to provide these NIL services."
Filed to: Race Thompson, Trayce Jackson-Davis