6-Banner Sunday: IU beats North Carolina before stumbling at Rutgers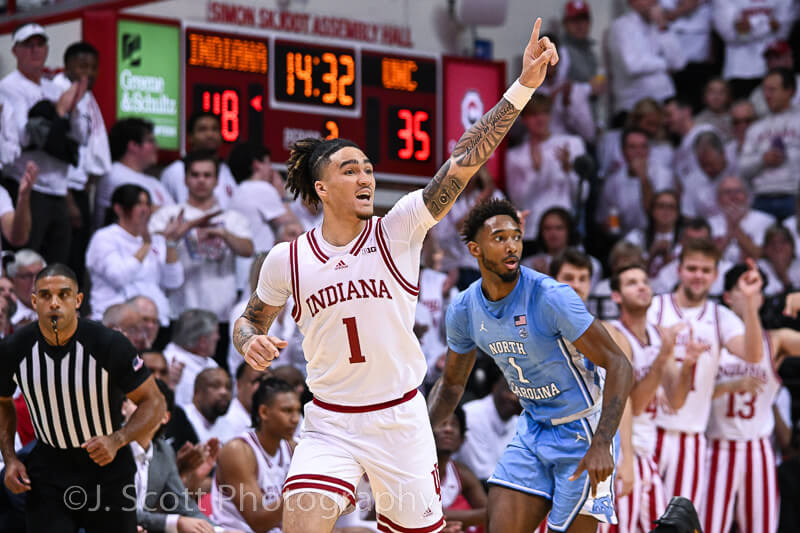 6-Banner Sunday is Inside the Hall's weekly newsletter in partnership with The Assembly Call. More than 9,000 Indiana fans receive the newsletter each week. In addition to appearing each week on the site, you can also opt to receive 6-Banner Sunday by email. A form to subscribe via email is available at the bottom of this week's 6-Banner Sunday.
Welcome to another edition of 6-Banner Sunday, a joint production between The Assembly Call and Inside the Hall, and presented by our friends at Trueblood Real Estate, where we highlight the five most essential IU basketball stories of the past week, plus take a look at how the other IU sports programs are doing.
IU played their second and third big games of the season this week and came out on top in a home showdown with ranked North Carolina before opening Big Ten play with a loss against Rutgers.
Outside of the men's basketball world, men's soccer is in the College Cup for the fourth time in six years with a dominant win at UNC Greensboro. Assembly Call and Inside the Hall had new episodes this week as did IU coach Mike Woodson's radio show. We will as usual conclude with a look at how other IU sports are doing, led by women's basketball showing no ill effects of the loss of Grace Berger as they also defeated a fellow highly ranked UNC team.
• Hoosiers defeat UNC in vintage Assembly Hall atmosphere
• IU slips up at Rutgers for first loss of the season
• Indiana soccer advances to College Cup
• Podcast on the Brink, AC Radio and Doing The Work
• Mike Woodson Radio Show
• Hoosier Roundup – Women's basketball dominates North Carolina
Looking for tickets to upcoming Indiana home games? Vivid Seats has you covered. This week Indiana hosts Nebraska in Bloomington before facing Arizona in Las Vegas. Vivid Seats is a full-service provider – with an industry-leading customer service team, reachable by phone or online during extended business hours. (These links are Inside The Hall affiliate links, so a commission will be paid to ITH if you click and make a ticket purchase.)
Banner #1 – Hoosiers defeat UNC in vintage Assembly Hall atmosphere
Assembly Hall was back at full throttle with a vintage atmosphere for the first time in several years as Indiana took on ranked North Carolina in the final Big Ten-ACC Challenge. IU saved one of its better challenge performances for last, as they easily handled UNC 77-65 in a game that was only that close due to a free throw discrepancy in North Carolina's favor. Trayce Jackson-Davis and Xavier Johnson had huge games with 21 and 20 points respectively, while Jalen Hood-Schifino got IU's offense going early and finished with 14 points.
Afterward, both Woodson and Tar Heels coach Hubert Davis spoke, Inside the Hall had a photo gallery, Ryan Corazza wrote his Minute After and Film Session, Alex Bozich penned Five Takeaways, and William McDermott and Amanda Foster had columns.
Banner #2 – IU slips up at Rutgers for first loss of the season
The Hoosiers' strong start to the season took an unexpected detour on Saturday when Indiana was manhandled in Piscataway, New Jersey in a 63-48 loss to Rutgers to open Big Ten play. The team got very little going offensively outside of Miller Kopp and despite a run to get back in the game early in the second half, the Scarlet Knights got a pretty easy victory yesterday.
Afterward, Woodson and Rutgers coach Steve Pikiell spoke, while Corazza wrote a Minute After.
Banner #3 – Indiana soccer advances to College Cup
As the basketball Hoosiers were getting blown out, three states down the coast in North Carolina, the men's soccer team had its best performance of the season. They advanced to the College Cup (soccer's Final Four) for the fourth time in six seasons and 22nd overall with a 2-0 victory over UNC Greensboro.
Despite being outshot 11-7, Indiana thoroughly controlled the match with higher-quality attempts and got goals in the 15th and 63rd minutes from Maouloune Goumballe and Samuel Sarver respectively. Goumballe scored on a rocket attempt from the corner of the box, while Sarver took a pass on a breakaway from Patrick McDonald and easily slotted it home. IU had a couple of other chances to tack on to their lead and the Spartans got a few shots to get back in the match. However, in the end, it was all Hoosiers as they improved to 5-0 in the Elite Eight in head coach Todd Yeagley's 13-year tenure.
The Hoosiers made it to today's game by defeating Marshall in the Sweeet 16 at home last weekend.
The team faces Pittsburgh next Friday at 8:30 pm on ESPNU. It will be a rematch of the spring of 2021 College Cup when the Hoosiers defeated the Panthers 1-0 to advance to the national championship.
Banner #4 – Podcast on the Brink, AC Radio and Doing The Work
Podcast on the Brink and Assembly Call both had new episodes this week. POTB had two episodes previewing both the UNC and Rutgers game. Meanwhile, Assembly Call had both AC Radio and postgame shows following the contests this week.
Also, Doing The Work had recaps of both the games in Las Vegas and North Carolina.
Banner #5 – Mike Woodson Radio Show
Mike Woodson had his normal radio show on Monday. On it, various topics were discussed including standout performances by Race Thompson and Tamar Bates.
Banner #6 – Hoosier Roundup – Women's basketball dominates North Carolina
• Getting the better of North Carolina college teams was a theme for IU this week as women's basketball easily defeated a top-10 Tar Heels squad 87-63 to improve to a perfect 8-0. As a result of the team's strong play, Mackenzie Holmes and Yarden Garzon were recognized by the Big Ten. Also, despite her injury in Las Vegas, Grace Berger was recognized nationally as an early candidate for a national award.
• Swimming and diving concluded its fall season in Cincinnati with a victory on both the men's and women's sides.
• Former Hoosier football player Nate Sudfeld was honored with a humanitarian award while six current players were named all-conference and one athlete was recognized nationally in Jaylin Lucas.
• As a result of volleyball's much improved season, the Hoosiers had a player named First Team All-Conference in Camryn Haworth .
Thanks for your continued support for The Assembly Call and Inside the Hall. We'll be back next weekend with a new roundup.
Now go enjoy yourself a 6-banner Sunday.
Aaron (Ari) Shifron
Assembly Call Contributor
Filed to: