The eye of the storm: Trayce Jackson-Davis outplays Armando Bacot as IU beats North Carolina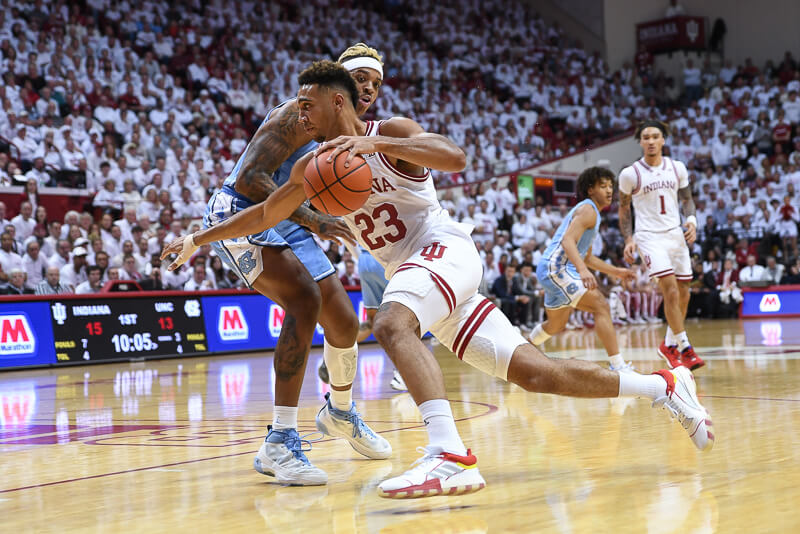 Trayce Jackson-Davis and North Carolina center Armando Bacot aren't strangers.
The two All-American big men competed against each other in high school on the AAU circuit and played on the 2018 USA Men's U18 National Team. Together they won a gold medal.
The two even tweeted at each other over the summer hoping the Indiana-UNC matchup would happen.
You know it's going down @accmbb @B1GMBBall make it happen https://t.co/OldUtjK0hu

— Armando Bacot Jr. (@iget_buckets35) May 20, 2022
Finally, it did. And in Indiana's 77-65 win over North Carolina in the Big Ten-ACC Challenge, Jackson-Davis had Bacot's number.
Some considered Wednesday night's game the most anticipated game in Bloomington in years. UNC entered the season ranked No. 1 in the AP poll. But, most eyes were drawn to the matchup between two All-Americans in the post.
Early on, the two forwards were physical. The 6-foot-11 and 235-pound Bacot grabbed a few offensive boards but took a shot to the shoulder on one possession. And had to take a trip back in the tunnel to get looked at by the trainer. After coming back into the game, he just didn't look right. Bacot also had a foot injury after UNC's four-overtime loss to Alabama on Sunday.
Jackson-Davis was also banged up heading into the game. He missed a game last week and a few practices with some back soreness. The preseason Big Ten player of the year got a shot before the game and was ready to go.
IU's star used his quick feet and athleticism to face up the Tar Heel center and work around him. The message was clear, this matchup was a bad one for the Heels. After a few dunks and post moves from TJD, North Carolina head coach Hubert Davis gave the assignment to Pete Nance and Bacot was put on the Hoosiers' Race Thompson the rest of the night.
Then, right as the second half began, Bacot picked up his third foul with 18:50 to go. Bacot became a non-factor. With every move to the rim, Jackson-Davis was right there with him. Toe for toe.
Arguably, the biggest impact Jackson-Davis made was on the glass and through his vision. The Greenwood, Indiana native totaled a team-high 10 rebounds and a team-high four assists. His passing might be the biggest improvement he's made this season. He's not turning the ball over and is making his teammates better.
"I thought Trayce had a hell of a game," Mike Woodson said post-game.
Jackson-Davis finished with 21 points on 9-for-16 shooting with four blocks in 31 minutes. Jackson-Davis' blocks led the Hoosiers' stifling defense which turned the Heels over 10 times and held them to 34 percent shooting from the field.
Indiana dominated the paint outscoring North Carolina 50-24.
"Well the issue was Trayce Jackson-Davis," Hubert Davis said postgame. "They have a player that they can run offense through that can generate points for them on every possession. Not only can he score, he's a gifted passer. And so if you shrink the floor and double-team, now you're leaving open shooters."
Indiana's offense has been running through Jackson-Davis throughout his time at Indiana. But now, with his ability to change the game with his vision, he's giving his teammates opportunities to knock down open shots. It's a tough dilemma for opposing teams to have. If you double-team you leave an open shooter, if you don't he'll use his athleticism, speed and dominant left hand to make a move toward the basket.
Jackson-Davis' foe, Bacot, scored 12 points on 4-for-10 shooting while picking up four fouls.
Simply put, Indiana's stars showed up and the Hoosiers held North Carolina's stars at bay. That's winning basketball.
So how did TJD outplay Bacot and UNC's bigs?
"He's a big-time player and that's what big-time players do," Indiana guard Jalen Hood-Schifino said.
Yes, that's the epitome of what happened, but it gets a little deeper than that. For most of his career, Jackson-Davis had been quiet when facing the Hunter Dickinson's and the Kofi Cockburn's of the Big Ten. But ever since Indiana's run in the Big Ten tournament last season, he's shown up. Every single game.
Jackson-Davis is the eye of the storm for Indiana's offense and he's just picking up speed. With other dominant big men on the schedule, Indiana will need him to keep showing up and making his team better.
Filed to: Trayce Jackson-Davis