The Minute After: North Carolina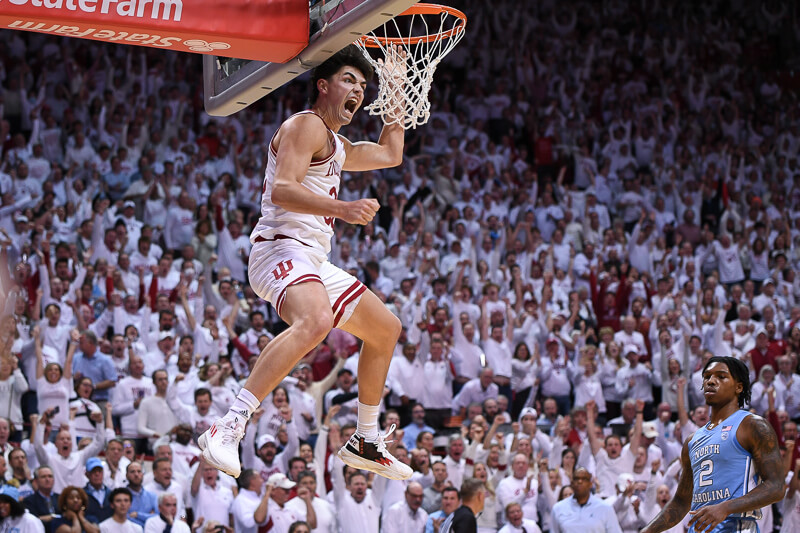 Thoughts on a 77-65 win against North Carolina:
Despite North Carolina's recent troubles, the Tar Heels still entered Assembly Hall this evening with the 11th-best offense in the Pomeroy ratings.
But Indiana's defense absolutely, positively stymied the Tar Heels for much of tonight's game. On the perimeter, Indiana applied ball pressure that made North Carolina rather uncomfortable. UNC struggled to get into its offense, struggled to pass the ball, struggled to breathe. Shots were contested and rarely easy. Steals turned into quick buckets on the other end. It was a dominant, stifling, all-out-effort performance from the Hoosiers. They played hard. Really hard. It's the type of defense that's starting to become Indiana's identity in the Mike Woodson era.
The Tar Heels began the game just 2-of-16 from the field. Indiana held the Tar Heels to under a point per possession (.93) for the contest with an effective field goal percentage of 38.
And yet, some other factors kept this one from being a runaway blowout. North Carolina rebounded half their misses for a good chunk of the first half, allowing the Heels more opportunities to score despite not shooting a high percentage. So Indiana's six-point cushion at the break felt like it could have been more.
But there was also this: North Carolina held a sizeable advantage from the free-throw line all game long, much to the chagrin of some fans who felt the officiating wasn't great tonight. The Tar Heels had a massive free-throw rate of 46 percent and went 20-of-27 from the charity stripe. Indiana only got to the line eight times until the final 1:09 of the game when North Carolina was fouling to try and get back in it. The Hoosiers added another 10 trips in that minute-plus to finish 12-of-18 for the contest.
"A lot of things didn't go our way from a foul standpoint," Mike Woodson said after the game.
Jalen Hood-Schifino has struggled shooting so far this season, but that wasn't the case tonight. He scored Indiana's first six points of the contest when things started a little ragged and finished the game with 14 points on 6-of-10 shooting. The freshman also went 2-of-3 from deep. Tamar Bates hit the only other 3-pointer for Indiana in a game the Hoosiers went just 3-of-13 (23 percent) from distance.
Trayce Jackson-Davis used his quickness and second-jump leaping ability to give North Carolina fits. Indiana's star led all scorers with 21 points (9-of-16) and snagged 10 boards for a double-double. Xavier Johnson was right behind TJD with 20 points (6-of-12) and eight rebounds. Johnson also hit 8-of-10 from the line, ran the offense well and had four assists against two turnovers.
And then there was Trey Galloway.
Galloway has been sidelined with a knee injury the last three games, but in his return tonight, he really brought it. The junior was a huge part of Indiana's defensive intensity, but he also had a strong offensive game (11 points, 5-of-7 shooting). Galloway got several buckets in breakaway fashion off Indiana's defense but also showed poise in the lane with his floater game tonight.
Indiana's now 7-0 and up to No. 8 in KenPom with the win, one spot behind Purdue. The Hoosiers continue to prove they are one of the best teams in the country and have passed all their early tests. But Rutgers looms on Saturday.
"The RAC is always a hostile environment, and they've had our number there," Jackson-Davis said post-game. "… The real test is what we're gonna do with that game on Saturday. They're a good team and they're very well-coached."
Filed to: North Carolina Tar Heels