No. 5 Indiana women's basketball stays unbeaten with 87-63 drubbing of No. 6 North Carolina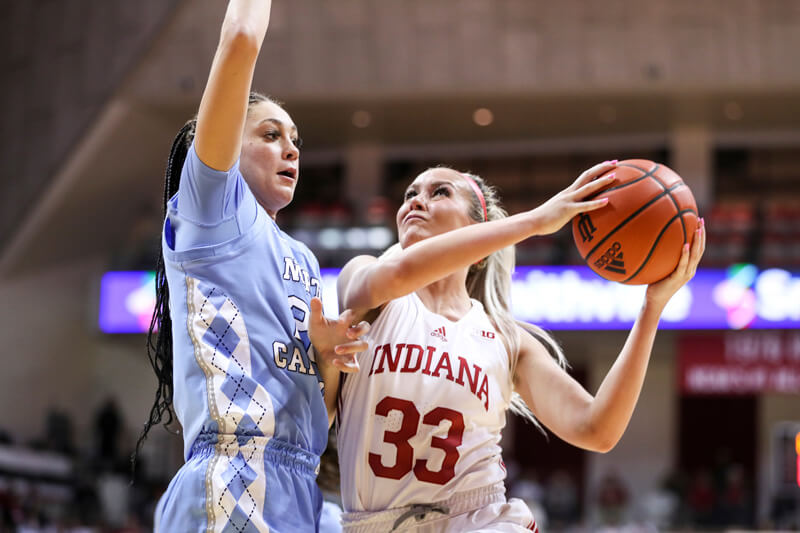 87-63.
The final score of a top-ten matchup. The final score by which No. 5 Indiana beat No. 6 UNC, without one of the best players the program has ever seen. The final score that was created by a total team effort, where every Hoosier was firing on all cylinders for most of the game.
With Grace Berger out indefinitely with a right knee injury, the main storyline surrounding the Hoosiers before the game began was how they would perform without her. But once the game was underway, an outsider wouldn't have even known the team was missing their senior leader.
Chloe Moore-McNeil and Yarden Garzon took on the point guard role, Mackenzie Holmes and Sydney Parrish ruled the scoreboard, and every other Hoosier who took to the court did at least one special thing.
"In order to beat a great team like North Carolina, it takes everybody," Teri Moren said postgame. "This goes to our entire basketball team in terms of how we won this game. It was clearly a collective effort from everybody."
Four Hoosiers scored in double figures, and the team shot a sizzling 53 percent from beyond the arc. Indiana's 12 three-pointers tied a season-high and marked the fifth most made in a game in school history.
"On a night that we needed to be really good outside the arc, we were able to do that," Moren said. "They all have the ability to step out and shoot beyond the arc and tonight it just seemed like things were certainly going our way."
Thursday night's game started out like any top-ten matchup should have. UNC jumped out to a 7-0 lead and Indiana came right back with a 10-0 run. The first quarter stayed competitive, as both teams adjusted to the game and their opponents.
But in the second quarter, Indiana made its move. Thanks to buckets from Holmes and Parrish, the Hoosiers' lead grew to double figures, and they never relinquished it. In the second half, the Tar Heels failed to come within 12 points of Indiana.
The victory was never in question.
Holmes, playing at perhaps her most elite level, exited the court at the night's end to thunderous applause with 25 points on 10-for-17 shooting. Parrish, putting on a show for her home state, closed out her best night as a Hoosier to-date with 24 points and four 3-pointers. Before Thursday, Parrish hadn't scored more than two 3-pointers in a game.
"I changed my shot this week, two days ago," Parrish said. "I guess it worked for today."
Parrish's 4-for-7 shooting from deep equaled that of Sara Scalia, who ended the night with 12 points. Scalia's performance was reminiscent of some of her best at Minnesota, where nearly every ball hit nothing but the net.
If one word had to encapsulate her performance, it would have been sharpshooter.
Any story about Indiana women's basketball would be incomplete without recognizing Yarden Garzon, a sharpshooter in her own right. The freshman closed the night on a triple-double watch, with nine points, seven rebounds and seven assists.
Garzon's passes drew gasps and cheers from the sizable crowd filling Simon Skjodt Assembly Hall, and her ability to read the court and make all of the correct decisions proved to be instrumental in Indiana's victory.
"We're just watching her develop and just continue to get better right before our eyes," Moren said. "She doesn't play like a freshman. She doesn't act like a freshman. There's a maturity level to her that I don't think I've ever had in a freshman."
The combination of Garzon and Holmes proved lethal to the Tar Heels' defense, who couldn't figure out how to stop Holmes from reaching the rim even when she was double-teamed. As a team, Indiana's ball movement was the best it has been all season.
The Hoosiers consistently held a fast pace, and with the plethora of shooters on the team, the Tar Heels were left simply hoping they were guarding the right person at times.
One might think this victory over a fellow top-ten team would feel monumental and highly important to Indiana, especially given how the game was played. And for the fan base, it is. But for the team, it was just like any other basketball game.
"I don't think it was exactly a statement," Holmes said. "We just played how we play."
(Photo credit: IU Athletics)
Filed to: