Five takeaways from Indiana's win against North Carolina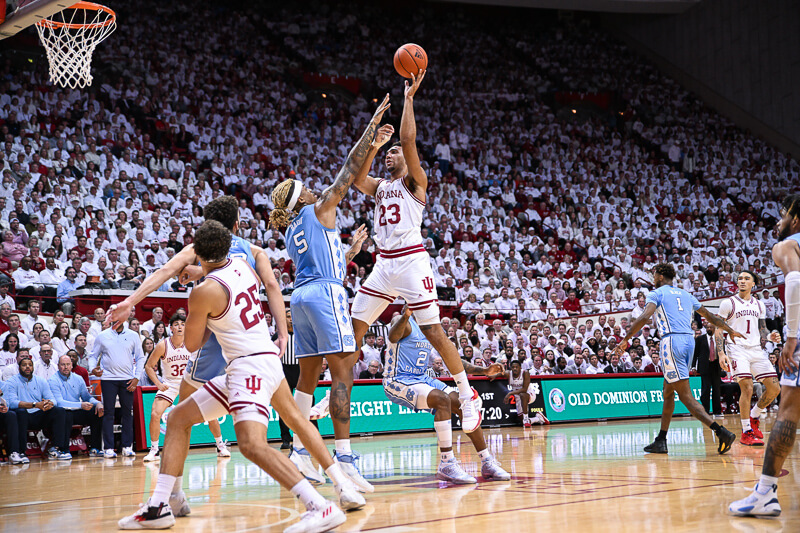 Indiana remained unbeaten with a 77-65 victory over North Carolina on Wednesday at Assembly Hall.
Here are five takeaways from the win against the Tar Heels:
The defense makes a statement
Indiana's defensive numbers entering Wednesday's game were built against inferior competition. And in the one true test the Hoosiers had before North Carolina, they surrendered 79 points on 1.11 points per possession at Xavier.
Wednesday, however, was proof that Indiana's defense could lock down one of the nation's best offensive teams.
North Carolina was smothered in the half-court for most of the night. The Tar Heels were initiating offense well beyond the 3-point line and very little came easy all evening. The final box score tells the story of how well Indiana defended the preseason No. 1 team.
The Tar Heels shot only 36.6 percent on 2s and 27.8 percent on 3s. North Carolina only scored five fast break points. Getting out in transition and putting pressure on the defense is a trademark of great North Carolina teams. It didn't happen on Wednesday.
North Carolina finished the game at .93 points per possession, a season-low.
Trayce Jackson-Davis was the most impactful player on the floor
Trayce Jackson-Davis may not have been 100 percent healthy entering Wednesday's game, but he was the most impactful player on the floor.
Jackson-Davis put up a ridiculous stat line: 21 points, 10 rebounds, four assists, four blocked shots and no turnovers in 31 minutes.
Trayce Jackson-Davis of @IndianaMBB is the only Division I player in the last 25 years to have 20+ points, 10+ rebounds, 4+ assists, 4+ blocks and no turnovers against an AP Top 25 opponent.

— OptaSTATS (@OptaSTATS) December 1, 2022
Earlier in his career and even at times last season, this was the type of game where Jackson-Davis wouldn't always make his full presence felt.
But the Center Grove product has grown into a player who lives for the big moment.
That transformation for Jackson-Davis was realized late last season when his dominant run of play propelled Indiana to its first NCAA tournament appearance since 2016. It's continued this season in both of IU's marquee games so far. Jackson-Davis exploded for 30 points in an 81-79 win last month at Xavier.
Exhibiting his growth as a leader with an ability to see the big picture, Jackson-Davis was already looking ahead to what's next rather than dwelling on what just happened when he spoke to the media last night.
"I haven't beat Rutgers since I've been here," he said. The RAC has always been a very hostile environment. They've had our number there.
"That's the biggest test. That's what I said to our guys this week, I said, UNC is going to be a great team and a great game. Obviously with this crowd, I liked our chances. But the real test is what we're going to do on Saturday with that game because they're a good team and they're very well-coached."
Jalen Hood-Schifino finds his shooting touch and continues his stellar defense
Early in the season, Jalen Hood-Schifino's shooting numbers have been underwhelming.
Wednesday night, he delivered his best overall performance of the young season. Hood-Schifino scored 14 points on 6-for-10 shooting from the field. He was third on the team in rebounding with six. His defense kept him on the floor for a team-high 35 minutes.
Hood-Schifino did commit a team-high four turnovers, but overall, his play has been a major upgrade in the Hoosier backcourt.
"Jalen, as far as I'm concerned, has been solid ever since I got him," Mike Woodson said of the freshman. "I have no complaints with Jalen Schifino. He tries to do all the right things, the winning things, to help you win. He's great off the court, just a good young man.
"I'm pleased how he's been playing. You guys might not be, but I'm happy as hell how he's been playing."
Indiana's guards stifle RJ Davis and Caleb Love
To beat North Carolina, the focus has to be on stopping RJ Davis and Caleb Love. Indiana did just that.
Davis and Love combined for 24 points, but needed 27 shots to get there. The duo also committed five turnovers and dished out only three assists.
All of Indiana's guards played a part. Xavier Johnson and Hood-Schifino set the tone in the early minutes of the game. North Carolina's first field goal was a banked in 3-pointer by Love that had no business going in.
The bench, led by Trey Galloway, kept the pressure on all night. Galloway, in his return from a minor knee injury, scored 11 points and had a big steal and dunk that helped change the game.
"We just tried to guard closely," Woodson explained. "That kid (Love) got unbelievable range with his jump shot. We just tried to stay as close to him as possible.
"I thought Galloway did a great job on him early. I thought Jalen did a great job because we matched him up from the beginning. When you're dealing with players that can make shots from the perimeter, you just can't give them much room. I thought tonight we were really good in that area."
In the aftermath, Indiana acted like it belonged
After taking care of North Carolina in a convincing fashion, it would have been easy for the Indiana players or Woodson to pronounce the victory as a "statement."
The Hoosiers, however, remain humble in their success.
Woodson preached it in his postgame speech to the team in the locker room. He did it at the podium as well, as did the players.
"It's not a statement, man. It's our schedule," Woodson said. "We had to play North Carolina, which is a great institution, man, that's had great success with their program for many years."
"What we're capable of is playing our next game," Jackson-Davis said when asked what this team is capable of. "Which is at Rutgers."
This mindset should serve Indiana well as the season moves along. In a Big Ten race that is going to be rugged, it's going to be important not to get too high or too low. Woodson has already emphasized the importance of moving onto the next game, win or lose.
Filed to: Jalen Hood-Schifino, Mike Woodson, North Carolina Tar Heels, Trayce Jackson-Davis, Trey Galloway