News and notes from Mike Woodson's radio show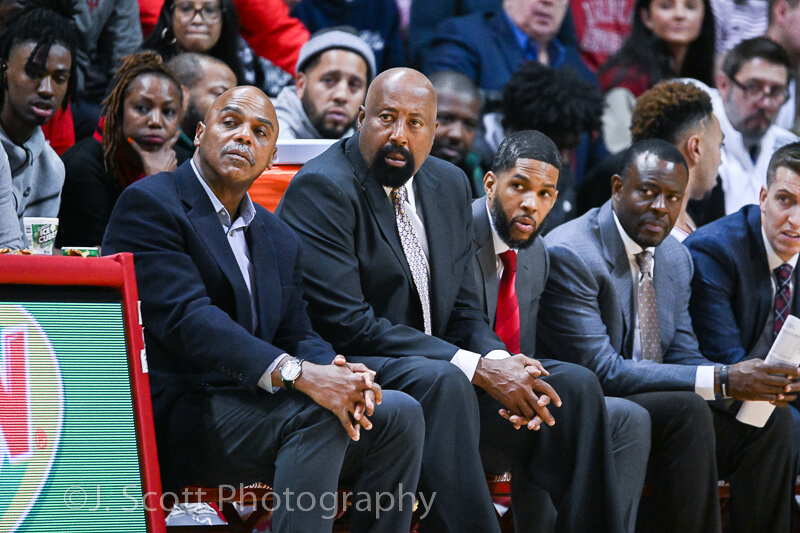 The weekly "Inside Indiana Basketball with Mike Woodson" radio show showcased everything from standout performances by Race Thompson and Tamar Bates to the upcoming ACC-Big Ten Challenge against North Carolina.
• Woodson on Race Thompson: "Race has been solid since day one, on and off the floor… he does a lot of things that get unnoticed at times." Thompson scored 20 points against Little-Rock in Trayce Jackson-Davis' absence.
• Woodson noted many good things in the first six wins for Indiana and was impressed by how his team finished defensively and played against Xavier down the stretch.
• In terms of handling the ball: "I feel so good about every player now handling the basketball," Woodson said. He mentioned Jordan Geronimo, who was in attendance with his family, as a guy who has been handling the ball "like a champ" this season.
• Indiana is shooting 38 percent on 3s this season and Woodson credits his players. "I think the work that these guys have put in this summer has put us in a different position… shooting comes and goes," Woodson added. "The 3 ball is a big part of college basketball, but I don't want to live and die by shooting." He said defense will always be most important.
• Woodson spoke on the importance of having players who can do a lot of different things. "I don't want robots on our team. I want everyone to feel good about getting the basketball and making basketball plays," Woodson said. "I don't want to box players in. He mentioned that it can be problematic when players freeze with the basketball.
• When recruiting, Woodson said he looks for players that can handle and pass the basketball at a high level.
• Offensively, it seems like Indiana is figuring things out. "I try to give these cats the freedom to play. I think it's more fun that way," Woodson explained. He added that his offense is very free-flowing.
• Woodson on Tamar Bates: "I couldn't be more happy for a player… he's worked his butt off. That game was kinda what I saw in high school." He mentioned Bates' defensive improvement this season and applauded his career-high performance against Jackson State.
• Woodson mentioned rebounding as having room for improvement. "I think it can get a lot better," Woodson said. He says guards and perimeter players need to come in and help the bigs rebound.
• On upcoming Big Ten play and Rutgers: "My thought is not really on Rutgers and every game we play is important, but my focus is on North Carolina."
• Woodson says Indiana "can't sleep" on UNC as they're coming off two losses. Woodson called the Tar Heels' starting five one of the best in the country.
• Woodson called Indiana's joint Thanksgiving dinner with Little-Rock "unbelievable." "Lot of good eating man, a lot of good food."
• With Indiana's busy winter schedule and exams coming up Woodson touched on balancing academics with play: "Well again academics is first and foremost for me… if a player is late to practice because of academics, I gotta live with that." He said Indiana organizes their practice schedule to give players time to focus on school.
• Woodson said Trey Galloway, who has missed the last three games for IU, practiced Monday, and barring anything unforeseen, he expects "everyone" to play against North Carolina.
• Logan Duncomb did not practice Monday. Woodson says he was feeling a bit under the weather.
Filed to: Mike Woodson