2022-23 ITH Season Preview: Michigan State Spartans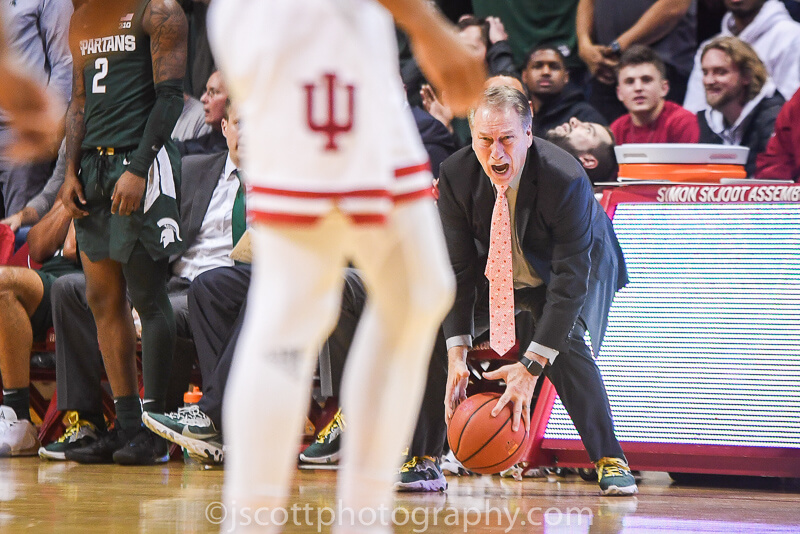 With the start of college basketball season on the horizon, we'll look at the conference at large and Indiana's roster over the next month.
Today, our team previews continue with Michigan State.
Previously: Northwestern, Nebraska, Penn State, Maryland, Minnesota, Iowa, Wisconsin, Ohio State, Rutgers, Michigan, Purdue
Like several teams projected to finish near the top of the Big Ten, Michigan State had a lot of offseason attrition.
The Spartans reached the NCAA tournament last season and advanced to the round of 32. It was an improvement from the 2020-21 campaign, when Michigan State went just 9-11 in conference play.
This winter, Hall of Fame coach Tom Izzo will have to deal with the losses of Marcus Bingham Jr., Gabe Brown, Max Christie and Julius Marble. Christie left early for the NBA, Marble transferred and Bingham Jr. and Brown opted not to use their extra year of eligibility.
The loss of Christie hurts as he had all-league potential, but Michigan State has enough returning pieces to be a threat to compete in the Big Ten.
The backcourt starters look to be set with returnees A.J. Hoggard and Tyson Walker. Hoggard averaged seven points and 4.8 assists as a sophomore in 20.2 minutes per game. His assist rate of 46.1 was No. 1 in the country. Walker, in his second season after transferring from Northeastern, is the team's second-leading returning scorer at 8.2 points per game. He made 47.3 percent of his 3s last season. That ranked 11th in the country.
Izzo should have solid depth at guard with the return of Jaden Akins and Pierre Brooks along with the addition of Tre Holloman. Akins might be the most talented player on the roster at 6-foot-4 and 180 pounds. He underwent offseason surgery on his foot, but averaged 3.4 points in 14.8 minutes off the bench last season. The No. 54 player nationally out of high school, Akins can get to the rim and made 38 percent of his 3s last season.
Brooks is a former top-100 recruit who only played 3.7 minutes per game last season. At 6-foot-6, he brings size on the wing. Holloman is a point guard from Minnesota who was also a top-100 recruit.
The Spartans return several key pieces in the frontcourt, including Malik Hall, Joey Hauser and Mady Sissoko.
Hall was named to the 10-man preseason all-Big Ten team and is Michigan State's leading returning scorer. At 6-foot-8, he's a tough matchup because of his size and his ability to shoot. Hall made 42.6 percent of his 3s last season. In just 21.8 minutes per game, he averaged 8.9 points, 4.6 rebounds and 1.1 assists.
Hauser enters his third season in East Lansing after transferring from Marquette. He connected on 40.8 percent of his 3s last season, but has generally been underwhelming in his first two seasons. Given the roster attrition, Izzo is going to need Hauser to contribute more than 7.3 points per game.
Sissoko has the inside track to start at the five despite playing only 4.5 minutes per game last season. At the least, he'll give Izzo a big body to throw at the elite big men in the conference. If Sissoko can't produce or avoid foul trouble, it won't be a surprise to see Michigan State go small with Hauser at the five and Hall at the four.
Two other additions in the frontcourt are 6-foot-9 freshman Jaxon Kohler and 6-foot-11 freshman Carson Cooper. Kohler was the highest-ranked incoming recruit for Michigan State. He has a nice touch at the rim and is highly skilled for his size. Cooper is a project, but the Michigan native played at IMG Academy last season and brings size to the depth chart.
Bottom line: Michigan State has been an average team the last two seasons and the Spartans still lack the high-end talent that Izzo's best teams have possessed. However, the league lost a lot in the offseason and is wide open. Izzo has a track record of getting the most out of his teams and in Hoggard, Walker, Hauser, Hall and Akins, he has some pieces to work with. Michigan State doesn't have a go-to scorer and will need someone to step up and demand the ball in key situations. It would be a surprise to see Michigan State win the Big Ten, but the Spartans should be in the second tier of teams competing for a conference tournament bye.
Quotable: "I like the group I got. It's smaller. I don't like that, but we made a choice. The choice was to stick with the people we got, try to develop them, try to keep the homegrown guys — understanding that some of these guys are ready for breakout years… We do have a good mix of veterans, and we are inexperienced at center. There is no question that our wings are going to be very experienced. Our guards are going to be much better in general." – Izzo prior to his team's first practice earlier this fall.
Filed to: 2022-23 Big Ten preview, Michigan State Spartans