2022-23 ITH Season Preview: Ohio State Buckeyes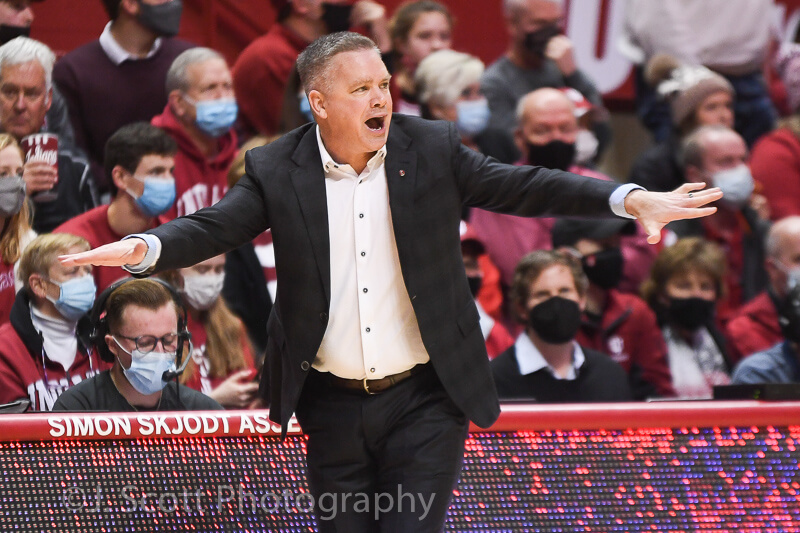 With the start of college basketball season on the horizon, we'll look at the conference at large and Indiana's roster over the next month.
Today, our team previews continue with Ohio State.
Previously: Northwestern, Nebraska, Penn State, Maryland, Minnesota, Iowa, Wisconsin
Aside from the 2019-20 season, which was cut short due to COVID-19, Ohio State's Chris Holtmann has led the Buckeyes to the NCAA tournament every year since he was hired in 2017.
Not only has Ohio State competed at the top in the Big Ten under Holtmann, but the Buckeyes have also finished in the top 20 in the nation three times. Despite this, Ohio State hasn't punched a ticket to the Sweet Sixteen since 2013.
Last season, Ohio State was poised for another big year with the return of EJ Liddell — but it ended ugly. The Buckeyes lost five of their last seven, including losses to Nebraska and Maryland, as well as Penn State in the Big Ten tournament. Even though the Buckeyes made the NCAA tournament, it was an underwhelming end to the season.
Entering the 2022-23 season, Ohio State is without four of its five starters from last season. Liddell's and Malaki Branham's departures to the NBA are most notable. Liddell — an All-American who was a second round NBA draft pick — averaged 19 points and eight rebounds last year.
Branham was named Big Ten freshman of the year last season after averaging nearly 14 points per game. Branham had eight games where he scored over 20 points, all against conference opponents. Now, after losing his top two scorers, Chris Holtmann had to surrender to the inevitable: high roster turnover.
6-foot-8, 255-pound big man Zed Key is the lone starter who returns and will give the Buckeyes a reliable low post scorer. Without having to share the post with Liddell, Key will see a lot of opportunities open up from him. The junior averaged eight points and six boards last season.
A big question mark is 6-foot-6 forward Justice Sueing, who enters his sixth college basketball season. Sueing only played in two games last year before suffering a season-ending abdominal injury. But the year prior, Sueing started all 31 games, averaged over 10 points and led the team in steals. Sueing was a huge loss last year, but with Branham gone, he might be an even bigger addition this season if he can stay on the court.
With the transfer portal basically becoming the Fourth of July weekend of NBA free agency, Ohio State won't have to rebuild completely. The Buckeyes added much-needed experience in West Virginia transfer Sean McNeil and Oklahoma State transfer Isaac Likekele. McNeil was an Indiana target in the transfer portal and appeared in 89 games in three seasons with the Mountaineers. McNeil is a 38 percent 3-point shooter.
Likekele provides good size defensively at 6-foot-5, can rebound and handle the ball efficiently. He won't shoot much from the perimeter, but he's a role player Holtmann had a hard time passing up on. Most coaches would gladly take a Swiss Army Knife who gives you seven points, six rebounds and four assists per game.
Wright State transfer Tanner Holden is an underrated addition in Columbus. Holden averaged 20 points and seven rebounds on an NCAA tournament team last season. It's hard to see where the 6-foot-6 Holden will fit in, but a spot off the bench where he can provide scoring and leadership seems likely. Holden saw action in 92 games over three seasons with the Raiders.
Ohio State will also welcome five freshmen, four of which were in the top 100 of their class. The class was ranked as the eighth best in the nation and easily became Holtmann's best haul in Columbus. Out of the five, only one comes in listed as a point guard. That would be 6-foot-1 Georgia native Bruce Thornton, who was ranked 47th nationally by 247Sports.
The other freshmen will likely find time in the bench rotation, but 6-foot-11 center Felix Okpara will have to serve as the primary backup forward. Okpara's mechanics aren't completely in tune yet, but you can't teach size and athleticism.
Bottom line: You have to credit Chris Holtmann for his successes in recruiting — especially after the losses of Branham and Liddell. The transfer additions give Ohio State experience and consistency. But who's going to step up and be a consistent offensive option? That, along with starting a freshman point guard, is where it gets worrisome for Buckeyes fans. Justice Sueing and Zed Key will have to step into larger roles if Ohio State wants to keep the NCAA tournament streak alive in the Holtmann era.
Quotable: "I think we have four freshmen that are all going to play a role on this group for sure…Bruce (Thornton), Roddy (Gayle), Brice (Sensabaugh) and Felix (Okpara) are all capable of helping this team and playing. They'll go through some ups and downs and they're going to go through some challenges but all four are gonna play. You're going to see them a part of every game, for sure. I'm excited about the potential of that group." – Holtmann, regarding the incoming freshmen, at Ohio State's media day last month.
Filed to: 2022-23 Big Ten preview, Ohio State Buckeyes