2022-23 ITH Season Preview: Penn State Nittany Lions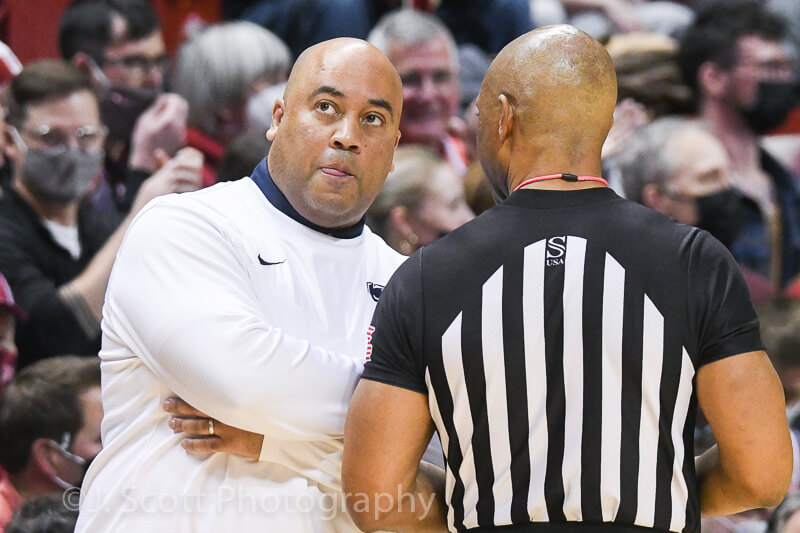 With the start of college basketball season on the horizon, we'll look at the conference at large and Indiana's roster over the next month.
Today, our team previews continue with Penn State.
Previously: Northwestern, Nebraska
Indiana native Micah Shrewsberry finished his first season at Penn State with a 14-17 record, but the program appears to be headed in the right direction. The Nittany Lions return their two leading scorers and welcome key newcomers that should help them become more competitive.
Jalen Pickett, who averaged 13.3 points, 4.4 assists and 4.3 rebounds, is back as the team's lead guard. The former Siena guard shot 48.3 percent on 2s last season but only 32 percent on 3s. No player logged more minutes in league play than Pickett, who logged 93 percent of available minutes last season. He also ranked 11th in the league in assist rate and 15th in steal percentage.
Penn State will likely go small with Pickett joined by Drexel transfer Camren Wynter along with Myles Dread and Seth Lundy on the wings.
Wynter was a high usage, average efficiency option over four seasons at Drexel. Last season, he used the second most possessions of any player in the Colonial Athletic Association. The 6-foot-2 New York native averaged 15.8 points, 5.3 rebounds and 4.6 assists for the Dragons. He should take some of the pressure off of Pickett to do everything.
The 6-foot-6 Lundy averaged 11.9 points last season and shot 34.8 percent on 3s. His 64 made 3-pointers led the Nittany Lions. The 6-foot-4, 235-pound Dread connected on 40.7 percent of his attempts from deep and averaged 6.2 points in 27 minutes per game.
Shrewsberry will have more depth in the backcourt and on the wing with additions like Andrew Funk, Evan Mahaffey, Jameel Brown and Kanye Clary. Dallion Johnson, who averaged 3.7 points last season, also returns.
Funk stood out in the Patriot League at Bucknell, where he averaged 17.6 points per game a season ago. Funk will definitely help as a 3-point shooter. He connected on 87 3s last season for the Bison and shot 36.2 percent from deep.
Brown is a 6-foot-4 combo guard from the Westtown School in Pennsylvania and was a top 150 recruit nationally. Clary, a 5-foot-11 point guard from Massanutten Military Military Academy, was a top 200 recruit as was Mahaffey, a 6-foot-6 wing from Cincinnati. While Penn State's recruiting class only ranked 38th nationally according to 247Sports, Shrewsberry appears to be finding success on the recruiting trail.
The major question mark for Penn State comes on the interior. The Nittany Lions lost John Harrar, who wasn't flashy but was very productive.
Freshman forward Kebba Njie was the prize of the Nittany Lion recruiting class as a four-star prospect. The Centerville, Ohio native played at La Lumiere and was ranked No. 114 in the 247Composite. Listed at 6-foot-10 and 237 pounds, Njie has legitimate size. But there will be plenty of nights where he looks like a freshman against the likes of Zach Edey, Hunter Dickinson, Trayce Jackson-Davis, and others.
Denver transfer Michael Henn also arrives as a potential frontcourt option. The 6-foot-8, 244-pound forward averaged 8.8 points and 4.6 rebounds last season. Penn State will be his fifth school in five years. Henn played at UC Davis, Cal Baptist, Portland and Denver before he arrived in University Park. As a true freshman at UC Davis, he averaged 4.5 points and 1.5 rebounds on an NCAA tournament team.
Another freshman, Demetrius Lilley, will provide a big body for Shrewsberry to deploy. Lilley is 6-foot-10, 260 pounds and was ranked as the No. 10 recruit in Pennsylvania last season according to the 247Composite.
Bottom line: Penn State is still being picked to finish near the bottom of the league, but Shrewsberry is beginning to help the program close the talent gap. The Nittany Lions played one of the slowest paces in the country last season and were able to grind out wins against the likes of Indiana, Iowa and Michigan State at home. Frontcourt production will be a problem, but the Nittany Lions have solid guard play and a coach who emphasizes defense. This might not be a major step-forward season, but Penn State looks to be a program on the rise.
Quotable: "At the end of the day, I think we can help you become a better player. I think we can help put you in a position to make a lot of real money playing pro basketball in terms of how we do player development, in terms of how we play the game and how it translates to the next level. Those are the advantages that we have. [Our] years spent with pro teams as a staff has to be up there with other teams in the country. If that's your goal, we can help you do it and we have a plan for you to do it." – Shrewsberry on what Penn State is selling on the recruiting trail.
Filed to: 2022-23 Big Ten preview, Penn State Nittany Lions