2022-23 ITH Season Preview: Northwestern Wildcats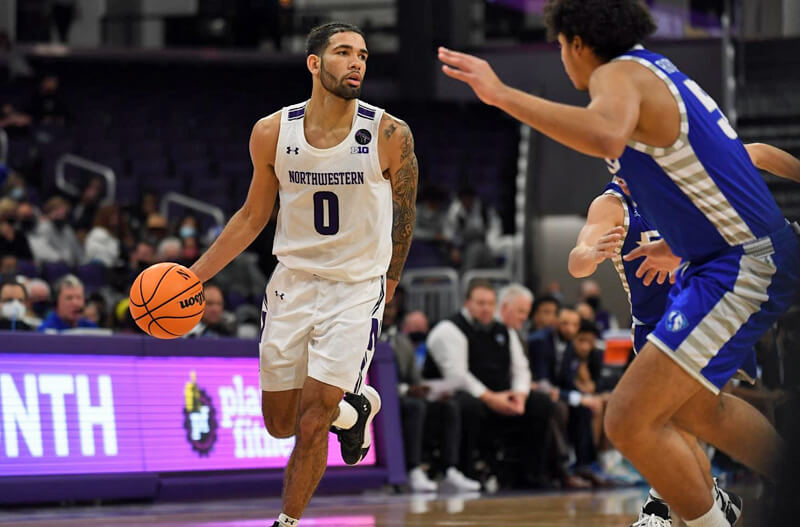 With the start of college basketball season on the horizon, we'll look at the conference at large and Indiana's roster over the next month.
Today, our team previews begin with Northwestern.
Chris Collins led Northwestern to its first-ever NCAA tournament appearance in 2017. But the Wildcats have regressed ever since and Collins has been underwhelming as a coach as he enters his 10th season in Evanston.
Over nine seasons, Northwestern is just 56-113 in Big Ten play under Collins. There are few signs that the program is moving in the right direction. The Wildcats have missed the postseason for five straight seasons. This winter, Northwestern will again be picked to finish near the bottom of the Big Ten.
For Northwestern to outperform expectations, it must be accomplished with guard play. Two of the program's key frontcourt players transferred in the offseason. Ryan Young left for Duke and Pete Nance is now at North Carolina.
The good news for Collins is Northwestern's starting guards are back for another season. The roster's headliner is 6-foot-2 senior guard Boo Buie, who averaged 14.1 points per game last season. Buie ranked in the top ten of the league in assist rate last winter and was top 20 in free throw percentage. He also improved his 2-point field goal percentage by 7.3 while his turnover percentage fell by 17.6 percent in his second season to 13.7 last season. Buie has legitimate all-Big Ten potential.
Flanking Buie in the backcourt will be Chase Audige. After missing the first seven games of last season due to a hip injury, Audige struggled with his efficiency. The 6-foot-4 guard shot a dismal 25.5 percent on 3s a season ago and 38.8 percent on 2s.
Junior Ty Berry and sophomore Julian Roper II will figure into the rotation alongside Audige in the starting lineup or coming off the bench. The 6-foot-3 Berry scored in double figures nine times last season. In early January, he exploded for 23 points at Ohio State. Late in the season, he lit up Iowa for 19 points and made five 3-pointers. Roper didn't score in double figures all season and shot only 34.2 percent from the field.
Indiana native Brooks Barnhizer, who averaged just 1.7 points last season, could see minutes off the bench. The 6-foot-6 Barnhizer was an Indiana All-Star in 2021. Freshman Nick Martinelli signed with Northwestern in the spring after reopening his recruitment. The former Elon commit is from nearby Glenbrook South and averaged 22.8 points per game in his final prep season.
Returnee Robbie Beran is the likely starter at the four. The 6-foot-9 senior is a career 37.1 percent 3-point shooter. He ranked 21st in the Big Ten a season ago in defensive rebounding percentage and 10th in block percentage.
With Young's departure, Collins will have minutes to fill at the five. The candidates are returnee Matthew Nicholson, UTEP transfer Tydus Verhoeven and freshman Luke Hunger.
The 7-foot Nicholson has barely played over his first two seasons. He did log 13 minutes in a 64-62 win at Michigan State last January and scored five points to go along with six rebounds.
Verhoeven is a 6-foot-9 big man who shot just 50.6 percent on 2s last season in Conference USA. He started 28 games for the Miners and averaged 6.6 points, 4.6 rebounds and a block.
The 6-foot-10 Hunger is a Montreal native who weighs 255 pounds and will provide Collins another body to throw at the Big Ten's plethora of elite big men.
Bottom Line: Northwestern was the third worst offensive team in the Big Ten last season. The Wildcats ranked in the bottom three in 3-point, 2-point and free throw percentage. Getting to the line was also a struggle as Northwestern ranked just 12th in free throw rate. Buie is one of the best guards in the league, but the rest of the pieces on the roster are largely unproven. The frontcourt rotation is the biggest concern given the number of productive big men in the conference. It would be a major surprise to see Northwestern to finish higher than 10th in the Big Ten.
Quotable: "We were a better team this year than we were last. We won more games. We won a game in the postseason, which we hadn't done the last couple years, and they should be incredibly proud of that. I think the core is in place for our guys to move forward and be even better next year. We've got a big offseason ahead of us, a lot of guys, we got to get better. But I think the guys have shown that this is a group that can be a very competitive, good team in this league." – Collins following last season's Big Ten tournament loss to Iowa.
(Photo credit: Northwestern Athletics)
Filed to: 2022-23 Big Ten preview, Northwestern Wildcats