2022-23 ITH Season Preview: Minnesota Golden Gophers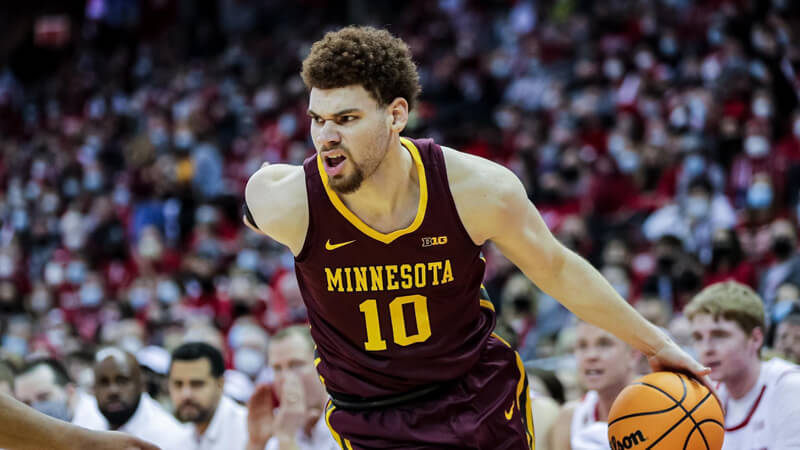 With the start of college basketball season on the horizon, we'll look at the conference at large and Indiana's roster over the next month.
Today, our team previews continue with Minnesota.
Previously: Northwestern, Nebraska, Penn State, Maryland
Rebuilding the Golden Gophers program is a tall task. In eight seasons at Minnesota, Richard Pitino made the NCAA tournament just twice and finished those runs with a record of 1-2 in the Big Dance.
Ben Johnson is entering his second season at the helm in Minneapolis. Johnson, who came over from Xavier in March of 2021, ended his first year with a record of 13-17 (4-16 in Big Ten play) and a 13th place finish in the Big Ten. Despite the rough conference record, Minnesota had a couple of bright spots, including a win at Michigan. This season, however, the roster will look much different.
The Gophers lost Payton Willis, who averaged just under 16 points a game and shot 42 percent on 3-pointers last year. Johnson's top returnee is junior forward Jamison Battle. Battle played a ridiculous 37 minutes a game last season and led the team in scoring at 17.5 points per game. Battle can stretch the floor and shot 36.6 percent from beyond the arc last season. His retention is huge for the Gophers.
While Battle will return, the other four of Minnesota's starters from last year will not. Year two of Johnson's tenure will be another rebuilding season with large roster turnover. Expectations for the Gophers aren't high heading into November. Bart Torvik projects Minnesota to finish last in the Big Ten and have a conference record of 6-14. Success for the Golden Gophers might be measured by one or two big upsets.
Johnson hit the transfer portal hard and added North Carolina big man and Minnesota native Dawson Garcia, amongst others. Garcia is a former Indiana target and top-40 recruit from the class of 2020. Garcia is joining his hird program in as many years. Family tragedy and injury kept him off the court last year at UNC, but his skill set makes him a difficult matchup for many college bigs. Garcia is 6-foot-11 and, similarly to Battle, can spread the floor. Battle and Garcia enter the season as an intriguing frontcourt to keep an eye on in the Big Ten.
With Willis gone, Minnesota's backcourt has changed completely. Ta'Lon Cooper, a 6-foot-4 guard transfer from Morehead State, is a likely starter. Cooper will bring a lot of experience as he started 52 games for the Eagles. The junior is a pass-first guard who earned first team All-Ohio Valley conference honors last season. His 202 assists last season rank second-most in Morehead State history. Cooper isn't a great shooter, but he makes the right read and can use his size to his advantage. Backing him up will be another transfer, Taurus Samuels from Dartmouth. Samuels averaged 9.4 points last season in the Ivy League.
Minnesota adds five freshmen this season, which was good for the ninth-best recruiting class in the conference. The most notable newcomers are Minnesota Mr. Basketball Braeden Carrington and Pharrel Payne, another Minnesota native. Carrington is a 6-foot-4 guard who could start alongside Cooper. Payne was the highest-rated recruit in the class and could backup Garcia at the four.
Isaiah Inhen — the German forward who missed all of 2021-22 with a torn ACL — will miss the 2022-23 season after injuring that same knee this off-season.
Seven-footer sophomore Treyton Thompson, who attended Indiana high school basketball powerhouse La Lumiere, will likely see an uptick in playing time. But, for the Gophers to be successful, they must find a way to defend.
Minnesota had one of the worst defensive ratings in the Big Ten last season, according to Bart Torvik. Adding Garcia shouldn't change much so it'll be up to Ben Johnson and the Golden Gophers guards to make a difference on the defensive side.
Bottom line: With a ton of roster turnover and new pieces, it seems Ben Johnson is making his mark on the Minnesota basketball program. But, it might be a while before the pieces can all come together. Garcia and Battle will be a fun frontcourt to watch and could give teams defensive fits. But, the unproven bench and backcourt could present problems. A bottom-half Big Ten finish looks likely, and even if Minnesota can maximize the freshmen and transfer talent — the Golden Gophers are NIT bound at best.
Quotable: "We're going to have three core values this summer: physicality, mentality and edge. That's going to be huge. We've got to be a much more physical team, because we have the ability to be. I keep hitting it, but we're going to have the measurables that make us more physical. We have to have that mentality of being downhill dudes. We have to have the mentality of, we're going to keep coming at you, every single play. That mentality of we're going to bend but not break. That tough, hard-nosed, blue-collar mindset." – Johnson to The Athletic in May.
(Photo credit: Minnesota Athletics)
Filed to: 2022-23 Big Ten preview, Minnesota Golden Gophers