2022-23 ITH Season Preview: Maryland Terrapins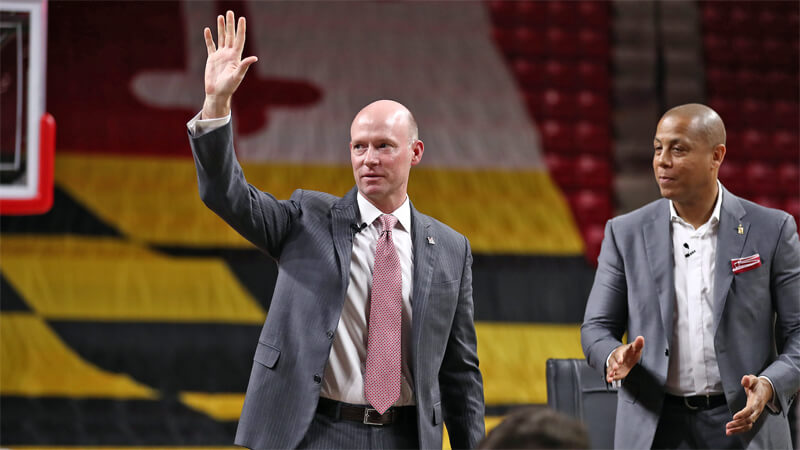 With the start of college basketball season on the horizon, we'll look at the conference at large and Indiana's roster over the next month.
Today, our team previews continue with Maryland.
Previously: Northwestern, Nebraska, Penn State
The Mark Turgeon era in College Park ended last December with a resignation. After a 5-3 start, Turgeon stepped down from his post.
"After several in-depth conversations with (athletic director) Damon [Evans], I have decided that the best thing for Maryland basketball, myself and my family is to step down, effective immediately," Turgeon said in a statement. "I have always preached that Maryland basketball is bigger than any one individual. My departure will enable a new voice to guide the team moving forward."
That new voice was Danny Manning, who found little success in an interim role. Maryland finished last season with a loss to Michigan State in the Big Ten tournament and a 15-17 record. Eleven days later, Maryland announced the hiring of Kevin Willard.
The 47-year-old Willard arrives in the Big Ten after compiling a 270-210 record over 15 seasons at Iona and Seton Hall. At Seton Hall – where he spent 12 seasons – Willard never reached the second weekend of the NCAA tournament.
At Maryland, the expectations will be lofty. The fanbase expects to compete for conference championships and deep tournament runs annually. Year one will likely be a transition campaign for the program, but the pieces exist for an NCAA tournament appearance.
The top returnees for Maryland are seniors Hakim Hart and Donta Scott. Hart, a 6-foot-8 wing, averaged 9.9 points last season on 33 percent 3-point shooting. Scott is the team's leading returning scorer and one of the conference's better frontcourt players. At 6-foot-8, he can bully smaller defenders in the post or step out on the perimeter against slower bigs. Scott averaged 12.6 points and 6.2 rebounds a season ago, but his 3-point shooting percentage took a tumble. After connecting at just a 44 percent clip as a sophomore, Scott made only 29.1 percent of his 3s last season.
Maryland lost a pair of starting guards in Fatts Russell and Eric Ayala, but added a pair of transfers who could be adequate replacements.
Charlotte transfer Jahmir Young arrives after averaging 19.6 points, 5.9 rebounds, 3.7 assists and 1.1 steals for the 49ers. The 6-foot-1 senior guard is a career 83.2 percent free throw shooter. A big part of his game is getting to the line as he's taken 398 attempts from the line over three seasons in Conference USA.
Georgetown transfer Donald Carey averaged 13.5 points, 4.4 rebounds, 2.9 assists and 1.5 steals last season for the Hoyas. At 6-foot-5, he has the prototypical size for a two-guard in college and is a career 39 percent 3-point shooter.
Sophomore Julian Reese will need to take a major step forward in the Maryland frontcourt to help take some of the pressure off of Scott. The No. 60 player in the 2021 class, according to the 247Composite, the 6-foot-9 Reese has upside. He averaged 5.7 points, 4.4 rebounds in 17.7 minutes per game as a freshman but needs to get stronger to compete in the post in the Big Ten.
Depth is a concern for Willard across the roster. In the backcourt, look for Seton Hall transfer Jahari Long and returnee Ian Martinez to be the primary reserves. Neither play is as proven as Young and Carey, but both have high major experience.
Ike Cornish should figure into the rotation on the wing after redshirting last season. The 6-foot-6 forward as the No. 116 recruit in the 2021 class. Freshman Noah Batchelor could also get a look on the wing as his primary strength coming out of high school is perimeter shooting. The 6-foot-6 forward was a three-star recruit.
Saint Francis (N.Y.) transfer Patrick Emilien will likely backup Reese and Scott. He averaged 12.5 points and 6.2 rebounds, but at 6-foot-7, is undersized for a post player in the Big Ten.
Bottom line: Willard is playing with house money this season as expectations are low in College Park. If the Terps reach the NCAA tournament, it will be a major success. And if the team only reaches the NIT (or worse), fans will look ahead to future seasons where recruiting is off to a solid start. Maryland already has three commitments in the 2023 class, including a pair of top 60 players in Jamie Kaiser Jr. and DeShawn Harris-Smith. If Willard can get efficient production from Carey and Young, Maryland will be a dangerous team, particularly at the XFinity Center.
Quotable: "I have an idea how we can play. We'll have to play small at times, and we're going to play faster and press more. The thing is just kind of seeing how much — it's fun to say you're going to play fast, but we'll have to see the reality. We're really focused on controlling tempo, especially in conference play against some bigger teams. We want to push the pace, get their bigs to guard us on the perimeter." – Willard to Blue Ribbon College Basketball Yearbook.
Filed to: 2022-23 Big Ten preview, Maryland Terrapins