2022-23 ITH Season Preview: Purdue Boilermakers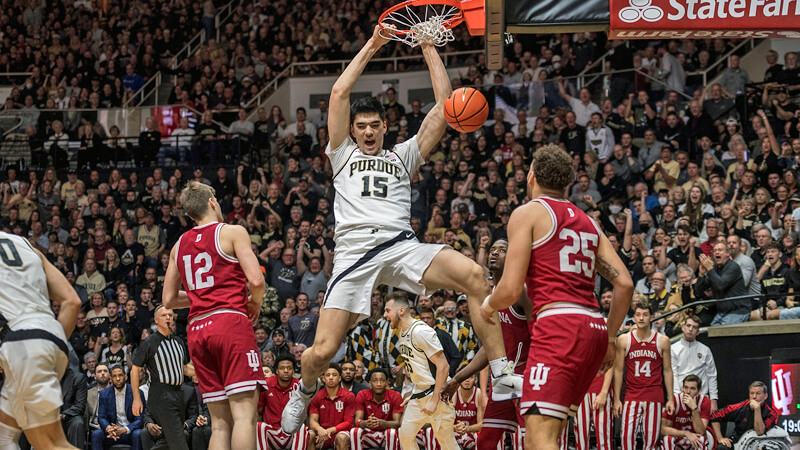 With the start of college basketball season on the horizon, we'll look at the conference at large and Indiana's roster over the next month.
Today, our team previews continue with Purdue.
Previously: Northwestern, Nebraska, Penn State, Maryland, Minnesota, Iowa, Wisconsin, Ohio State, Rutgers, Michigan
Purdue entered the 2021-22 season with Final Four aspirations. The Boilermakers delivered a 29-8 record and a 14-6 record in the Big Ten, but were stunned by Saint Peter's in the Sweet Sixteen.
Matt Painter, the second longest-tenured coach in the conference, will now be tasked with retooling the Purdue rotation. Jaden Ivey is now a rookie with the Detroit Pistons. Trevion Williams and Sasha Stefanovic, two keys to the program's success in recent seasons, are also gone. Guards Eric Hunter Jr. (Butler) and Isaiah Thompson (Florida Gulf Coast) also transferred out of the program.
Despite those losses, Painter and the Boilermakers should be in the thick of the Big Ten race. Returning in the Purdue frontcourt is 7-foot-4 center Zach Edey, one of the most dominant bigs in the country. Edey averaged 14.4 points and 7.7 rebounds last season in only 19 minutes per game. With Williams gone, Edey will play as many minutes as he can handle. For Purdue to reach its ceiling as a team, they'll need Edey on the floor and out of foul trouble as much as possible.
Purdue has several frontcourt pieces that can complement Edey well.
Mason Gillis, a 6-foot-6 junior, is at the top of the list. The New Castle product shot 41.4 percent on 3s a season ago. He averaged 6.4 points and 4.8 rebounds in 23.5 minutes per game. Gillis isn't flashy, but he knows his role and makes winning plays.
Caleb Furst, a 6-foot-10 sophomore, played valuable minutes last season and can space the floor. Furst made 42.3 percent of his 3s and averaged 4.1 points and 3.2 rebounds in only 14.6 minutes per game.
Former IU recruit target Trey Kaufman-Renn redshirted as a freshman, but is a versatile forward who should also be able to help space the floor. Purdue hopes the redshirt year will pay dividends for Kaufman-Renn, who is listed at 6-foot-9 and 225 pounds.
Freshman Will Berg, a 7-foot-2 center from Sweden, will provide depth behind Edey, but could be a few years away from making a major impact.
Purdue has a ton of production to replace in the backcourt with the departures of Ivey, Hunter Jr., Stefanovic and Thompson. Junior Ethan Morton is a former top-75 recruit, but hasn't made much of a statistical impact over his first two seasons. Morton is a 6-foot-6 guard who is an excellent passer and decision-maker. He made 44.1 percent of his 3s last season in limited attempts. Purdue will need him to be more aggressive offensively.
Utah transfer David Jenkins Jr. will see minutes in the backcourt after averaging 8.5 points and shooting 39.6 percent on 3s last season for the Utes. Jenkins played at South Dakota State before Utah. Westfield product Braden Smith could see minutes immediately at the point guard position as a freshman. The 6-foot-1 guard wasn't a highly touted prospect, but should fit right into the system and won't try to do too much.
Brandon Newman also returns for his junior season after a limited role last season. The 6-foot-5 guard averaged 4.6 points in 12.6 minutes per game last season, but is a career 35.3 percent 3-point shooter. Newman averaged eight points per game in 2020-21 and the hope for Purdue is that he'll be able to regain the form he showed in that season.
Another freshman, Fletcher Loyer, was a top 100 recruit in the 247Composite and could push for minutes in the guard rotation. Two other potential names to know at the forward spot are Camden Heide, a true freshman, and Brian Waddell, a redshirt freshman. Heide, who is 6-foot-6, was a top 150 recruit in the 247Composite and could provide some shooting on the wing. Waddell is a Carmel product and was an Indiana All-Star in 2021. He suffered a knee injury last fall, but is expected to be ready for the start of the season.
Bottom line: Purdue's frontcourt will be capable of competing with any team in the Big Ten, but the backcourt has plenty of question marks. Jenkins Jr. has experience, but isn't a true point guard. That means Smith could get the first crack at the position as a true freshman. Purdue could also lean some on Morton for ball-handling duties. If Painter can figure out the guard rotation and keep the floor spaced around Edey, the Boilermakers should again put an elite offense on the floor. Defensively is where Purdue needs to make strides if it hopes to compete near the top of the league. The Boilermakers were just 93rd last season in KenPom's adjusted defensive efficiency rankings.
Quotable: "He's going to play more. If he gets up to 25 minutes a game, I think that's a safe number for him. If you add six minutes to what he played last year, I think he can flirt with averaging 20 and 10. It depends on how he plays and how other people up front play. He's gotten a lot better. He's a better passer and can really pass out of double teams. He's been featured for us before, so this is nothing new for him, but the difference is last year when he was featured he only played half the game. The thing about Zach is he doesn't get fatigued the way that Isaac Haas got fatigued when he played here. He's going to play more." – Painter to College Hoops Today on Edey.
(Photo credit: Purdue Athletics)
Filed to: 2022-23 Big Ten preview, Purdue Boilermakers