2022-23 ITH Season Preview: Rutgers Scarlet Knights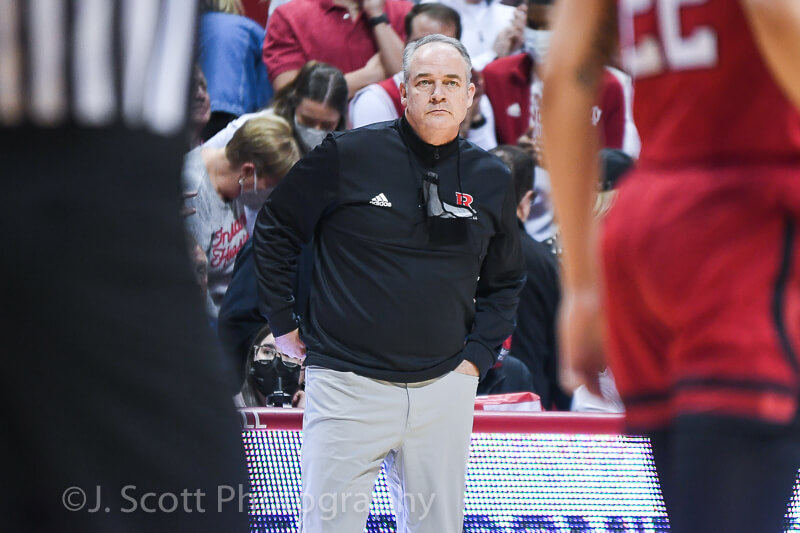 With the start of college basketball season on the horizon, we'll look at the conference at large and Indiana's roster over the next month.
Today, our team previews continue with Rutgers.
Previously: Northwestern, Nebraska, Penn State, Maryland, Minnesota, Iowa, Wisconsin, Ohio State
In recent years, Rutgers has become a consistent part of the national men's basketball conversation. After failing to appear in an NCAA tournament since 1991, the Scarlet Knights reached the tournament in both 2021 and 2022 and have become much more highly regarded by doing so.
While head coach Steve Pikiell has yet to lead his team far into the tournament, the fact that they are there at all is a testament to his coaching and the team itself. This year, the expectation of an NCAA tournament appearance weighs just as heavy.
The Scarlet Knights are projected No. 57 in Bart Torvik's preseason rankings, which puts them at eighth in the Big Ten. In the 2021-22 season, they finished with a record of 18-14 and a 12-8 conference record.
However, whether Rutgers can be that successful again remains to be seen. With the loss of top scorers Ron Harper Jr. (15.8 ppg) and Geo Baker (12.6 ppg), Pikiell will need to look to his bench to fill those starting spots.
Pikiell tended to ride his starting five last season, so the majority of the current Scarlet Knights don't have a great deal of experience. However, the three returning starters have nothing but promise and high expectations upon them.
When guard Caleb McConnell elected to return to Rutgers for his fifth year, the Scarlet Knights immediately got a boost. As the 2022 Big Ten defensive player of the year, the 6-foot-7 McConnell averaged 5.3 rebounds and 2.2 steals per game. He also contributed on the other end of the court, averaging 7.1 points and 2.1 assists per game.
McConnell's all-around performances will be even more important this season, with the need to fill the offensive holes left by Harper Jr. and Baker. As a fifth-year student, McConnell also has the capability, and responsibility, of stepping up as one of the leaders of the Scarlet Knights.
The other two returning starters are junior center Clifford Omoruyi and senior guard Paul Mulcahy. Both were among the top performers at their position in the Big Ten last season. Mulcahy finished second in the conference in assists per game with 5.3. The 6-foot-11 Omoruyi was in the top ten in blocked shots, field goal percentage and rebounding.
Outside those "big three," the remaining two starters and the rest of the lineup on the bench are still up in the air.
Junior forward Aundre Hyatt is the only returning non-starter who appeared in all 32 games last season. He averaged 4.3 points and 2.8 rebounds per game, and at 6-foot-6 he showed he could play just about anywhere. However, he'll need to step up on both ends of the court to be a solid starter for the Scarlet Knights.
Transfer Cam Spencer, a senior guard out of Loyola University Maryland, is also projected to be a big contributor, according to Bart Torvik's preseason projections. Spencer averaged 18.9 points, 4.8 rebounds and 3.2 assists per game last season, earning himself a spot on the All-Patriot League first team.
Spencer has the ability to boost Rutgers' 3-point shooting, as he made 59 triples at a 35 percent clip last season. Rutgers wasn't the worst 3-point shooting team in the conference last season, but without Harper Jr. and Baker, the two biggest contributors beyond the arc, Spencer and others will need to step up.
In the backcourt, look for returning guard Jalen Miller to challenge for minutes along with freshman guard Derek Simpson. The 6-foot-3 Simpson scored over 1,000 points in high school last season. Miller is a solid defender who will need to become more reliable offensively.
Two other returnees who should figure into the rotation are forwards Mawot Mag and Dean Reiber. Mag could challenge for a spot in the starting lineup after averaging 2.9 points in just 11.7 minutes per game last season. Reiber, who is 6-foot-11, shot 53.1 percent last season in limited attempts.
A "surprise" player to watch is freshman forward Antonio Chol. Chol signed to the 2022-23 class at the beginning of August, forgoing his senior year at Minnesota Prep Academy. Since arriving at Rutgers, Chol has been impressing everyone from Pikiell to media members. Pikiell described the 6-foot-9 forward as high-energy and a "big-time shooter" who can do a lot on the court.
One big difference between Rutgers and many other teams in and outside of the Big Ten is Pikiell's retention rate. He didn't lose any players to the transfer portal, and with only one incoming transfer and three freshmen, most of his roster already knows his coaching style well. While many don't have major experience, they won't have to spend time learning a new system.
Bottom line: There are a lot of questions surrounding this Rutgers team, mainly because there isn't much information about anyone outside of McConnell, Omoruyi and Mulcahy. A good part of the bench has promise, but whether or not they are starter-quality players is unknown. Don't expect the Scarlet Knights to be as good as last year. At the NCAA tournament last year, Pikiell himself even said the 2021-22 team was the best he'd ever coached. But all of the unknowns don't mean Rutgers won't be competitive or able to take other teams by surprise.
Quotable: "It's been a great group. Cliff (Omoruyi) is working and playing at a high level and obviously, Paul (Mulcahy) is at a high level. The veteran guys come back better. And then the newcomers have been really good picking up stuff… Cam Spencer's been a really good addition because he's in the gym a lot… We've got a good balance of the veteran guys who've been around, and the newcomers bring some great energy." – Pikiell after an off-season practice earlier this year.
Filed to: 2022-23 Big Ten preview, Rutgers Scarlet Knights