6-Banner Sunday: Indiana looking to continue momentum against Minnesota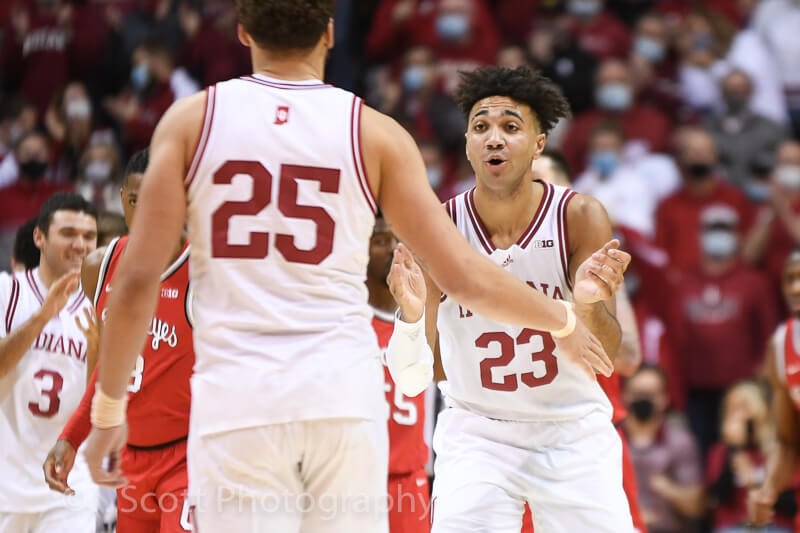 6-Banner Sunday is Inside the Hall's weekly newsletter in partnership with The Assembly Call. More than 8,000 Indiana fans receive the newsletter each week. In addition to appearing each week on the site, you can also opt to receive 6-Banner Sunday by email. A form to subscribe via email is available at the bottom of this week's 6-Banner Sunday.
Welcome to another edition of 6-Banner Sunday, a joint production between The Assembly Call and Inside the Hall where we highlight the five most essential IU basketball stories of the past week, plus take a look at how the other IU sports programs are doing.
In a reverse of what anyone might have expected this week, IU fell to a middling Penn State team before beating a ranked Ohio State team. The Hoosiers return to action today against Minnesota looking to build off their success against the Buckeyes. Outside of games, Assembly Call Radio and Podcast on the Brink had their normal shows as did IU head coach Mike Woodson. We will as always conclude with a look at how other Hoosier sports teams are doing.
In a bit of brief news, IU star center Trayce Jackson-Davis is on the Wooden Midseason Top-25 List.
• Hoosiers beat Ohio State for biggest win of the season
• IU falls to Penn State
• Hoosiers set to take on Minnesota
• AC postgame and Podcast on the Brink
• Mike Woodson radio show
• Hoosier Roundup
Banner #1 – Hoosiers beat Ohio State for biggest win of the season
IU turned in their best performance of the season running away late from the no. 13 Buckeyes for a 67-51 win. This victory finally gives IU a signature win on their NCAA Tournament resume. More performances like this (especially on defense), will make the possibility of a six-year drought in the "Big Dance" end, and hopefully, allow the Hoosiers to have their name called on "Selection Sunday".
After the game both head coaches Chris Holtmann and Mike Woodson spoke, Inside The Hall had a photo gallery, Ryan Corazza wrote his Minute After and Film Session, Grace Ybarra penned Five Takeaways, and Tyler Tachman had a feature column on Trey Galloway who returned from his long absence after recovering from a wrist injury and provided an immediate spark.
Banner #2 – IU falls to Penn State
As good as the Ohio State win was, IU returned to Big Ten play last Sunday against a Nittany Lion team they had dominated recently and had a clunker of a game. The Hoosiers, due to a COVID cancellation had not played a game since before Christmas and the rust showed in a big way (even though Penn State had been paused for COVID longer before this game). The offense never got in gear and IU fell 61-58.
Afterward, Corazza had his Minute After and Film Session, Woodson spoke, Alex Bozich had Five Takeaways, and Tachman wrote a column.
Banner #3 – Hoosiers set to take on Minnesota
IU plays the Golden Gophers at noon on BTN and will look to avoid a letdown following the big victory over the Buckeyes. Minnesota has not won in Bloomington in a decade which is by far the longest losing streak for any Big Ten opponent in Assembly Hall. The Golden Gophers have been a bit of a surprise this year despite bringing in a new coach and turning over almost their entire roster.
The Hoosiers have an 11-3 record on the year and are 2-2 in Big Ten play. Minnesota sits at 10-2 but just 1-2 in the conference and has yet to pick up a signature victory. Before the contest, IU forward Race Thompson spoke to the media and Bozich wrote a What To Expect story.
Banner #4 – AC postgame and Podcast on the Brink
With the conference season now in full force, both Assembly Call and Inside The Hall had shows this week. POTB discussed the Ohio State win with Bozich and Corazza.
Meanwhile, Assembly Call put out multiple items this week with a postgame show following the game against both the Nittany Lions and Buckeyes. Also, the Doing The Work postgame show had episodes following a signature victory over Maryland and a dominant performance against Wisconsin.
Banner #5 – Mike Woodson radio show
Woodson's weekly radio show also aired this week as usual.
On it, the IU head coach discussed the loss to Penn State and looked ahead to the game against Ohio State (shows are aired on Monday each week before the contest against the Buckeyes took place)
Banner #6 – Hoosier Roundup
The week belongs to Women's Basketball who picked up their first-ever win over Maryland and their first signature victory of the season. The result puts IU in control of the Big Ten race in the early going.
• No. 6 Women's Basketball beat Maryland in overtime in a thriller of a game to take an early lead in the conference race at 4-0. They then went to Madison and beat up a hapless Wisconsin team. Also, star center Mackenzie Holmes was put on the Wooden Award Midseason Top 25.
• Football had several big additions and subtractions this week. The additions came in the form of several commitments from the transfer portal led by Missouri starting quarterback Connor Bazelak. In addition to Bazelak, they also got defensive commitments from Kentucky's Jared Casey and UCLA's Myles Jackson. In the subtractions department, IU lost defensive coordinator Charlton Warren to North Carolina and defensive line coach Kevin Peoples to Missouri. The other subtraction was the announced retirement of longtime radio color-analyst Buck Suhr.
• Men's Soccer starting goalie Roman Celentano is off to the MLS after signing a Generation Adidas Deal and will forgo his final year of eligibility at IU.
• Wrestling returned to action following their COVID pause with a meet against Ohio. They then lost their Big Ten opener to Rutgers.
• Swimming and Diving had their meet canceled by COVID.
Thanks for your continued support for The Assembly Call and Inside the Hall. We'll be back next weekend with a new roundup.
Now go enjoy yourself a 6-banner Sunday.
Aaron (Ari) Shifron
Assembly Call Contributor
Filed to: