The Minute After: Penn State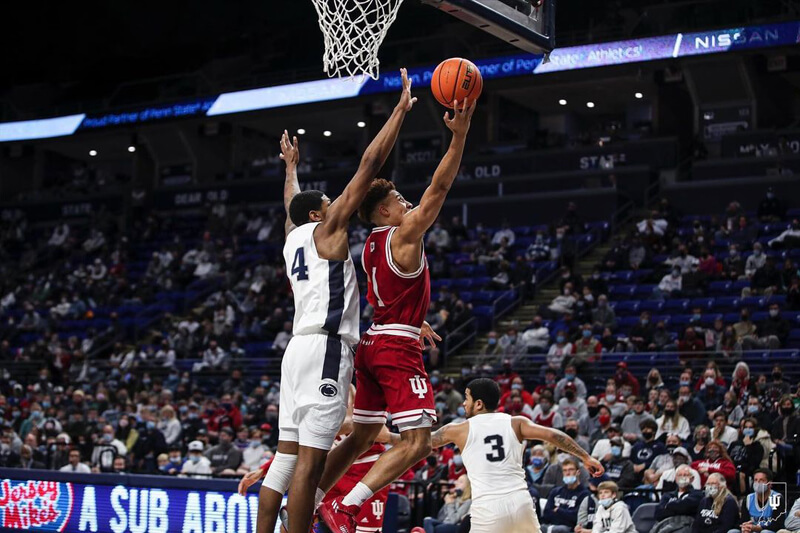 Thoughts on a 61-58 loss to the Nittany Lions:
As the inaugural Mike Woodson season enters Big Ten play for good, a team that once looked confident and multi-dimensional on offense is losing its swagger.
The remnants of the Archie Miller era continue, as Indiana's offense relies too heavily on Trayce Jackson-Davis and players stand around, looking tentative when their chances do come. Add in Indiana's poor 3-point shooting (4-of-17) this evening at the Bryce Jordan Center and there wasn't a lot different in this one from seasons past. A game in reach slipped sway, as Indiana just couldn't get over the hump.
IU turned it over on just 10 percent of its possession in this one. The Hoosiers held Penn State to an average-ish 1.03 points per possession and just 61 points. But it wasn't good enough. While the Nittany Lions certainly hit some difficult, late-in-the-shot clock 3-pointers, Indiana's defense also allowed for open looks and Penn State capitalized from deep (11-of-22), hitting some big ones during a 20-7 run in the second half, a stretch that allowed the Nittany Lions to get up 10 points (51-41) with 10:28 to go. While Indiana held them to just 10 more points the rest of the way, it never regained the lead or tied the contest, the deficit just a bit too much to overcome.
Jackson-Davis scored 20 points and hit some important buckets down the stretch. But he missed some, too, including a seemingly rushed and contested falling away left-hander with 16 seconds to go and Indiana trailing by a point. Jackson-Davis' 3-pointer at the buzzer also didn't drop. But he did what he could. It's the rest of Indiana's roster, most notably its guards and wings, that are failing. Starters Parker Stewart and Miller Kopp combined to shoot just 3-of-9 (1-of-4 from 3-point range) and score just seven points. Stewart played 32 minutes. Kopp played 28.
With both so far not showing an ability to play make or do much else offensively, games they aren't hitting shots and Woodson doesn't trust his bench like today means an even heavier load has to go to Jackson-Davis. And while Rob Phinisee hit some key shots late, Indiana's point guard play continues to be up and down. Phinisee and Johnson combined to shoot just 6-of-17, their strong plays negated just as easily by poor shot selection and an inability to steady the ship at other times. The Hoosiers are only going to go as far as their point guards take them this season. So far, their play hasn't been at a high enough level to will Indiana to victory against better competition.
There's still plenty of chances in Big Ten play for Indiana to turn it around. Quad 1 wins are available on many nights in league play. Still, while this team has shown to have elite defensive chops, its offense is looking flat. With better teams and scouting to come in the weeks ahead, Indiana's trending the wrong way and an NCAA tournament berth is frankly no guarantee.
(Photo credit: IU Athletics)
Filed to: Penn State Nittany Lions