Trey Galloway displays the relentless spirit of Rocky Balboa in statement win over Ohio State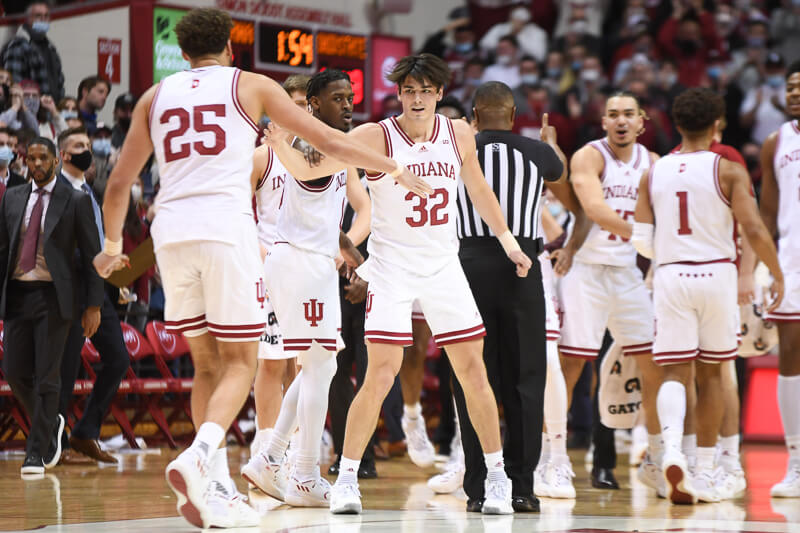 Kimberly Bowman has a large poster hanging over the door of her classroom at Culver Academies. As an instructor at the boarding school in Culver, Indiana, she can decorate her room. So she did it with something big, and something she's passionate about.
Rocky Balboa.
A few years ago, with that poster on her wall, she says she quickly connected with one of her students through their fandom of Rocky.
Ask about that certain student and Bowman will tell you about how he wrote a thoughtful essay in the year-long Humanities course. Or how he likes to fish and ride golf carts around Culver. Or about how "kind" he is to others.
But first, she talks about something else. How they connected over Rocky.
That student, Bowman said, was a high school sophomore named Trey Galloway.
"He's a big fan of Rocky, which is pretty unusual for kids in this age group," Bowman said. "Rocky is like 40 years old. Most kids don't know Rocky."
The universe works in a way that allows for a connection between a poster at Culver and what happened Thursday night at Assembly Hall in Indiana's statement 67-51 win over No. 13 Ohio State. In his first game back since being injured in November, Galloway delivered the kind of relentless spirit similar to that of Balboa. In 19 minutes, Galloway scored eight points, grabbed three rebounds, dished out four assists, tallied two steals, committed zero turnovers and tied for second on the team with a plus/minus of +17.
It isn't a perfect parallel, but it's difficult to deny some of the similar characteristics between Galloway and Balboa. The boxer from the fictional movie series is defined by his tough, stop-at-nothing, blue-collar mindset. He trained by running up the steep steps of the Philadelphia Museum of Art. In the first movie, Balboa slugs through a broken nose in an eventual loss to Apollo Creed. In the case of Galloway, Thursday was his first game back since breaking his left wrist more than a month ago. Yet there he was on Thursday, throwing himself into Ohio State's bench for a loose ball and getting clobbered time after time to throw a lob or put in a layup. It was somewhat like a prized fighter taking punches, but failing to stay down.
"You never know how a guy — when he's injured — how he's going to respond coming back because practice is not the same as game speed," Indiana head coach Mike Woodson said postgame. "But I thought he was right in tune with what we were doing, and boy, he made a lot of great plays on both ends of the floor."
It has been somewhat of an adverse two months for Galloway. In mid-November, Galloway was driving down the court on a breakaway layup opportunity when he was clotheslined to the hardwood by St. John's guard Montez Mathis. Galloway's left wrist broke his fall, he rolled in pain, and, although he walked off under his own power, he didn't return for the remainder of the game. Two days later, Galloway's family announced that he underwent surgery.
The injured wrist, though, didn't stop Galloway from putting in work with Director of Athletic Performance Clif Marshall. Galloway ran on the treadmill with a bulky wrap on his wrist. He did agility work, shuffling from side to side while holding a towel over his head. He exploded for box jumps and did footwork drills. If you got to a game early enough, it wasn't difficult to tell how much Galloway wanted to be on the court. Galloway would flip up one-handed shots or defend with one arm in the air as his teammates put up jumpers during warmups. During practices, he eventually ran with the team and did non-contact drills with one hand.
"Trey is someone that — even though he's injured — he's still an energy guy, he still brings his voice every day," Trayce Jackson-Davis said a few weeks ago. "… I think he's in better shape than he was when he got injured because he's been working on his conditioning even more."
This level of tenacity has been with Galloway even before his time at IU. During his senior season at Culver, Galloway landed awkwardly and hurt his right wrist. As soon as classes ended, Galloway would rush to get treatment before practice. Even if he was limited in practice, he'd still run with the team. He stayed late to put on more ice and also get up whatever shots he could, even if they were only close range. When he was at full strength, he'd dive on the floor for loose balls or take charges. It's just how he plays.
"You either have to sit him down or that's the way he's going to play," Culver assistant coach Blaine Schafer said, "It wasn't just when the lights turned on. It was every single day, every single drill."
With that same mindset, Galloway eventually returned to the court after his rehab at IU this season. Which brings us back to Thursday. By the time Galloway entered the game, Indiana had already dug itself a 15-7 deficit. Galloway, though, quickly helped turn the momentum around in a crucial stretch. On the first possession, he missed a driving layup, but got his own rebound and flipped a pass to Michael Durr, who dropped in a hook shot. A few possessions later, he dished out an assist to Rob Phinisee. Then another assist to Jackson-Davis. Then a poetic reverse layup. By the time he subbed out, Indiana was only down by two.
"I knew my time was going to come soon," Galloway said. "I think that was the main thing was just to stay ready and keep my body conditioned so I could be ready right when I got back."
At one point in the second half, Galloway was on a fastbreak nearly identical to the one he hurt his wrist on just a few weeks before. But Galloway had no fear. He drew a foul and knocked down two free throws. After that, there was a flurry of more rebounds, layups and creative assists, but one of the final plays of the night may have been the most memorable.
With less than one minute remaining, Galloway pushed forward on a two-on-one break, despite probably knowing he'd take a hit from E.J. Liddell, Ohio State's 240-pound forward, who was barrelling like a freight train toward the basket. And Galloway got flattened, indeed. But the lob was perfect. As Liddell crashed on top of Galloway, Jackson-Davis slammed it down. Ballgame over.
Then, in the most Trey Galloway way, he got up and smiled at Jackson-Davis as he ran back on defense. It was a tough, stop-at-nothing, blue-collar play. It was a tough, stop-at-nothing, blue-collar performance. One that would've likely made Rocky Balboa pretty damn proud.
Filed to: Trey Galloway