The Minute After: Ohio State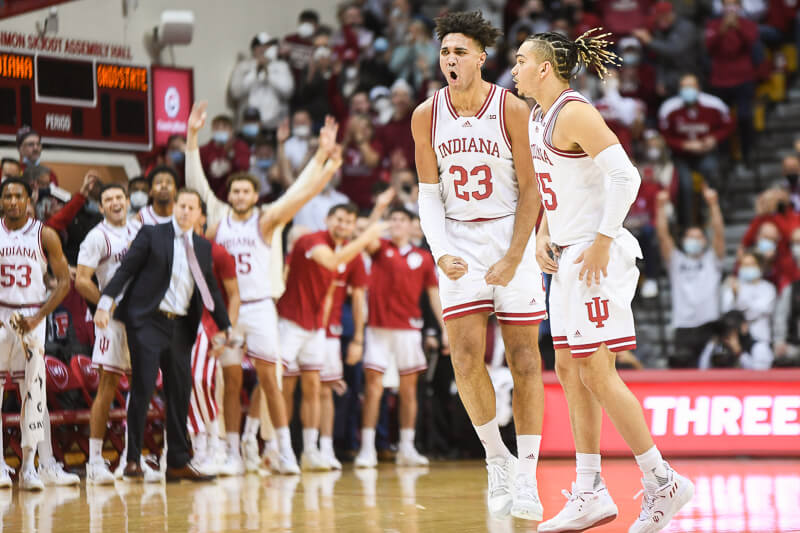 Thoughts on a 67-51 win against the Buckeyes:
Just when Indiana's offense was looking rote and predictable, a scene all too familiar, Ohio State came to Bloomington and everything changed.
Yes, Indiana still went to Trayce Jackson-Davis time and again. And yes, he continues to dominate. He had a game-high 27 points to go along with 12 rebounds and five blocks. (The first power conference player with such a stat line this season.) He dunked with authority and worked over former Hoosier Joey Brunk with force. But it wasn't just those grind-it-out-back-to-basket-low-post looks for TJD tonight. Indiana found him in different spots. He faced up. He scored in transition.
And Indiana's offense also had more pace, more movement, more energy and variety. Trey Galloway's return was absolutely essential to the cause. The sophomore helped Indiana get out in transition. His constant high energy and motor brought something different to the floor when Indiana needed it. Galloway's eight points and four assists were huge in this one, as were his two steals. Beyond Galloway, Paker Stewart and Miller Kopp proved to be more than just 3-pointer shooters off the catch on a night their deep balls weren't falling (combined 1-of-8). Both Stewart and Kopp drove into the lane and scored. Kopp hit one of his baseline runners after faking a 3-pointer. Stewart ran a 2-man game with Jackson-Davis, assisting on the TJD bucket. Michael Durr (four points) and Jordan Geronimo (four points) added some scoring off the bench.
Indiana's transition buckets were also a welcomed change. The Hoosiers outscored Ohio State 17-7 in fastbreak points tonight. It wasn't all great for the offense, as they failed to muster a point per possession (.99 points per possession). Indiana also shot just 2-of-15 from 3-point range. Still, the Hoosiers were strong from the line (15-of-18) and the newfound variety on offense was more than enough … because of Indiana's defense.
Against one of the better offenses and better 3-point shooting teams in the country, Indiana was terrific tonight. The Hoosiers swarmed and frustrated current KenPom national player of the year E.J. Liddell all game. He was just 3-of-12 from the floor and made only 1-of-5 from distance. While throwing extra attention at Liddell, Indiana was still able to contest the 3-point line well. The Buckeyes entered the contest shooting 39.7 percent from deep, but made just 8-of-27 (29.6 percent) this evening. Ohio State also scored just 10 points in the paint, as Indiana heavily contested shots all game long. Indiana held the Buckeyes to a paltry .75 points per possession.
This is the formula for Indiana. Keep up the elite defense and become less predictable on offense with more variety, adding in a quicker pace and higher energy for good measure. This win matters for postseason aspirations, too. Indiana picks up a Quad 1 win against a ranked opponent, both firsts of the season.
"I think this was probably the best game we've played all season," Mike Woodson said after the game.
For a team trending in the wrong direction, one desperate for a signature win, it came at just the right time.
Filed to: Ohio State Buckeyes