What to expect: Minnesota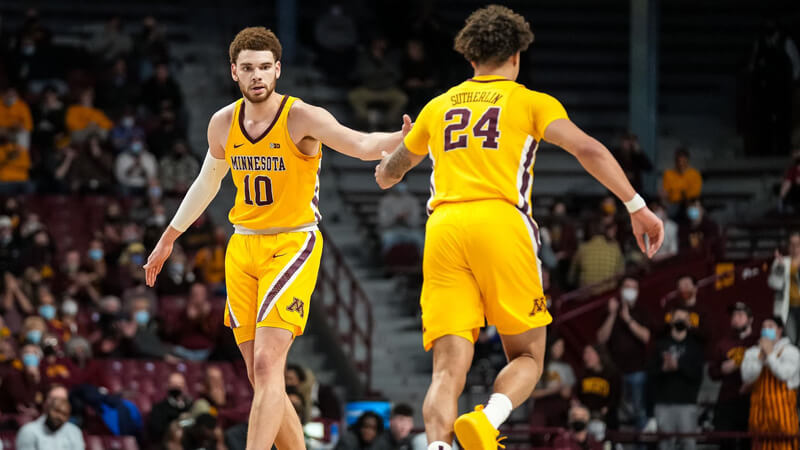 Indiana is scheduled to return to action at 12 p.m. ET on Sunday against Minnesota at Simon Skjodt Assembly Hall.
The Golden Gophers are 10-2 overall and 1-2 in Big Ten play. Sunday's game will be on BTN with Chris Vosters and Nick Bahe on the call:
Indiana will try to move over .500 in Big Ten play on Sunday when Minnesota comes to Bloomington.
The Golden Gophers, led by first-year coach Ben Johnson, have been one of the surprise teams in the country through the first half of the season.
Minnesota only has one player – Eric Curry – who appeared in last February's matchup in Assembly Hall that Indiana won 82-72. The Gophers lost nearly their entire roster to the transfer portal after Richard Pitino was dismissed last spring.
Minnesota also started last season 10-2 before falling apart in Big Ten play and finishing 14-15.
MEET THE GOLDEN GOPHERS
Minnesota plays a tight rotation as only seven players are averaging in double figures. The only returning scholarship player logging minutes for Johnson is Eric Curry, who began his career all the way back in the 2016-17 campaign and has battled injuries throughout his career.
The top player for the Gophers is Robbinsdale (Minn.) native Jamison Battle, who transferred from George Washington. The 6-foot-7 lefty is a matchup problem at the four because he can shoot it from the perimeter but also score off the dribble.
Battle's 18.2 points per game lead Minnesota and he's shooting 62.5 percent on 2s and 35.8 percent on 3s through 12 games. Race Thompson figures to get the first chance at attempting to slow down Battle
and it certainly bears watching whether he'll be able to defend him off the bounce. According to Hoop-Math, Battle is making 58.7 percent of his 2-point jump shots.
As you can see in the video below, Battle is crafty off the dribble for his size and Michigan had no answer for him as he went off for 27 points in Ann Arbor, including 21 in the second half:
Guard Payton Willis started his career at Vanderbilt, transferred to Minnesota and Charleston before returning to Minneapolis to finish his career.
The 6-foot-4 guard is a career 37 percent 3-point shooter and is making 44.1 percent of his triples this season. He's struggled from distance in Big Ten play at just 4-of-16 over three games. Willis leads Minnesota with a team-high 47 assists.
E.J. Stephens, a transfer from Lafayette, is Minnesota's third player averaging in double figures. Stephens is shooting 43.2 percent on 3s, but just 44.3 percent on 2s. In Minnesota's two Big Ten losses, Stephens is shooting just 6-of-19 from the floor.
Curry starts at the five with Luke Loewe, a transfer from William & Mary, at the three.
This is Curry's sixth season at Minnesota and in six minutes last season against Indiana, he committed three fouls in a loss.
The 6-foot-9 big man is averaging a team-high 6.7 rebounds per game, but isn't a shot-blocker. He's shooting just 44.1 percent from the field and is fourth on the team in scoring at 8.3 points per game.
Loewe had a season-high 14 points in Minnesota's 75-65 win at Michigan on Dec. 11 and is a low-usage, low-efficiency option on offense through 12 games. Loewe's 39.5 field goal percentage is the lowest among regulars in the rotation and he's shooting just 28.1 percent on 3s.
The two other regulars in the Minnesota rotation are Sean Sutherlin, a 6-foot-5 transfer from New Hampshire, and Charlie Daniels, a 6-foot-9 transfer from Stephen F. Austin.
Sutherlin isn't a perimeter threat as 58 of his 62 field goal attempts have been 2s. He's making 56.9 percent of his 2s and does a good job of getting to the foul line. His free throw rate (FTA/FGA) of 54.8 percent leads the team.
Daniels backs up Curry and hasn't scored more than five points in a game this season. Daniels averages just 1.6 rebounds in 11.2 minutes per game.
TEMPO-FREE PREVIEW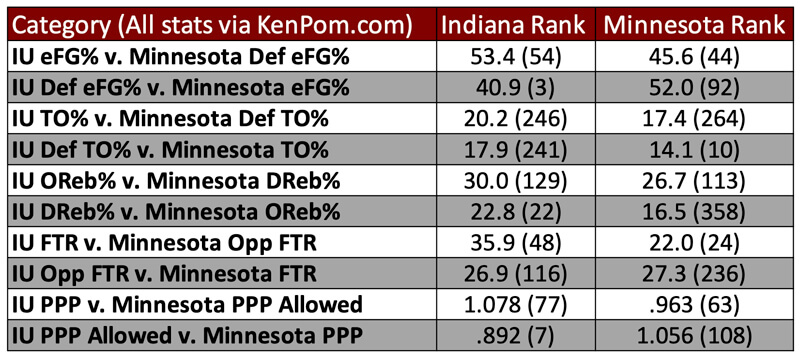 Minnesota likes to run clock and rarely turns the ball over. The Gophers are 10th in the country in turnover percentage (14.1) and through three Big Ten games, are first in the league in turnover percentage (7.1).
The Gophers have made a lot of tough shots this season off of one-on-one action via Battle and Willis and they have a few key deficiencies thus far in league play that figure to be problematic long term. Minnesota is 14th in both offensive rebounding percentage and free throw rate through three games. The Gophers are rebounding just 16.7 percent of their missed shots and have free throw rate (FTA/FGA) of just 20.3 percent.
For Indiana, Sunday's game is going to come down to winning individual matchups defensively. As the video against Michigan showed, Battle is capable of shredding defenders from the perimeter, in the midrange and by driving to the rim. In three Big Ten games, Minnesota is shooting a dreadful 26.8 percent on 3s and is scoring 64.6 percent of its points on 2s. Indiana is allowing its Big Ten opponents to shoot just 40.2 percent on 2s through four games.
WHAT IT COMES DOWN TO
The KenPom projection is Indiana by 10 and the Sagarin ratings like the Hoosiers by 7.5.
Mike Woodson has made it clear that defending homecourt is essential to Indiana's success and thus far, the Hoosiers are unblemished at 10-0 on Branch McCracken Court.
Indiana has a major advantage in the post with Trayce Jackson-Davis. Minnesota is coming off a 76-53 loss to Illinois in Minneapolis. Curry had no answer for Kofi Cockburn in the post as the Illini big man went off for 29 points, 10 rebounds and four blocked shots.
Minnesota is 3-0 on the road (Pittsburgh, Mississippi State and Michigan). However, the Gophers haven't faced the atmosphere that should be present in Bloomington on Sunday with students back and a fanbase that is energized following Thursday's win over Ohio State.
(Photo credit: GopherSports.com)
Filed to: Minnesota Golden Gophers