Indiana loses to Penn State, and right now the Hoosiers have proven themselves to be an average team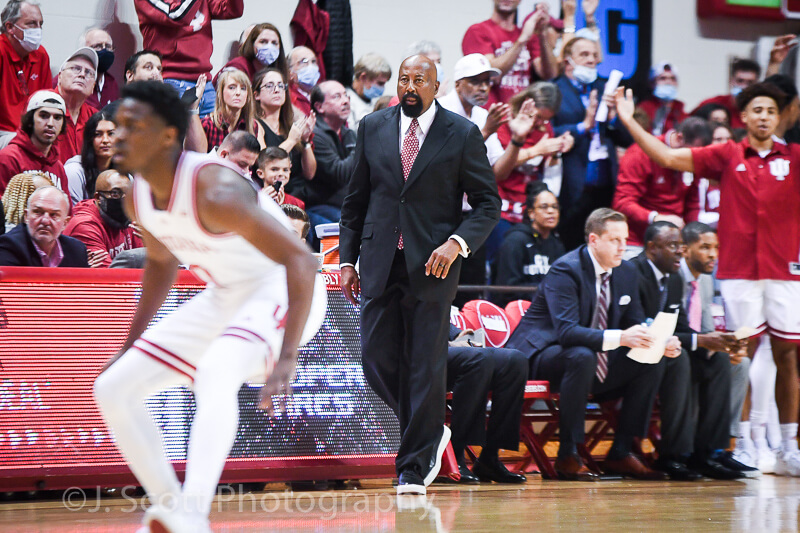 Entering Sunday's game on the road against Penn State, there was still much for Indiana to prove. In the first 12 games of the season, we learned a lot while also remaining uncertain about how much we'd actually learned. There were stretches of play where Indiana looked like a cohesive unit. There were also stretches of play where Indiana looked fully out of sorts. Indiana was about as unknown of a 10-2 team as possible — without any good wins or bad losses.
Essentially every game could be analyzed with contradicting interpretations. Yes, Indiana beat St. John's, but also nearly gave up a 12-point halftime lead. Yes, Indiana showed fight on the road against Syracuse, but also were utterly embarrassed in the first half. Yes, Indiana looked incredible in the first half against Wisconsin, but then crumbled in the second 20 minutes as they've done so many times in Madison.
In essence, we were still trying to figure out where Indiana stands. But this week, there finally figured to be some clarity. Indiana's Big Ten schedule in the new year would likely provide a measuring stick for where it stands right now. The first test came Sunday, against an underwhelming Penn State team, where a loss would reveal more about Indiana than a win.
And reveal it did. Penn State beat Indiana 61-58. The loss showed that, as of right now, Indiana is an average team. That doesn't mean they can't be good in the future. But right now, they're average.
"We still have to find a way to win on the road," Trayce Jackson-Davis said postgame. "That's just key for us. We're still searching."
The prevailing explanation for Indiana's inconsistencies this season is that they're very much a team still trying to learn to play with each other. There were many moving parts entering the season. Mike Woodson took over as head coach with a mostly new support staff. Two freshmen entered the program along with four transfers. In all, the team has only been playing together for about eight months, while also trying to absorb Woodson's schemes on both ends of the floor.
On Sunday, though, this argument especially loses some validity given Penn State's offseason was comparable to Indiana's. Micah Shrewsberry took over as Penn State's head coach this offseason. Penn State's top two scorers from last season transferred out of the program. On Sunday, three of Penn State's five starters had transferred into the program this offseason.
On top of that, Penn State has been less than impressive his season. They were 5-5 entering Sunday. Plus, there was the fact that Penn State hadn't played in 22 days due to a COVID-19 pause and three-game cancellations. If that wasn't enough, the crowd appeared to be sparse at the Bryce Jordan Center, making for one of the tamest road atmospheres in the Big Ten.
All of this is to say that good teams beat Penn State. Average teams could lose. Right now, Indiana is the latter.
Maybe the biggest area holding back Indiana's offense this season has been turnovers. As of last Wednesday, Indiana's turnover percentage of 21.4 percent was 288th worst in the nation, per Kenpom. Other than that, Indiana's offense has been reasonably efficient, even shooting the ball well from the perimeter, a welcomed surprise.
On Sunday, though, Indiana showed significant improvement in its turnover issue, committing a season-low six.
The problem? Other issues arose. It highlighted Indiana's theme this season: perhaps the most consistent has been inconsistency itself.
The Hoosiers shot just 39 percent from the field and 23 percent on 3s. Parker Stewart and Miller Kopp, who have both been really good in some games and disappeared in others, combined for 3-of-9 from the field for seven points. Xavier Johnson, who had nine points on 3-of-9 shooting from the field, wasn't bad but also wasn't the dominant force that Indiana needs him to be. Indiana's bench production — which has also been both good and unreliable — was essentially nonexistent outside of Rob Phinisee's nine points.
Perhaps the most surprising part of Sunday was that it was arguably Indiana's worst defensive performance of the season. Yes, Penn State was hitting some wild shots as the shot clock went down. Nonetheless, the Nittany Lions shot 50 percent from three, making 11-of-22 attempts. Plus, Nittany Lions outrebounded the Hoosiers 39-29, including 11 offensive boards. Indiana entered Sunday, outrebounding its opponents by ten per game.
"I just thought our defense, us impacting the game from a defensive standpoint, even though they scored 61 points, right where we've been holding teams, it just wasn't good enough for me," Woodson said.
Indiana's defense will likely be fine in the future. Regardless, this is a portrait of how Indiana's season has unfolded. When one problem is finally corrected, another arises. On Sunday, turnovers were fine. Shooting, rebounding and defense weren't.
From an intangible perspective, early in the season, it seemed Indiana played with more grit, more energy and more swagger than its opponents. On Sunday, that wasn't the case. Case in point: the rebounding deficiency. But also, offensively, it looks as though Indiana is trying to play an NBA-style offense without the right pieces to do so. What was once an offense featuring continuous movement early in the season, has often devolved into one-on-play and standing around, waiting for something to happen.
"We got to get better ball movement," Woodson said.
It's hard to argue that Indiana is a better team right now than it was four weeks ago. Externally, it felt like when Indiana walked into the Bryce Jordan Center on Sunday, they had something to prove. Now, after a disappointing loss, it feels like there is even more.
Filed to: