Five takeaways from Indiana's win over Ohio State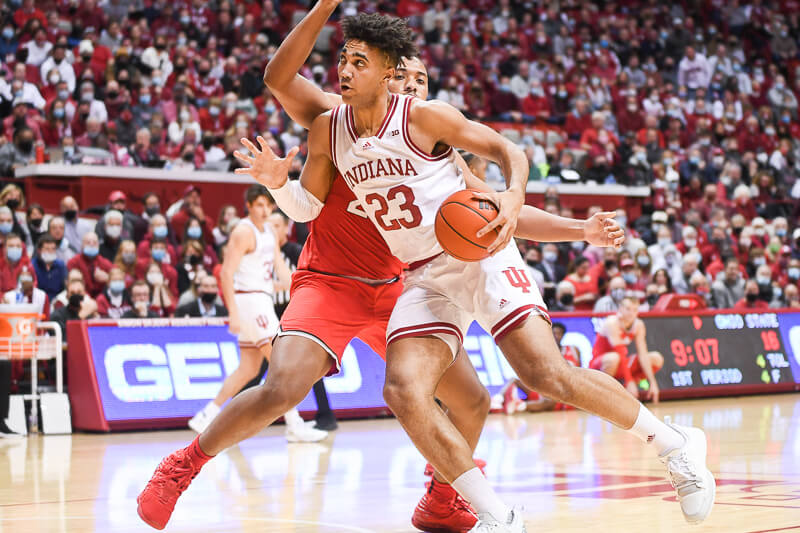 Indiana got a bounce-back win on Thursday against No. 13 Ohio State, defeating the Buckeyes, 67-51. The win brings the Hoosiers to 11-3 on the season and helped them maintain a perfect record at home.
It was Trey Galloway's first game back after breaking his wrist against St. John's on Nov. 17. Trayce Jackson-Davis also recorded his 27th career double-double with 27 points and 12 rebounds.
Here are five takeaways from Indiana's win over Ohio State:
Defending home court
Back when Mike Woodson played for Bob Knight at Indiana, they rarely lost at home. That's why Woodson made his theme for the season very clear:
"You can't lose at home," Woodson said Wednesday.
After capping off the non-conference slate with few tests at home, Indiana had quite the challenge to return to after its three-point loss at Penn State — a matchup against No. 13 Ohio State.
Indiana brought the plays to ignite the crowd, from domination down low to fast pace in transition. But the fans fed the players, too. They'd stand and clap for anything from a Trayce Jackson-Davis two-handed slam to a simple defensive rebound.
It created an environment Ohio State's Meechie Johnson Jr. called, "hostile."
The Hoosiers ended the game on a 21-6 run over the last 10 minutes. They secured their victory over the top-15 Buckeyes and improved their unblemished home record to 11-0.
Trey Galloway's comeback
After missing 10 games with a broken wrist, Galloway made his return Thursday night against Ohio State. His impact was obvious.
When Galloway was on the floor, he didn't stop moving. He jumped passing lanes for steals and kept pushing to get the basket on the other end of the floor.
Galloway said the biggest key during recovery was staying ready and strength coach Clif Marshall pushed him a lot this week. That way he was ready to go right when he got back, and it showed.
"All that preparation that he did just shows tonight," Jackson-Davis said. "He's a great player, adds that much-needed spark off the bench."
Joey Brunk returns to Assembly Hall
Joey Brunk made his return to Simon Skjodt Assembly Hall for the first time since transferring to Ohio State and wasn't greeted with the warmest welcome. He was met with boos as he checked in and sporadically throughout the game.
He scored two quick buckets and came back to the bench amped. But he wouldn't get any more after that.
Aside from slowing down on offense, he couldn't contain Jackson-Davis on defense. His former teammate beat him off the dribble, then dunked over his head.
And at one point, Jackson-Davis had the ball as he fell out of bounds, and in an effort to maintain possession, he threw the ball off Brunk's head. The crowd loved it.
"Obviously, Joey is my brother. He'll always be my brother," Jackson-Davis said. "He's also a great player, and he's in a great situation. But on the court, there's no friends, and he thinks the same way. I'm going to text him after the game and apologize for what I did because I didn't mean to hit him there. But at the same time it's basketball; things happen. That's my brother, and he played well, but we needed a W and we got it."
Locking down on defense
Indiana allowed its fifth-lowest point total of the season at 51, with the first four coming against non-conference opponents.
Malaki Branham led the Buckeyes with just 13 points and the Hoosiers held E.J. Liddell to just 3-12 from the floor. Indiana had seven steals and six blocks — five of which came from Jackson-Davis.
"I just think having Trayce on the backline really presents a lot of problems," Ohio State head coach Chris Holtmann said.
Johnson Jr. said they weren't connected on offense and a lot of that is due to the Indiana defense. Down the stretch, the Hoosiers clamped down and only allowed two field goals in the last 10 minutes of the game.
Domination down low
The Hoosiers had their way down low, meanwhile, the Buckeyes could barely find anything over Jackson-Davis and Race Thompson. Indiana outscored Ohio State 38-10 in the paint.
"They certainly controlled the paint, both offensively and defensively, really," Holtmann said.
Jackson-Davis and Thompson combined for all 38 of those points. And 11 of Indiana's 41 boards came off the offensive glass.
"This is probably the best game we've played all season in terms of how we defended and how we moved the ball offensively," Woodson said.
Filed to: Ohio State Buckeyes, Trayce Jackson-Davis, Trey Galloway