Five takeaways from Indiana's loss at Penn State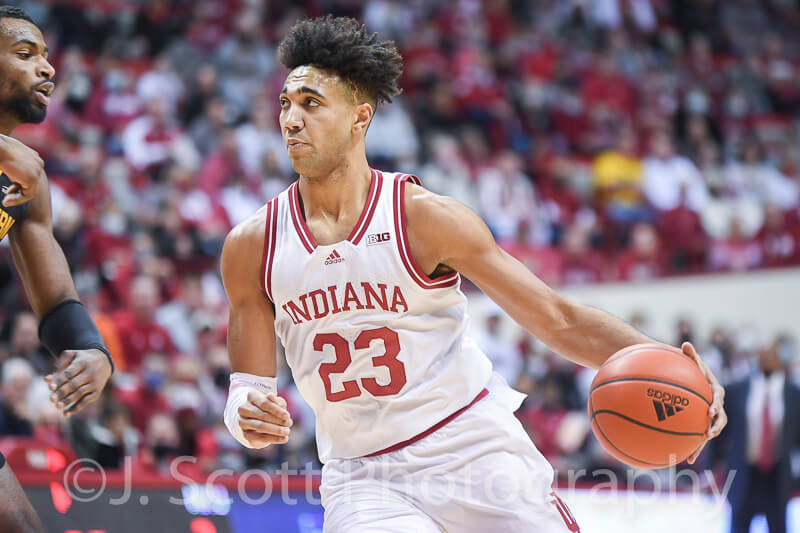 Indiana fell to 10-3 overall and 1-2 in Big Ten play with a 61-58 loss to Penn State on Sunday afternoon at the Bryce Jordan Center.
Here are five takeaways from the loss to the Nittany Lions:
Indiana's offense sputters in a disappointing loss
According to Ken Pomeroy's ratings, Sunday's game at Penn State was Indiana's second-best chance at a road win the rest of the season.
Rather than taking advantage of a middling opponent coming off of a three-week hiatus, Indiana's poor offense led to another road loss. Outside of Trayce Jackson-Davis – who needed 18 shots and six free throw attempts to score 20 points – no Indiana player scored in double figures.
In many ways, it was an offensive performance similar to what the Hoosiers produced over the previous four seasons under Archie Miller. The Hoosiers have shown flashes of improvement offensively this season, but this felt like a throwback to a season ago. Indiana shot poorly from the perimeter (4-of-17) and there was a lot of standing around offensively waiting for Jackson-Davis to make something happen.
"We had some good looks and didn't knock them down," Woodson told Don Fischer postgame. "We have been shooting them well."
Penn State deserves some credit for holding the Hoosiers to just .98 points per possession, but Indiana was often easy to guard and predictable offensively. And when Indiana didn't get Jackson-Davis free for a look, its secondary offensive options didn't step up in any meaningful way.
The trio of Xavier Johnson, Miller Kopp and Parker Stewart combined to shoot just 6-of-18 from the field. And Indiana's bench scored only 13 points on 5-of-15 shooting. For a team that lacks a perimeter player that can create offense consistently, the Hoosiers are going to need to shoot much better to win consistently in Big Ten play.
Another slow start helps Penn State control the pace
As pointed out in our game preview, Penn State plays one of the slowest tempos of any team in the country.
Indiana's slow start allowed the Nittany Lions to control and dictate the pace at which the game would be played. The end result was a 59-possession game, which was the lowest of the season for the Hoosiers.
"I just didn't think we had any juice starting out," Mike Woodson told Don Fischer in a postgame interview.
Many of Indiana's games this season have followed a pattern. The Hoosiers have been unable to string together two strong halves. At Wisconsin, Indiana was great in the first half and collapsed in the second half. At Syracuse, it was the opposite as Indiana started poorly only to rally and force two overtimes.
Sunday's performance, however, was a regression from the Wisconsin and Syracuse games. Indiana played a poor first half with only a slightly better second half, at least offensively. The Hoosiers scored .87 points per possession in the first half and 1.07 points per possession in the second half.
Defensively, however, Indiana struggled to get stops as Penn State ran its offense late into the shot clock. In 28 second-half possessions, the Nittany Lions scored 34 points (1.214 points per possession).
Woodson critical of Jackson-Davis for poor rebounding game
Indiana was beaten badly on the boards by Penn State. The Nittany Lions grabbed 35 percent of their missed shots compared to just 24 percent for Indiana.
While those numbers didn't lead to an advantage in second-chance points for Penn State – Indiana had two more second-chance points than Penn State – it was clear that Woodson was irked by the fact that Jackson-Davis only had five rebounds in the game.
And in his postgame conversation with Don Fischer, Woodson didn't hold back when diagnosing the issue for Indiana on the boards.
"I point the finger straight at Trayce (Jackson-Davis). Five rebounds in 33 minutes. That's not good enough," Woodson said. "He's got to rebound the basketball. That's his job. He's the biggest player we got on our team. He's gotta be a double-double guy. And I'm going to make sure he knows that."
While Jackson-Davis has been much better as a shot-blocker this season, his offensive rebounding has regressed this season. His offensive rebounding percentage was 11.8 as a freshman and 11 percent last season, but is down to an underwhelming 7.8 percent this season. In three Big Ten games, Jackson-Davis has only three offensive rebounds.
Penn State scorches the nets from distance
Penn State relies heavily on 3-point shooting to fuel its offense and on Sunday, the Nittany Lions delivered their best shooting performance of the season.
Penn State shot 11-of-22 on 3s and the contributions came from four different sources.
Jalen Pickett was 3-of-6, Seth Lundy was 2-of-5, Sam Sessoms was 2-of-3 and Myles Dread was 4-of-5. Many of the shots were contested and late in the shot clock.
In total, Penn State outscored Indiana by 28 points from distance, a margin that was too much to overcome.
"We weren't touching guys," Woodson said of Indiana's defense. "We weren't up making them feel us like we have been in the past. And that's kind of disappointing."
This loss leaves Indiana with a lot of work to do
Indiana wasn't an NCAA tournament team entering Sunday's game and the loss leaves the Hoosiers with major work to do as conference play gets into full swing.
With a soft non-conference resume that yielded zero wins in Quad 1 or Quad 2, Indiana is going to need to finish well over .500 in Big Ten play to make the tournament for the first time since 2016.
Given that Sunday's game was its second-best chance statistically to win on the road in league play, the next few games are now pivotal for Indiana to take care of business to get some momentum back.
Ohio State, which is already 2-o in conference play on the road, comes to Bloomington on Thursday. And Minnesota, which already won at Michigan, follows on Sunday.
Filed to: Penn State Nittany Lions