6-Banner Sunday: Indiana opens regular season with wins over Eastern Michigan and Northern Illinois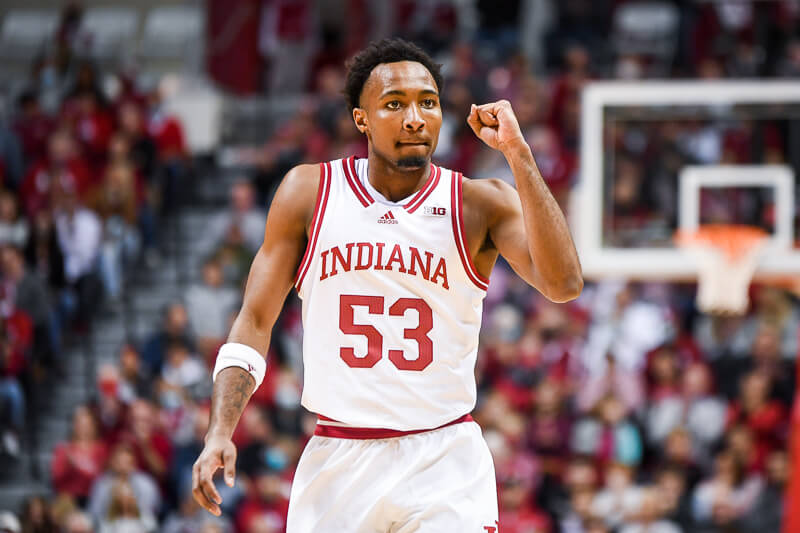 6-Banner Sunday is Inside the Hall's weekly newsletter in partnership with The Assembly Call. More than 8,000 Indiana fans receive the newsletter each week. In addition to appearing each week on the site, you can also opt to receive 6-Banner Sunday by email. A form to subscribe via email is available at the bottom of this week's 6-Banner Sunday.
Welcome to another edition of 6-Banner Sunday, a joint production between The Assembly Call and Inside the Hall where we highlight the five most essential IU basketball stories of the past week, plus take a look at how the other IU sports programs are doing.
The season is finally here and the Hoosiers opened up with wins over Eastern Michigan and Northern Illinois. Before the season could even get underway though, Inside The Hall had to finish up its player preview series it has done the last few weeks and Andy Bottoms released his bracketology predictions.
However, while this basketball year is underway, the future of the program also came into clearer focus this week with the 2022 recruiting class becoming official. As usual, we will conclude 6-Banner with a look at how other IU sports are doing.
• IU wins both games to open season
• Inside the Hall player previews
• Assembly Call's preseason bracketology
• 2022 recruiting class signed
• Podcast on the Brink and AC Radio
• Hoosier Roundup
Banner #1 – IU wins both games to open season
While it was not pretty and the Hoosiers nearly gave away a huge lead, the Mike Woodson era of IU basketball got off on the right foot with a closer than expected 68-62 victory over Eastern Michigan Tuesday night. After the game both Eagle's coach Stan Heath and Woodson reacted to the result.
In addition, Ryan Corazza wrote a Minute After Column and Film Session, while Tyler Tachman penned a feature about Woodson's return home to Bloomington as IU's coach. The day after the game, Alex Bozich wrote Five Takeaways from the victory and Grace Ybarra looked at how the Hoosiers deployed their point guards in the contest.
Friday's game against Northern Illinois went much smoother, as IU built a big lead and never looked back, cruising to an 85-49 win. Like the first game, Woodson spoke about the result after as did Huskie's coach Rashon Burno.
Once again Corazza wrote his Minute After and Bozich his Five Takeaways. Tachman's feature though went in a different direction discussing how Indiana was everything it was not last year in this victory.
Banner #2 – Inside The Hall player previews
Before the season could even begin, Inside The Hall had to preview its last player in the series it has run over several weeks. The only IU team member not to have been discussed before this week was Race Thompson who is expected to be a major contributor this season.
He lived up to that billing in the Northern Illinois game with a double-double and has started both games so far.
Banner #3 – Assembly Call's preseason bracketology
Andy Bottoms is a regular member of the Assembly Call shows. He is also a bracketologist and has even been ranked number one at times. This week right before the season began, he put out a bracket predicting the tournament matchups as well as the first four out.
Bottoms has IU as one of eight Big Ten teams making the field. In his estimation, they would be an eight-seed and take on nine-seed West Virginia in San Diego. His last four teams to make the tournament are Syracuse, St. Johns, Loyola Chicago, and Oklahoma. It should be noted that the Hoosiers face two of these four teams beginning with a matchup against the Red Storm on Wednesday at 9 pm on FS1 in Assembly Hall as part of the Gavitt Games between the Big Ten and Big East. The contest against the Orange takes place within the Big Ten/ACC Challenge on Nov. 30 in the Carrier Dome.
The teams just missing the tournament in Bottoms' bracket are Seton Hall, Notre Dame (another IU opponent), Wichita State, and Washington State.
Banner #4 – 2022 recruiting class signed
While IU has known for a while who would be joining the team in 2022, it became official this week when all three players in the class signed their letter of intent. The trio consists of Jalen Hood-Schifino, Kaleb Banks, and CJ Gunn.
Hood-Schifino is the headliner of the class as a combo guard and ranked No. 19 according to the 247Sports Composite rankings. Banks is a forward coming in at No. 80 in the 247Sports Composite rankings, while Gunn is a guard from the Hoosier state and ranked No. 149 per the 247Sports Composite rankings.
The class as a whole is ranked 16 in the country and third in the Big Ten according to 247Sports.
Banner #5 – Podcast on the Brink and AC Radio
Podcast on The Brink featured a very special guest this week in former IU Athletic Director Fred Glass, who recently wrote a book titled "Making Your Own Luck: From a Skid Row Bar to Rebuilding Indiana University Athletics".
Assembly Call was also busy this week with their weekly radio show, as well as postgame shows for both Eastern Michigan and Northern Illinois.
Banner #6 – Hoosier Roundup
While Football once again took it on the chin, several other IU sports had terrific weeks led by Men's Soccer and Women's Basketball.
• Soccer had two victories this week in the Big Ten Tournament to reach the final round. The first triumph came over Rutgers, before knocking out Northwestern in the semifinals in a dramatic game, featuring a series of incredible saves by goalie Roman Celentano that made SportsCenter's number one play for Wednesday.
• No. 7 ranked Women's Basketball opened their season with a dominant victory over Butler in Hinkle Fieldhouse before a record crowd that saw at least as many Hoosier fans in attendance as Bulldog fans. In addition to this, the preseason awards keep coming as both Grace Berger and Ali Patberg were named to the Wade Watch List and Berger was included on the Wooden Award List. Looking further into the future, the team announced the signing of its 2022 class.
• Wrestling opened its season to successful results against Bellarmine and SIUE.
• Football got blown out by a bad Rutgers team as their season continues to spiral out of control. They take on Minnesota in their home finale next weekend.
• Cross Country competed in the Great Lakes Regional. The results were good enough to advance a single runner to the National Championship.
• Volleyball lost to Northwestern and Illinois. They also signed a highly ranked player for the 2022 class.
• Women's Golf announced its recruiting class.
• Softball announced its recruiting class.
• Women's Tennis wrapped up its fall season.
• Water Polo released its schedule.
• Women's Soccer had two players receive academic honors.
• Swimming and Diving had seven Hoosiers named to a top 100-century list.
Thanks for your continued support for The Assembly Call and Inside the Hall. We'll be back next weekend with a new roundup.
Now go enjoy yourself a 6-banner Sunday.
Aaron (Ari) Shifron
Assembly Call Contributor
Filed to: