Five takeaways from Indiana's win over Eastern Michigan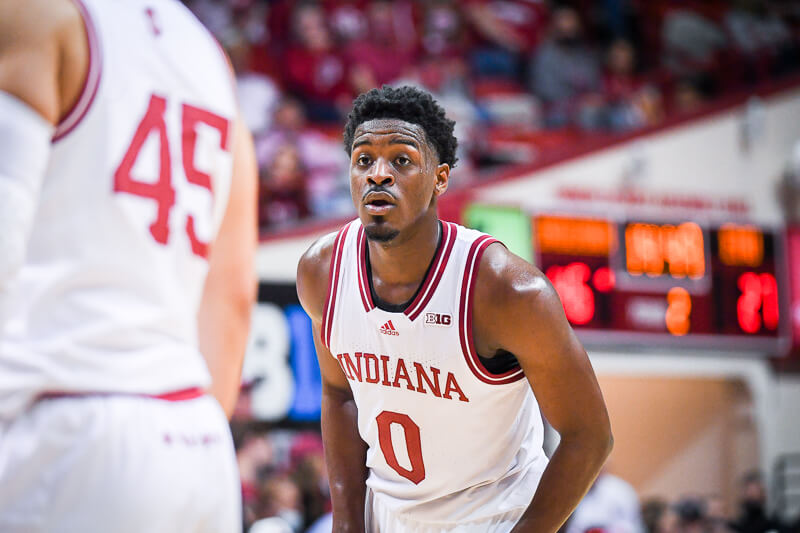 Mike Woodson recorded his first win as Indiana's coach on Tuesday as the Hoosiers squeaked past Eastern Michigan, 68-62. Indiana led by as many as 21 in the second half, but couldn't contain Eastern Michigan's Noah Farrakhan late.
Ultimately, Indiana was able to lean on its defense to get a few key stops down the stretch and escaped with a six-point victory. Here are five takeaways from the win over the Eagles:
Trayce Jackson-Davis dominates in season debut
Jackson-Davis was the recipient of numerous preseason accolades. On Tuesday, he showed why he's one of the nation's best frontcourt players.
The Center Grove product finished with game-highs of 21 points and 14 rebounds in 37 minutes. With Michael Durr unavailable to play and Race Thompson in foul trouble, Jackson-Davis played the entire second half.
He shot an efficient 9-of-14 from the field and even hit a mid-range jump shot. Jackson-Davis also finished a play at the rim with his right hand. Free throw shooting was still an issue as he connected on just 3-of-7 from the stripe, but overall it was a dominant effort from Indiana's star.
3-point shooting underwhelms
Poor perimeter shooting has been a theme for Indiana basketball in recent seasons. It continued on Tuesday night in the season opener.
Indiana started out hot from the perimeter as Parker Stewart connected on a pair of 3-pointers in the first two minutes of the game.
By the end of the night, the Hoosiers had connected on just four of their 24 attempts from distance. Guard Xavier Johnson admitted postgame that Indiana also shot 4-of-24 on 3s in its last scrimmage at practice on Sunday.
Despite the tough start, Woodson said he still wants his players to have the confidence to take perimeter shots.
"I want them to have confidence in shooting them," Woodson explained. "But I thought there were about three or four that were just unnecessary. And those are the ones that you gotta milk time on the clock and try to get a better shot.
"And again this team is learning. But it's my job to make sure they know what the hell they're doing. And I thought we had a lot of dry moments offensively, and that we've got to go back to the drawing board and fix."
Race Thompson is a difference-maker
Indiana's energy within the game had ebbs and flows that sometimes coincided with whether Race Thompson was on the floor.
Thompson scored just five points and missed all four of his 3-point attempts, but his hustle and presence defensively was key in the victory.
The 6-foot-8 forward battled foul trouble but grabbed 10 rebounds in just 24 minutes. He also dished out three assists, blocked two shots and had a steal.
Thompson's layup that came on an assist from Jackson-Davis with 2:14 to play pushed Indiana's lead back to three and Eastern Michigan would get no closer than two the rest of the game.
Johnson struggles early, but finishes strong
Xavier Johnson's first impression on the Indiana faithful in Simon Skjodt Assembly Hall was not favorable.
The Pittsburgh transfer committed three turnovers in the first 4:58 of the game and was subbed out at the 14:16 mark for Rob Phinisee.
Johnson, however, later showed why he was coveted when he entered the transfer portal last spring. He finished with 14 points and was aggressive driving to the rim and drawing fouls. He shot 4-of-9 from the field and 5-of-8 from the free throw line in 25 minutes.
"Coach told me stop being so cool with the ball," Johnson said. "That's what I did. In the second half, when I went back in, that's what I did. I just played my game and just went to work."
Indiana fails to contain Farrakhan in second half
Eastern Michigan guard Noah Farrakhan didn't score until he connected on a pair of free throws at the 14:49 mark of the second half.
Over the game's final 5:52, stopping Farrakhan was a major challenge for Indiana.
The New Jersey native scored 16 of his team-high 18 points in that span. He was the primary reason the Eagles cut Indiana's lead to one with 2:47 to play and to two with 24 seconds to play.
Farrakhan's late-game explosion came, in part, because Indiana got too comfortable and complacent once it built a 21-point lead early in the second half.
"I thought they pulled the trigger on a few of our switches where we just didn't contest hard enough," Woodson said of his team's second half defense. "Where in the first half, we were contesting everything and we were kind of up in them defensively. And I thought we got soft.
"We were comfortable, put it that way, with the lead. And then it changed drastically."
Filed to: Eastern Michigan Eagles