The night Mike Woodson finally returned home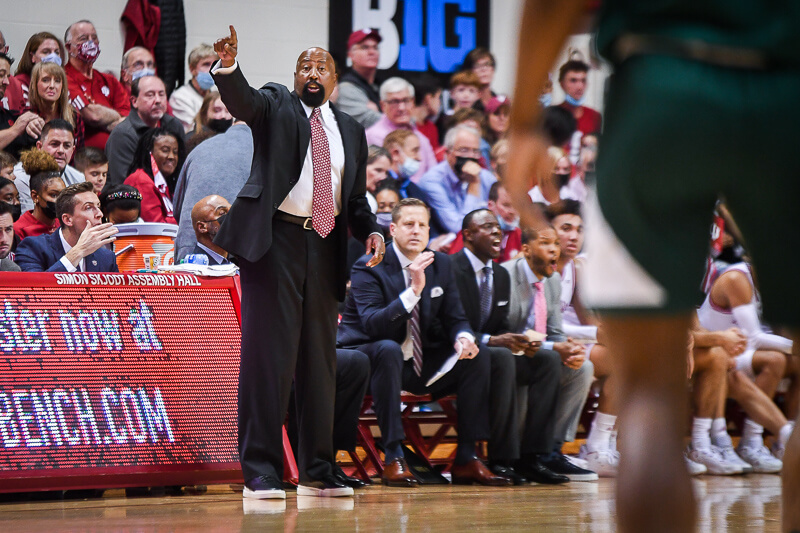 In the days leading up to his IU coaching debut, Mike Woodson didn't let his excitement show. He continued on with his coaching cliches, telling his players to "take it one game at a time." All he wanted to do, he said, was beat Eastern Michigan. Asked if his emotions were any different heading into Tuesday than when he coached for a new team in the NBA, Woodson said: "I don't know."
When Tuesday finally came, Woodson kept the same composure. While the crowd roared to life after his name was introduced, Woodson remained focused in the huddle with his players. He mostly took in the game on the sideline with his hands folded under his chest. He often looked back at his assistant coaches or twirled his finger to urge his players on. Even through the buzzer in Indiana's 68-62 win, one that was closer than it should've been, Woodson remained calm. On the surface, he never let his emotions get too high, too low.
It is, for a second, worth taking a big picture view of this moment, this night. Here was Woodson, a 63-year-old with no collegiate coaching experience, walking the sidelines on the court that he last played on 41 years ago. Here was a once-thriving basketball program that has slipped further and further away from national relevancy. This pairing — Woodson leading IU basketball — seemed unlikely for more reasons than one.
Now, they are together.
Woodson needing IU basketball.
IU basketball needing Woodson.
"I never dreamt this would ever happen to me," Woodson said earlier this year. "But I'm here."
This connection — Woodson and IU basketball — started to really take shape when he was in sixth grade. Woodson wanted to attend Bob Knight's basketball camp, but — given he grew up in a family with 12 siblings in inner-city Indianapolis — he didn't have enough money to pay for it. His teacher, though, covered the cost and Woodson proceeded to win a three-on-three tournament. Knight gave him a shirt reading "Indiana University." Later, Knight said, when Woodson was a senior in high school, he'd follow up.
"That's all I needed to hear," Woodson said.
Knight stayed true to his promise. After starring for Broad Ripple High School, Woodson accepted a scholarship offer to Indiana. He went on to score more than 2,000 career points. As a senior in the 1979-80 season, he was named the Big Ten's most valuable player, despite undergoing mid-season back surgery.
"He (Knight) taught me how to play the game of basketball from a fundamental standpoint," Woodson said. "He taught me how to be a man on and off the floor."
In 1991, after playing a decade in the NBA, Woodson was content with stepping away from the game. He'd come home to Bloomington, he figured, and work alongside his friend Scott May at a real estate company. But then plans changed when Woodson got a call from the late Cotton Fitzsimmons.
"Woody, why don't you come out and be my assistant in the summer league?" Woodson recalls Fitzsimmons asking.
"Man," Woodson responded. "I don't want no part of coaching."
Fitzsimmons, though, knew exactly how to convince Woodson.
"Hey Woody, we can play golf every day," Fitzsimmons said.
"I'm on my way," Woodson said.
So Woodson went out to Phoenix, Arizona, for his first coaching job. Thirty minutes into the first day of practice, Fitzsimmons had to leave the gym.
"Hey Woody, I'll see you later," Fitzsimmons. "I'm going to play golf."
"Well, I'm going too right?" Woodson asked.
"No," Fitzsimmons said. "Somebody's got to coach the team."
The untested Woodson was left to run practice on his own.
"I knew nothing about coaching," Woodson said. "It was one of the most embarrassing times of my life as a coach… I was like 'shit, I played 11 years in the NBA and I have no idea what I'm doing from a coaching standpoint.'"
But after that day, Woodson was hooked on coaching, wanting to provide the same mentorship as Knight did for him. In 1996, he got his first assistant coaching job with the Milwaukee Bucks, which eventually led him to become an assistant coach under Larry Brown for the 2004 NBA champion Detroit Pistons. Woodson then earned the head coaching job with the Atlanta Hawks, followed by New York Knicks. During his coaching career, Woodson would quietly come back to Bloomington whenever he could.
Meanwhile, Woodson watched IU's basketball program face an array of struggles from afar. In 2000, Knight was fired, leaving the fan base split. It spurred a carousel of coaches: Mike Davis, then Kelvin Sampson, Dan Dakich and Tom Crean. There were flashes of success, but nothing sustained. Each time the job opened, Woodson didn't consider interviewing. Not because he didn't want it, but because he was tied up in his NBA life.
After Crean was fired in 2017, though, Woodson put his name into consideration. This time, it was IU that didn't show the level of interest Woodson hoped for.
"I just didn't like how the process was going when they wanted to talk with me," Woodson said. "I just kind of walked away from it."
But then came 2021, when the timing finally seemed right. After Archie Miller was fired, Woodson made it clear he was interested. IU Athletic Director Scott Dolson flew to New York, where Woodson laid out his vision for the program and how he was going to bridge generations of a program.
In the following days, Woodson read his name in news stories about IU's opening. Other coaches were mentioned, too.
About a week later, Dolson offered the job. Woodson accepted.
"To be able to circle back home and coach Indiana University basketball means a great deal to me," Woodson said.
In his first months as Indiana's head coach, Woodson has captivated the fanbase and reignited the program with energy by way of his natural charisma. He has an open-door policy with players so they can talk to him at any time. He's started to bridge the gap, inviting Knight to practice and Isiah Thomas to Hoosier Hysteria.
Then there was Tuesday evening, a unique whirlwind of nostalgia and hope. Thirty to 40 of Woodson's friends and family attended Tuesday's game, including longtime writer Bob Hammel, whom Woodson exchanged pleasantries with in the press room, bringing back memories from the program's past. But there was also All-American Trayce Jackson-Davis throwing down dunks, providing optimism that the program is starting an upward trend.
Woodson, the boy who was hooked on IU basketball after receiving a T-shirt from Knight in grade school and who once couldn't fathom a coaching career, was at the epicenter of the Hoosier basketball world, winning his first career game. The game ball, he said, he's going to keep.
Finally, sitting in the press room after the game, Woodson let himself crack a smile.
"It's good," Woodson said, "To be back home."
Filed to: Mike Woodson