The Minute After: Eastern Michigan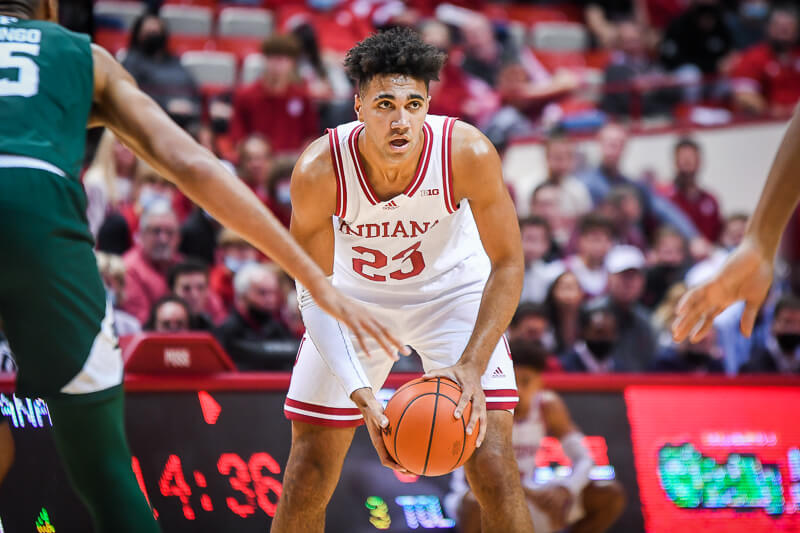 Thoughts on a 68-62 win against Eastern Michigan:
Three offseason talking points we know to be true. (Well, as true as anything can be after just one game, that is.)
1) Mike Woodson's steady drumbeat of the "defense being ahead of the offense" was rather apparent this evening. Indiana's first defensive possession of the game resulted in a shot-clock violation. Defense turned into transition scores early as well. Later in the first half, Indiana forced the Eagles into a five-second violation on a baseline out-of-bounds play. Guards fought hard over the top of ball screens. The Hoosiers pressured the ball, communicated and switched. They played with purpose. Hands were active. Feet moved. Shots, six of them, were blocked. Indiana held the Eagles to just .82 points per possession. Noah Farrakhan was held in check … until he made things interesting with a late-game scoring barrage.
2) The Rob Phinisee Rebirth narrative looked alive and well this evening. When Phinisee entered the contest in the first half, he wasted no time, calling for a ball screen on the left wing and driving to the cup. He played with energy and confidence. He was aggressive and looked for his shot. He defended the ball with pressure. Phinisee scored seven points in the first half. It wasn't all pretty, as he shot just 3-of-11 from the floor and went scoreless after the break. But Phinisee's demeanor tonight mattered most. It was an encouraging performance.
3) Trayce Jackson-Davis came back to Indiana to get better. Mike Woodson endeavored to get him there. His outside shooting needed work, as did his right hand. Tonight, he hit a long 2-pointer, a shot the defense gave him in the first half and he happily obliged to take. TJD also scored with his right hand in the post on his way to another double-double (21 points, 14 rebounds) in a career full of them. But Jackson-Davis flashed some other skills as well. His passing and court vision impressed. He made smart reads out of double teams and found Race Thompson down low late in the contest for a crucial bucket. He also finished some alley-oops with flair in transition and the halfcourt and added three blocks. It was a well-rounded, dominant performance from Indiana's All-American.
Back to that "defense being ahead of the offense" statement. While Indiana started hot and clearly possesses the talent and personnel for a balanced, multi-faceted attack, it's definitely a work in progress. Indiana appears to have more shooting ability on this squad, but it simply didn't show up tonight. The Hoosiers hit just 4-of-24 from distance, which included an 0-of-9 performance in the second half when things really started to sputter out. Their 12-of-20 (60 percent) mark from the free throw line will give some flashbacks to the Archie Miller era. Indiana's spacing, scheme and ball movement can be a pleasing watch. But at this point, there's still a lot of new players trying to figure it, and each other, out. And so possessions sometimes lacked fluidity and continuity. Players were a little confused at points where to go and what to do. It felt like there was some your turn, my turn stuff going on. It all added up to the Hoosiers mustering just .89 points per possession.
There's plenty of time to get it right and for familiarity to grow. And offense is the side of the ball that's been worked on less. Still, to sweat it out down the stretch and blow a 21-point second half lead ain't the best look. The offseason is over. The games are finally here. And there's work, plenty of it, still to be done.
Filed to: Eastern Michigan Eagles